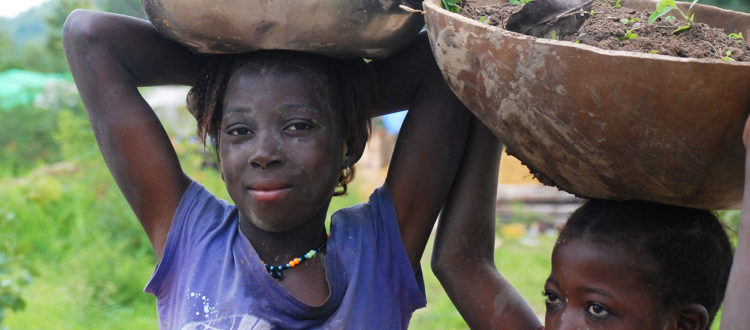 Child Labour: Life is Miserable
Living in prosperous, urban Hong Kong, the problem of child labour seems to be a distant issue, but the truth may shock us. The clothes we wear may be produced in the sweatshops in Southeast Asia; cocoa beans, an essential ingredient of the chocolate we eat, may be harvested by West African children under hazardous conditions; mineral resources such as cobalt, tantalum, tin and tungsten, which may eventually be made into electronic products sold in Hong Kong, are exploited by child labour …
12th June is the World Day Against Child Labour, however, around 168 million underprivileged children worldwide are still being forced to drop out of school and work in order to earn a living. Being heavily exploited by their employers, these children are not entitled to basic labour protection such as insurance, holiday or even liveable salary. What makes matters worse is that 85 million of them are engaged in hazardous work, such as mining and construction work, which can severely jeopardize the physical, mental and moral well-being of a child.
Home to a total of 59 million child labourers, the Sub-Saharan Africa is a region with the highest ratio of child labour—one in every five children!
Perils of Artisanal Mining
15-year-old Bamba works in a traditional artisanal gold mine in Mali. "My arms hurt, my back hurts, and my chest hurts."  said Bamba, while showing the countless calluses and wounds in his palms.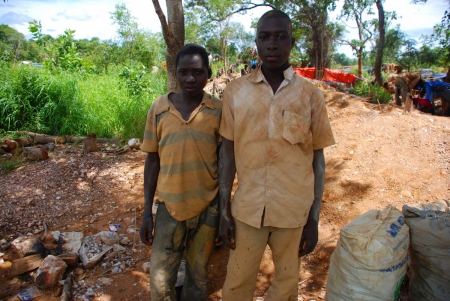 Bamba (left), 15 years old, works in a traditional artisanal gold mine in Mali.
Mali is Africa's third largest gold producer. From sunrise to sunset, Bamba has to keep digging through mud with just one short-handled hoe. Sometimes he also needs to climb down the scaffolding to work in the dark mine, which poses a serious threat to his personal safety.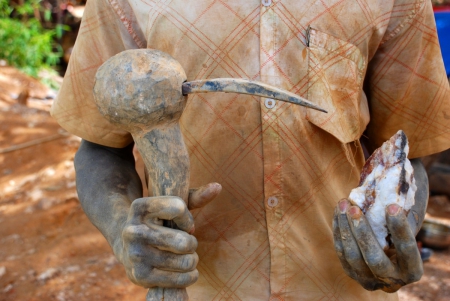 With just one short-handled hoe as tool, Bamba works strenuously in the mine every day.
Bamba said: "I want to go to school. I want to be a doctor to heal children. But I have to work here and send money home for my family."
It is estimated that out of the 100,000 to 200,000 people working in the artisanal mines, 20% are children and some are as young as six years old. These children lose the opportunity to receive proper education. Many of them are exposed to toxic mercury used in the processing of gold, and some have suffered long-term spinal injuries because of lifting heavy objects in mines. Working in mines also means that  they have to face risks such as collapsing pits as well as physical and sexual abuse.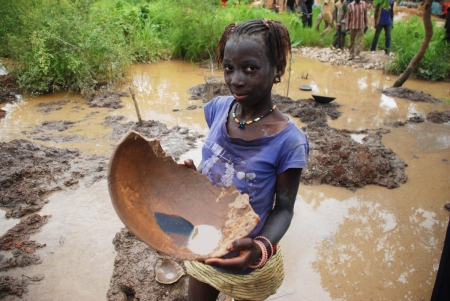 Many girls pan for gold in the streams all day long.
El Nino Aggravates Child Labour
In Zimbabwe, 14-year-old Louis sets off at 4 am before sunrise and returns home after dark. Yet, it is not school he is making his way to.
"I don't go to school. I am employed," says Louis. "I left primary school when I was 10. I wish I could go back to school, but it's not realistic anymore. I am stuck here with the cattle."
Louis used to live with his grandmother. However, his grandmother is too old to take care of him. Therefore three years ago, he found this job as a cattle hearder. Louis now lives with his employer and for all his hard work he receives a cow every year.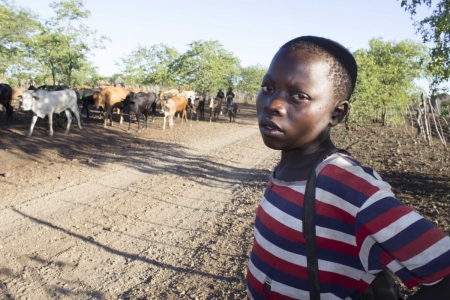 Living in Zimbabwe, 14-year-old Louis makes a living by herding cattle.
"I don't get money from this job. My boss sometimes buys me clothes and his wife cooks supper for us. At least we get food."
As the El Nino-induced drought strengthens, the situation is getting more and more difficult for Louis. 7 cows have died due to the heat and diseases. His employer is unhappy, and Louis is also sad.
"I always get very thirsty in the bush, so I make sure I drink from any water point first before the cattle do. Sometimes I chew tree leaves to quench thirst," says Louis.
Louis plans to herd cattle until 16 years old. By then, he will sell his cows and be able to afford applying for a birth certificate, an ID and a passport, which would enable him to find a legit job. However, without receiving education, it is still hard for Louis to find a good job.
Child Labour Can Be Tackled
Plan International implements anti-child labour projects in Africa and distributes food, water and other materials in regions affected by El Nino. We strive to protect children from engaging in child labour and hope to help more children return to school and reduce dropout rates.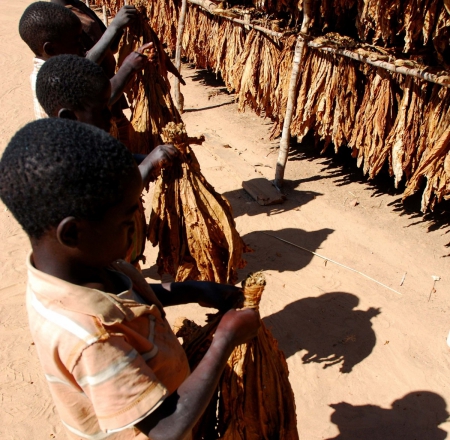 Child labour is a serious problem in Africa. Many children involve in the tobacco industry.
Progress of fighting child labour is happening. In the past 15 years, the number of child labourers has decreased from 246 million to 168 million, achieving a total of 32% reduction rate. However, our continuous support is still needed in order to end this problem. By learning more about this issue, buying fair trade products, or even sponsoring a child, we can help children get the education they need and live a proper childhood.
Register "Kids Sponsor Kids – Child Sponsorship" now! You and your child can help more children in developing countries get out of poverty, return to school, and have a proper childhood!
For more information about "Kids Sponsor Kids – Child Sponsorship" programme, please click here.