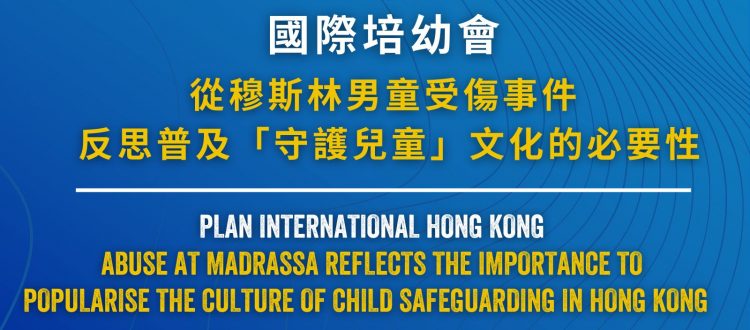 Abuse at Madrassa Reflects the Importance to Popularise the Culture of Child Safeguarding in Hong Kong
Recently, a 13-year-old was slapped by a teacher at Madrassa and the boy ended up having a six-hour surgery because of a detached and torn retina. Plan International Hong Kong offers its deepest concern to the boy and his family and expresses a sincere wish for his speedy recovery. Plan International also appreciates the swift follow-up actions carried out by the related parties.
This incident is indeed heartbreaking. However, the parents of the injured boy suspected that it was not the first-time corporal punishment was performed on him and the Madrassa did not inform them of the injury immediately;[1]  there are also reports indicating that this is not an isolated case. The reporting of child abuse is just an act of child protection. What we advocate for is Child Safeguarding, which is to take precautionary measures to prevent children from any forms of harm and abuse in child-related institutions. Plan International once again encourages the institutions to implement the Child Safeguarding Policy and reinforce relevant trainings for child-related and frontline staff and require all staff to follow a set of preventive measures to reduce the risks of children getting harmed or abused.
By gathering the related laws and regulations on Child Safeguarding from various countries, Plan International has developed a Child Safeguarding Policy framework with 20 standards in four dimensions (see attachment) to provide an evidence-based reference for the Government and the industry for assisting child-related institutions to set up the Child Safeguarding Policy and ensure the safety of children.
The report also mentioned that the parents of another student in the same class have contacted the victim's family asking them not to alarm the police for fear that the incident will tarnish the reputation of their culture and religion even though the student was slapped by the teacher before. [2] This reflects the urgency to enhance the public's, especially children's and parents' awareness of "Children's Rights" and "Child Safeguarding Policy". The public should not keep the scandals hidden. On the contrary, it is time to create an open and child-friendly culture that places children's well-being as a priority.
Besides, this Madrassa involved is not registered under the Education Ordinance and its staff is not identified as a mandated reporter under the Mandatory Reporting of Child Abuse Bill. This incident warns that the chance for child-related practitioners from sports and religious sectors and learning centers having contact with children is frequent and they undoubtedly have a major responsibility in the early identification and reporting of child abuse cases. The Government should also consider expanding the pool of mandated reporters to other sectors in order to build a stronger safety net for children.
[1] Muslim Council of Hong Kong, 2023. Retrieved from: https://www.facebook.com/photo?fbid=599600388999943&set=a.117829263293596
[2] 文匯報。(2023年)。《穆斯林男童胞姊:同學也曾被老師掌摑》。Retrieved from: https://www.wenweipo.com/epaper/view/newsDetail/1690412025798463488.html