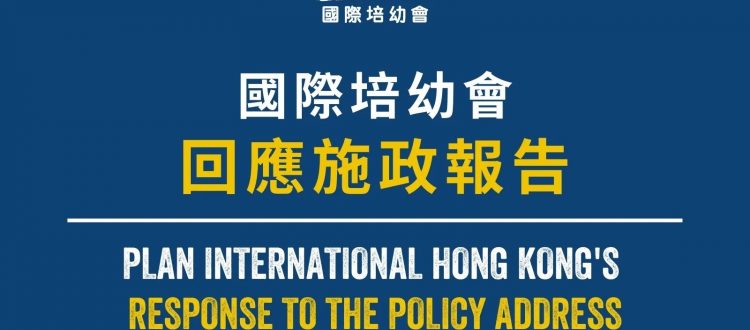 Response to Policy Address— Mandatory reporting on suspected child abuse requires a complementary child safeguarding system
The Chief Executive delivered the 2021 Policy Address today (6 October) and suggested an introduction of mandatory reporting mechanism on child abuse cases in Hong Kong and creating the post of Commissioner for Children to help the Labour and Welfare Bureau in taking forward child protection work. Plan International Hong Kong welcomes the initiative by the government, but suggests that the child safeguarding system in Hong Kong should be enhanced to create a more enabling environment for child-related workers to conduct early intervention into child abuse cases and take effective measures to protect children's safety. Plan International Hong Kong also suggests that the government establish an independent Commissioner for Children with a legislative mandate, so that the Commissioner could better perform the role of monitoring the government in upholding children's rights and protecting children.
In fact, apart from facing abuse in the family, children also face substantial risks of abuse in different institutions. According to the recent research conducted by Plan International Hong Kong from March 2020 to April 2021,about 1 in 5 (22.8%) of children had encountered at least one kind of harm in schools, private tuition centres or interest classes in the past six months, including 'having intimate bodily touch with teachers', 'physical punishment by teachers', 'left out by teachers' and 'bullied by peers', and 1 in 10 of the children (11.2%) had been physically punished in the aforementioned education institutions. The government should implement the following measures to ensure child-related workers could take the necessary steps to prevent and conduct early intervention into suspected child abuse.
1. Encourage child-related institutions to establish Child Safeguarding Policy
Reporting of child abuse is only a secondary measure in protecting children's safety. To prevent institutional child abuse from happening in the first place, the government should establish relevant standards and encourage child-related institutions to set up Child Safeguarding Policy to prevent risks of harm or abuse to children in organisations, including measures like providing child safeguarding training for child-related workers, risk management measures to ensure child safety, and a whistleblowing policy which protects staff from retribution or discrimination if they report any suspected child abuse in the institution.
2.Safeguard whistleblowers' interest
Apart from taking measures to prevent harm to children in the institution, effective and timely intervention into suspected child abuse is also critical in child safeguarding. To encourage staff to report suspected institutional child abuse, the government should protect whistleblowers' interest with a multi-pronged approach. Apart from providing legal protection for whistleblowers by absolving them from any civil or criminal liabilities, the government should also require the head of the institution to report any suspected institutional child abuse cases to the government to enhance the transparency of the investigation. If heads of the institutions may also be legally liable for 'sweeping institutional child abuse under the carpet', the staff within the institution would have a better incentive to report suspected child abuse and be more confident that the case would be handled properly in the organisation. Also, the head of the institution would be incentivised to pay due regard to preventing child abuse in the organisation with Child Safeguarding Policy.
Plan International Hong Kong also suggests that the government establish an independent Commissioner for Children with a legislative mandate to be accorded with powers necessary to enable the discharge of the following duties:
Independently monitor the implementation of the United Nations Convention on the Rights of the Child in Hong Kong and provide improvement suggestions to the government
Conduct investigations into any situation of violation of children's rights, with powers to compel and question witnesses, and obtain any information for assessing the situations
Lead, coordinate and improve child-related policies across different bureaux and departments