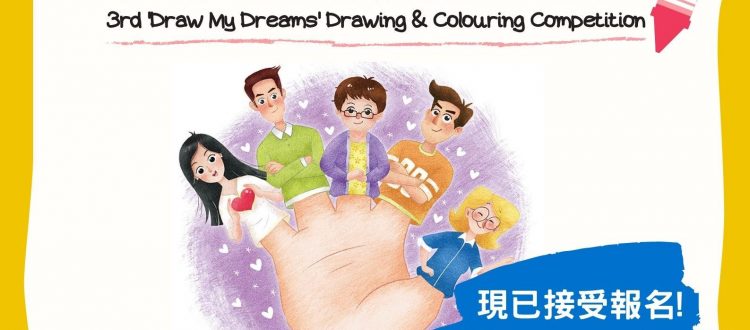 3rd 'Draw my Dreams' Drawing & Colouring Competition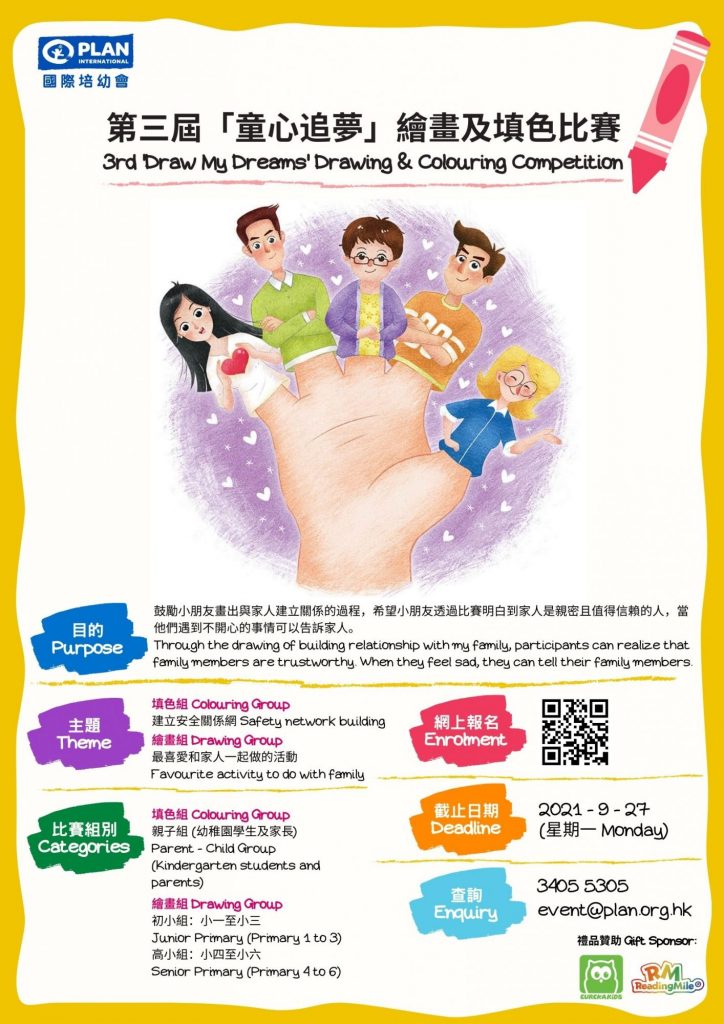 (The enrollment is closed. Thank you for your participation.)
Theme
The theme of the 3rd 'Draw my Dreams' Drawing & Colouring Competition is "Safety Network Building". Through the drawing of building relationship with my family, participants can realize that family members are trustworthy. When they feel sad, they can tell their family members. Plan International Hong Kong is calling for students from kindergartens and primary schools to unleash creativity and talent through drawings. Sponsored by Eurekakids, a 10% off promo code will be given to each participant for acknowledging his/her support.
Eligibility
Hong Kong Kindergarten and Primary School Students
Categories
1.Parent–Child Group (Kindergarten students and parents)
2.Junior Primary (Primary 1 to 3)
3.Senior Primary (Primary 4 to 6)
Format
1.Parent–Child Group: Colouring
Participants must fill the colouring sheet provided by Plan International Hong Kong. To unleash creativity, other designs can be added to the picture to better illustrate  the theme message. The kid is encouraged to develop his/her own 'Safety Network' by thinking the adult he/she trusts (e.g. mum and dad).
Click here for download colouring sheet
2.Junior and Senior Primary Group: Drawing (Theme: Favourite activity to do with my family)
Participants are required to draw on A4 size paper (210mm x 297mm).
Submission Guidelines
1.The artwork should express the theme message;
2.The work should be 2-Dimensional and drawn on an A4 (210 x 297mm) paper;
3.Participants can use watercolour, crayons, colour pencils and pencils for drawing. 3-Dimensional or computer graphics are not accepted;
4.Each participant can submit one artwork only;
5.Participants in the Parent–Child Group can draw with their parents.
Application Method
1.Complete the online registration form
2.Paste the artwork label at the back of the work. Submit the work to Plan International office by post or in person on or before 27 September 2021.
Address:21/F, 9 Chong Yip Street, Kwun Tong, Kowloon, Hong Kong
Office hours:Mondays to Fridays from 9:00am – 12:30pm / 1:30pm – 5:30pm (Closed on Saturdays, Sundays and public holidays)
3.Please state 3rd 'Draw my Dreams' Drawing Competition and 'Do not bend' on the envelope if delivered by post.
Deadline
2021 – 9 – 27 (The postmark date on the envelope shall be taken as the date of submission)
Fee
The application fee of certificate of participation and return of artwork is $40 (including administration fee and postage fee by Hong Kong Post).
Selection Requirement
| | |
| --- | --- |
| Parent–Child Group | Junior and Senior Primary Group |
| 1. Colouring Skills and Appropriate Use of Colour(40%) | 1. Composition and Drawing Skills(20%) |
| 2. Design and Creativity(20%) | 2. Content(30%) |
| 3. Overall Aesthetics(40%) | 3. Design and Creativity(20%) |
| | 4. Overall Aesthetics(30%) |
Award
Each group will be given the following awards
| | |
| --- | --- |
| Champion (1) | HK$1,000 Eurekakids e-cash coupon |
| First Runner-up (1) | HK$800 Eurekakids e-cash coupon |
| Second Runner-up (1) | HK$500 Eurekakids e-cash coupon |
| Third Runner-up (1) | HK$300 Eurekakids e-cash coupon |
| Best Creativity Award (1) | 1,100 ReadingMile e-miles |
| Merit Award (10) | 500 ReadingMile e-miles |
World-Caring School Certificate — Schools participating in the competition will be awarded a certificate.
Thanks Eurekakids (https://eurekakids.com.hk) and ReadingMile (www.readingmile.com/ereading) for sponsoring above gifts.
Result Announcement
Results will be announced on Plan International Hong Kong website and Facebook in November 2021. Winners will be invited to attend the Award Presentation Ceremony. The winning entries may be exhibited at venues of the "Donate A Pencil Campaign" in November or in other ways.
Enquiries
For any enquiries, please contact Miss Tsang at 3405 5305 or email [email protected].
Gift sponsors: