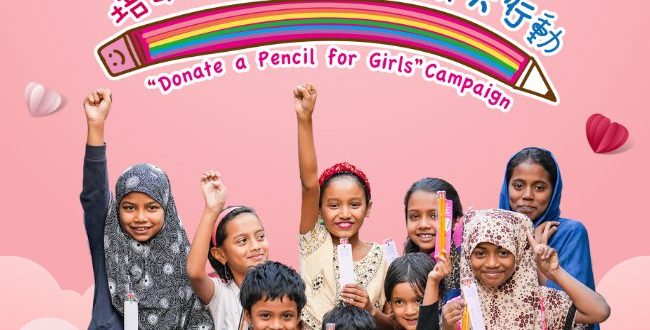 Plan International "Donate a Pencil for Girls" Campaign Spreading Love with A Pencil Keeping Girls in School
As the pandemic recedes, children can finally return to school and enjoy school life with their friends. However, there are still up to 130 million girls who are unable to attend school for various reasons. They are deprived of the right to receive education, missing an opportunity to achieve their full potential, and live a fruitful life.
Poverty and illness shatter the ambitions
Alifa, 13 years old, lives with her sisters in Bangladesh. After their father died from a stroke, the family moved from the rural area to a slum in Dhaka. Unfortunately, their mother died because of cancer afterward; not only did they have to experience the loss of a loved one again, but they also faced the desperate situation of slum eviction and forced relocation. As a result, Alifa's 27-year-old elder sister, Mimi, has to bear great sadness and the higher cost of renting an apartment nearby. Apart from taking care of all the housework, she also works as a part-time tutor to sustain the family.  Sadly, both Mimi and Alifa are battling chronic illnesses. Mimi is suffering from hypothyroidism while Alifa struggles with a rare disease that causes her to bleed easily when injured, making it difficult for her to walk and write. To support her younger sister in achieving her dream of becoming a scientist, Mimi decided to spend her monthly medical expenses on Alifa's studies. However, despite Mimi's sacrifices, Alifa still faced the risk of dropping out due to financial difficulty. Fortunately, Alifa has received tuition assistance through Plan International, allowing her to pursue her studies.
"Alifa is talented and intelligent. I hope to support her in continuing her studies so that she can fulfil her ambitions." Sharing the struggle of life, Mimi couldn't help but cry.
Pursuing education amidst hunger for a brighter future
Due to the recent earthquake, floods, and social unrest, accessing food, fuel, employment, and public services has become extremely challenging for the people in Haiti. Underprivileged families are particularly vulnerable to this food crisis. Chedeline, a 12-year-old girl, frequently goes hungry due to food shortages and is sometimes forced to rely on maize to sustain herself. Despite the hardships, Chedeline remains determined to pursue education and hopes to rewrite her destiny through studying. But travelling to school is never easy for Chedeline, she has to walk along abandoned, rocky roads and even cross a river to get to her shabby classroom. After all, empty stomachs and exhaustion made it hard for Chedeline to concentrate on studying, resulting in poor grades in school.
Chedeline: "I dream of becoming a nurse, but the hunger makes it hard for me to study."
As Alifa, Mimi, and Chedeline's pursuit of studies was almost halted by poverty, illness, and hunger, Plan International was able to step in to offer support with generous donations from donors. Tuition assistance, school uniforms, and learning materials have been provided to underprivileged families in Bangladesh, helping to alleviate their financial burden. Furthermore, food vouchers have been offered to 3,700 families in Haiti, including households like Chedeline's, allowing more ambitious girls to continue their education and transform their lives through knowledge.
Supporting the Campaign at shopping malls with fun
Plan International is committed to helping girls in developing countries to pursue education. This year's "Donate a Pencil for Girls" is taking place from 29 September to 29 October to raise funds for Plan International's education projects in Bangladesh. It aims to help local students overcome learning barriers and ensure girls' rights to education, empowering girls with knowledge and skills to break the cycle of poverty and child marriage. You can show your support by purchasing and donating pencils at the malls listed below, spreading love to girls in developing countries. The public can also enjoy mini-games while understanding the learning hurdles faced by girls, and receive a small gift upon completion!
| | | |
| --- | --- | --- |
| Date | Time | Venue |
| 29 September – 2 October 2023 | 11am – 9pm | Citywalk 2# |
| 11  – 15 Oct 2023 | 11am – 9pm | MCP Central# |
| 26 – 29 Oct 2023 | 11am – 9pm | D‧Park |
#Mini-games are available.
#Ceremony on 11 October.

Spreading love by donating pencils online
If you are not able to support the event at the shopping malls, you are invited to purchase pencils and donate them through our online platform. Each pencil you have pledged to purchase will be delivered to needy students in Bangladesh. Your donation can also provide Bangladesh girls with more learning necessities.
Pledge to donate 10 pencils at HK$100 could also provide a set of education materials (notebook, pen, calculator, etc.) for a girl in Bangladesh.
Pledge to donate 30 pencils at HK$300 could also provide 3 sets of education materials (notebook, pen, calculator, etc.) for girls in Bangladesh.
Pledge to donate 50 pencils at HK$500 could also provide 2 sets of school uniforms and education materials (notebook, pen, calculator, etc.) for girls in Bangladesh.
Pledge to donate 100 pencils at HK$1,000 could also provide 4 sets of school uniforms and education materials (notebook, pen, calculator, etc.) for girls in Bangladesh.
Henderson Property Management Department and Mediterranean Shipping Company (Hong Kong) Limited will match the amount you donated online to benefit more children in Bangladesh.* In other words, for every HK$100 you donate, each corporate will match up with HK$100 donation. Donate now!
*The upper limit for corporates' match-up donation is HK$60,000.
Donate HK$100 or above is eligible for a tax-deductible receipt.
(The online pencil donation campaign has ended. Thank you for your support!)
Apart from donating pencils, you may also improve children's lives through sponsoring a child. Our Child Sponsorship Programme will provide you with precious opportunities to encourage and communicate with your sponsored child through letters. Your continuous donation will certainly change their lives.
Event Highlights of 2022 Campaign
All pencils collected last year were sent to children in Bangladesh and needy children in Hong Kong via Silver Stationery Shop. All donation was used to support our education projects in Bangladesh to provide students affected by severe floods with learning necessities, and a safe learning environment. Thank you again for all of your generous support!
Acknowledgment