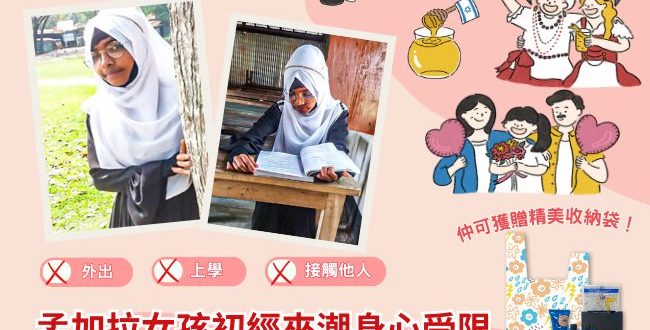 From Period Shaming to Celebrating: Help Bangladeshi Girls Break Menstruation Taboos and Superstitions
There is no precise way of knowing when the first period will come, every girl has experienced the anxiety of suddenly discovering blood stains on her underwear. Menstruation is an inevitable stage for every girl as she grows up, but for 15-year-old Bangladeshi girl Samia, it was the beginning of a nightmare. She was told by the "doctor" that menstruation was a bad omen; her grandmother believed that it was a sign of being ready to get married; and her classmates laughed at her wantonly because of ignorance……
All kinds of taboos plunged Samia into confusion and fear, affecting her physical and mental health. Menstruation is an important milestone for girls to enter the adolescent stage, why would girls suffer from humiliation?
Period is Considered as a Strange Disease due to a Lack of Education
Influenced by traditional culture, menstruation is still considered as unclean and a bad omen in Bangladesh. With a lack of education on sexual and reproductive health and rights, there were widespread myths and false information among girls about menstruation and it was being treated as a strange disease or even a curse. This negative perception of menstruation makes girls feel helpless when facing their first menstruation, causing them to unconsciously doubt and belittle themselves.
Samia, who grew up in the countryside of Bangladesh, lives with her grandmother since her mother left her hometown to work in other cities. She was never told what menstruation would be like. She had her first period when she was 11 years old, and she thought she had some strange disease. Even though her aunt bought sanitary napkins for her, she didn't know how to use them. During her periods, she experienced bleeding and cramping pain in her lower abdomen. Samia could not but bear the pain alone. During her third period, she was in excruciating pain but was told by the village quack "doctor" that it was an ominous sign and advised her to apply salt, water, and smoke to her body for "treatment". If there was no improvement, she was told to burn the cloth that she used during her period and keep the ashes under her pillow to stop the bleeding.
Samia thought that menstruation was a strange disease, she was at a loss when facing her first period because no one in the family taught it for her.
Even though Samia knew nothing about menstruation, she clearly knew these treatments could not reduce her pain. "The remedies never worked. I don't understand why people believe this kind of superstition!" Period taboo and period shaming already stopped her from discussing it with her friends and family, let alone consulting a medical doctor.
Child Marriage Deprives Girls of Freedom
The shame and physical pain associated with menstruation have not yet been relieved, the doom of child marriage has come upon Samia quietly. Influenced by traditional customs, her grandmother believed that Samia has entered puberty and is able to conceive, and it would be the golden time for Samia to get married and have children. Therefore, her grandmother hoped to marry Samia off in two years.
However, like many women, Samia has her dream. She dreams of becoming a career woman like her mother and hopes that all girls can live freely during menstruation. Period shaming restricts the lives and freedom of Bangladeshi girls. They cannot eat eggs, go out, go to school, or even contact with others during menstruation. Samia was ridiculed by her classmates at school because they were ignorant of menstruation. There is no proper sanitation facility in the school, making it difficult for her to change sanitary napkins in school, she was forced to miss classes during menstruation as a result.
Missing school because of menstruation may seem outlandish, but it is very common in Bangladesh. According to a survey conducted by the World Bank in 2018, about 74% of Bangladeshi students believe that they should follow the restrictions during menstruation, including not going out, cooking, and eating certain types of food. In addition, a quarter of girls surveyed said they missed school during menstruation, while only 6% of schools provided reproductive education, and only 36% of women knew about menstruation before their first period.
Education to Break Bias and Change Discriminatory Culture
To put an end to "period stigma", Plan International implemented the "Stop the Sigma" project in schools in Bangladesh to enable Samia and other adolescent girls to learn about menstruation and realise their rights. Now, Samia knows that menstruation is not a terrible curse but a normal physiological phenomenon. With her own power, she hopes to build a menstruation-friendly community for her peers.
Samia was determined to challenge traditional prejudices about menstruation and protect the health of other girls: "I want to build a menstrual-friendly space where professional doctors can advise girls on menstrual-related problems and provide proper treatment to ease their pain."
In order to ensure that girls will no longer miss school due to menstruation, Plan International is committed to providing training for local teachers so that they can provide reproductive health classes for students that allow boys and girls to have a positive view on "menstruation". At the same time, to allow girls to get access to clean and safe wash facilities during their periods, Plan International constructed menstrual hygiene management facilities in schools and provided sanitary pads to meet their needs.
Abdul Kuddus has been teaching in Barguna, Bangladesh for 23 years. After receiving training provided by Plan International, he is now teaching classes on sex and reproductive health for teenagers and girls, enabling them to obtain menstrual hygiene knowledge to protect their health.

During the sexual and reproductive health classes, girls can openly discuss menstrual-related problems. Kuddus believes that education is the first step to break the silence and taboo, and to ensure every girl knows her rights, and bring changes to society.
Plan International believes that through community education, teenagers, including girls and boys, and parents can understand menstruation is a physiological phenomenon, help eradicate superstitions and taboos about menstruation, and change the discriminatory culture in the long run, so that every girl can be treated fairly and kindly, and no longer feel humiliated. Plan International is also committed to promoting policy changes, advocating the local governments to tackle period shaming and poverty, improve sanitation facilities, and provide sanitary products for girls.
Celebrating the First Period for Girls
As a natural physiological phenomenon, the first period should not be the beginning of a girl's disdain for her body. Plan International believes that every girl has the right to understand menstruation so that she can accept changes in her body calmly and be proud of being able to reproduce. In some countries, menstruation is a coming-of-age event for girls, and it is also a special moment worth celebrating. Some parents will hold a party for the girl's first period, and some parents will prepare special food to celebrate the girl's growing up. Let's get to know the first period rituals in various countries: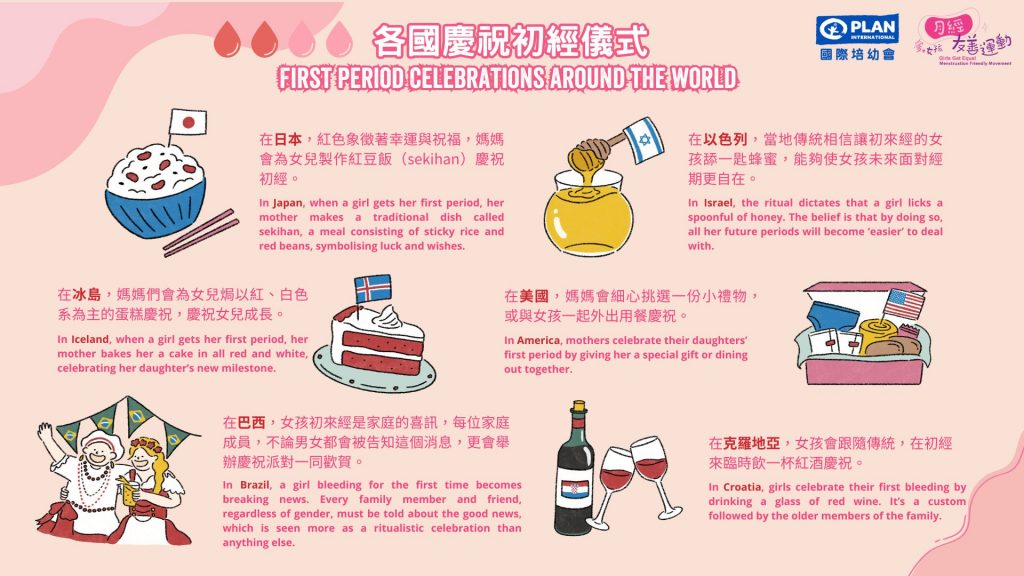 We cannot completely overturn the culture in a moment or two, but we can bring about changes through education and advocacy in the long run. We can create a new menstrual culture to help more girls like Saima overcome the taboos and have a carefree period. Let's cast aside the negative signs of menstruation and be positive about menstruation!
Plan International hopes the public can join us in providing menstrual support and education to help more girls in Bangladesh get rid of the stigma of menstruation so that they can accept and celebrate it.
Take action now by supporting Plan International's Girls Fund. Let's combat period shaming and period poverty, and give girls a carefree period together!
Girls Fund monthly donation
By donating HK$2 a day, you can support Plan International in carrying out menstrual education programmes in Bangladesh and other developing countries, providing girls with sanitary products and hygiene facilities, and creating a carefree period for girls. The funds will also be used in other various projects like anti-child marriage projects, anti-female genital mutilation projects, etc., to enable girls to Learn, Lead, Decide, and Thrive and be protected from inequality and violence.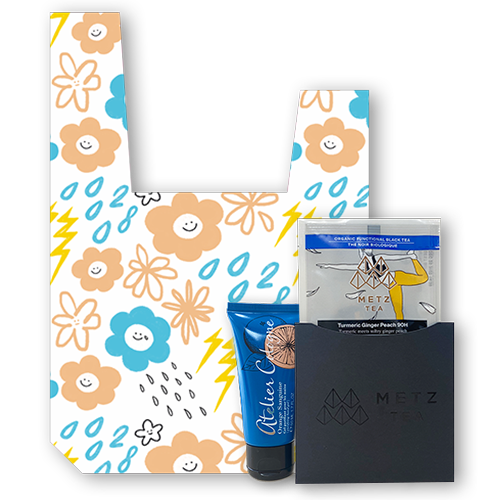 For every new Girls Fund monthly donor, you will receive a limited edition Thank You Pack by Plan International, with fabulous sponsor's gifts of skin cleanser products and tea bags (limited quantity, available on a first-come-first-served basis).
Bangladesh Menstrual project – one-off donation
Donate HK$100: Support 9 girls in Bangladesh schools to get access to menstrual hygiene management facilities and sanitary pads, and also use improved toilets with soap and water, so that they can handle menstrual waste properly.
Donate HK$300: Support 28 students in Bangladesh schools to get access to menstrual hygiene management facilities and sanitary pads, and also use improved toilets with soap and water, so that they can handle menstrual waste properly.
Donate HK$500: Support 47 students in Bangladesh schools to get access to menstrual hygiene management facilities and sanitary pads, and also use improved toilets with soap and water, so that they can handle menstrual waste properly.
Donate HK$1,500: Set up and provide hygiene management training for 48 school management committees and student cabinets.
Donate HK$3,300: Set up an adolescent and hygiene corner in Bangladesh school for girls to take a break, learn about menstruation and get free sanitary products, to educate and raise their awareness on menstruation and girls' rights.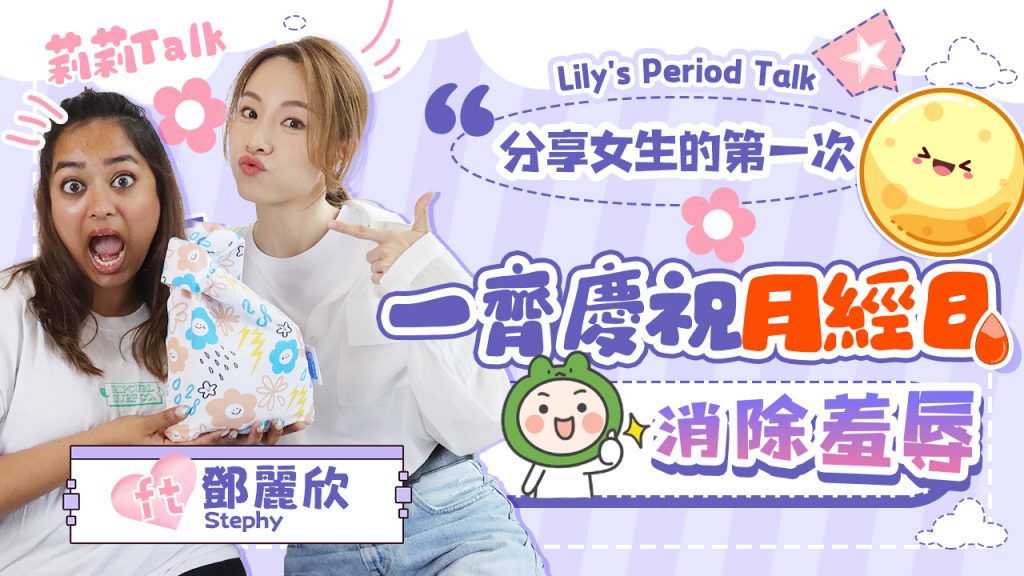 [i] "World Bank. 2018. Promising Progress: A Diagnostic of Water Supply, Sanitation, Hygiene, and Poverty in Bangladesh. WASH Poverty