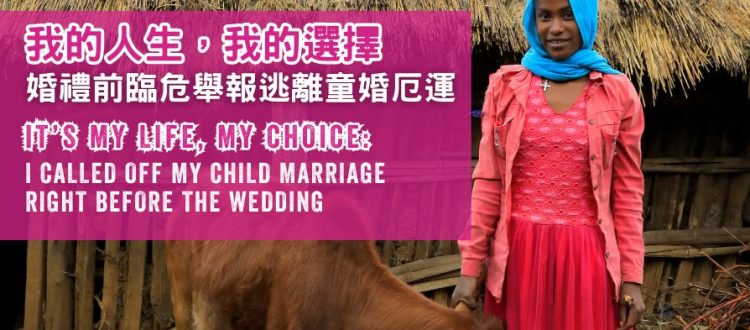 It's My Life, My Choice: I Called off My Child Marriage Right before the Wedding
Marriage is often seen as a fresh start to a happy life. Tragically, child marriage is a common custom in many developing countries, which deprives young girls of their fundamental rights, including the freedom to make their own choices for their future and access to education. At present, 12 million girls around the world are married before the age of 18, putting them at risk of dropping out of school, early pregnancy and domestic violence, etc. Plan International has been actively combating child marriage for many years by helping girls fight against the curse of child marriage and regain their autonomy in life through different projects.
Due to poverty and deep-rooted gender inequality, child marriage is still prevalent in many developing countries; about 640 million women are married before reaching 18. A report by United Nations found that despite various efforts to combat child marriage, progress has been surprisingly slow. Shockingly, it is estimated that it will take another 300 years to eradicate this issue.[1]
Girls are at risk of child marriage every day, and we must step up to stop child marriage from destroying their lives. Plan International has been working hard to tackle the issue throughout the years in the communities by launching various projects. Efforts to prevent child marriage have yielded positive results and successfully prevented many young girls from becoming child brides.
1.Support Girls' Education to Break the Cycle of Poverty
For many underprivileged families, child marriage is a way to escape poverty. Marrying off a girl not only lessens the family burden but also provides a sizable dowry as an extra income. To tackle the problem at its root, education plays a key role. According to a study by the United Nations, the child marriage rate is higher in countries where fewer girls are getting education. On the contrary, if girls can complete secondary school, the child marriage rate is expected to reduce by 66%. As girls continue to receive higher education, the rate is expected to drop by 80%. Education equips girls with the skills and knowledge to enter the job market smoothly and break the vicious circle of poverty. Plan International is committed to protecting girls' rights to education by providing educational assistance to girls, such as building learning centres, providing scholarships, books, school supplies, etc., to let them stay at school and continue their studies. At the same time, we also provide vocational trainings for girls to build self-sufficiency and prevent them from becoming victims of child marriage due to financial hardship.
Due to poverty and being a girl, Hellen from Tanzania had never been to school until the age of 14 years old. She watched her brothers go to school every day, but she could only stay at home and worry about the fate of child marriage. Through a project implemented by Plan International, she received grants for school uniforms, learning materials, and bicycles, and eventually began her school life. "For years, I had dreamt of the opportunity to enter the classroom and learn, but I never thought it would be possible. I now have the chance to pursue my education and become a teacher," shares Hellen happily.
2.Mobilise Social Transformation and Empower Girls to Say NO to Child Marriage
To eliminate child marriage at its root, it is necessary to change the traditional culture of patriarchy. Plan International is committed to promoting the importance of protecting girls' rights through community education and instilling the concept of gender equality in the community so that parents, teachers, and young people could understand the negative impacts of child marriage and would not let their girls and daughters trap in child marriage. In Yanhara State and Sedama Region of Ethiopia, Plan International launched a five-year "My Choice for My Life" anti-child marriage project to let girls know their own rights and rewrite their destinies. Through the project, 13-year-old Fethia learned about the scourge of child marriage and built up her confidence to become a youth leader in the community. She led as many as 30 teenagers to discuss the issue of child marriage and gender equality, making sure that everyone understands that child marriage is not the only way out and encouraging them to say no to child marriage.
| | |
| --- | --- |
| | |
"Positive changes are visible as teenagers began talking about the negative impacts of child marriage openly. There has been a noticeable achievement in the community since the project began. Today, a lot of parents give both girls and boys equal opportunities. The occurrence of child marriage has remarkably decreased in the community. In the past, more than 20 students would drop out of school each year due to early marriage, but now relatively few students do so."

Through the project, Abeba works for the Bureau of Women and Social Affairs in the Amhara region to raise awareness of the negative consequences of child marriage in the community. She shared that, "as child marriage is part of the cultural practice, it is difficult to change the community's attitude towards it. In the beginning, some people insulted us when we speak about the problem of early marriage. Yet, with perseverance, we can change community attitudes by communicating with residents around churches and at other social gatherings. Now, parents want their daughters to complete their education."
3.Develop an Effective Reporting Channel To Prevent Girl From Becoming A Child Bride
When girls face child marriage, most of them are at a loss and find it difficult to muster up the courage to defy their parents' decisions. It is important to establish effective and credible channels for reporting child marriage within the community. At the age of 16, Debritu was forced to drop out of school and stay home to take care of her sick mother. In order to increase the family income, her parents even arranged to marry her off to a strange man in exchange for a dowry to overcome financial difficulties. Through the "My Choice for My Life" project, the social affairs personnel assisted Debritu to report her case to the police, allowing the authorities to intervene as soon as possible. They also warned her parents that forcing their underage daughter to marry is a crime so the tragedy could be prevented in time.
"I was relieved and glad that the marriage had been called off. After that experience, I gained confidence and I wanted to help other girls in the community facing forced marriages. If anyone I know is being forced into a marriage, I tell them to refuse it and report it to the authorities. It is their life. They should say no to child marriage!"
4. Economically Empowered Victims of Child Marriage, Prevent the Tragedy from Passing on to the Next Generation
In addition to working hard to prevent child marriage, Plan International also actively provides assistance to the victims of child marriage, including helping them return to school, providing vocational skills training and health support, etc., and letting them build up economic capacity so as to break the vicious circle of poverty and protect their next generation from the harm of child marriage. Ayesha, from Bangladesh, married a man she never met at the request of her parents when she was 16 years old. After she divorced her husband and became a single mother, she always wanted to be self-reliant, but since she had dropped out of school, it was difficult for her to find a job to support her family. With the assistance of Plan International's training project, Ayesha was equipped with the knowledge and skills to run a business and received the start-up capital, she successfully opened a small business selling dried fish. It not only allows her to earn income to support her family but also creates more employment opportunities and benefits for more women in the community.
Aisha's business is growing steadily; she is now able to support her family and her son's studies. She has also started to build her savings and is gradually starting a better life. Ayesha has become an inspiration for other young women in her community. "After watching me run this business, many other people, especially girls, are coming forward to start their own businesses. They hope to follow in my footsteps, build financial capacity, and improve the quality of life in the long run."
5. Advocate For Legislating Against Child Marriage
Undoubtedly, there is still a long way to go to combat child marriage. To achieve this goal, we have not only taken an active role in fighting child marriage in the community but have also been lobbying and advocating for many years on an international level, urging countries to pass legislation against this harmful practice. Recently, driven by international pressure, countries such as Indonesia, the Philippines, and Zimbabwe have amended outdated laws, prohibiting forced marriage of underage girls.
Despite the challenges ahead, Plan International will keep fulfilling its mission of ending child marriage. We will do everything in our power to save every girl from child marriage so they can take charge of their own lives and work towards their desired future.
[1] https://data.unicef.org/resources/is-an-end-to-child-marriage-within-reach/