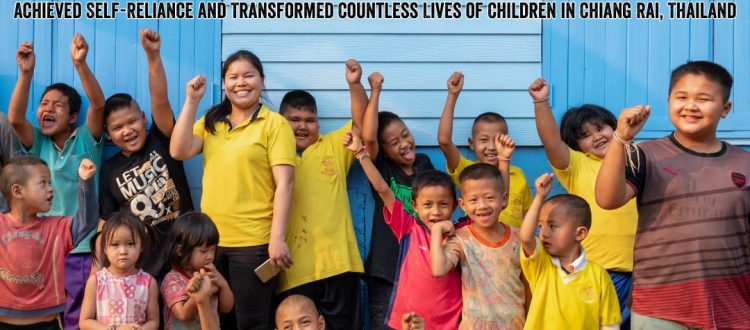 With Sponsors' Continuous Support Achieved Self-Reliance and Transformed Countless Lives of Children in Chiang Rai, Thailand
The Development of Plan International in Thailand
Since 1981, Plan International has been implementing projects in more than 1,000 communities in Thailand. Through working with the government and communities, we strive to advance children's rights and gender equality in the country for over 40 years. By focusing on various aspects, including education, early childhood development, and hygiene, we support children, their families, and communities in achieving a better living standard in the long term.
A decade ago, Plan International launched Child Sponsorship Programme in Chiang Rai. By implementing community projects, not only did we improve the facilities and resources in the communities, but we also provided sponsored children and their families with basic needs and security so that self-reliance and the pursuit of goals could be made possible. With sponsors' ongoing support, we have already assisted over 13,000 children by transforming the overall livelihood of their families and communities, a total of 89,000 individuals benefitted. Meanwhile, Thailand has also made an enormous step in achieving stable economic growth. The poverty level has reduced from over 65% in the 1980s to below 10% in 2018; the health system has improved while over 98% of the population has access to safe drinking water; 95% of children now complete primary school. Achieving all these positive outcomes, our Child Sponsorship Programme will be phased out of Chiang Rai by the end of June 2023. Let's take a look at what we have accomplished.
Help Children Acquire ID Cards to Gain Social Security and Dignity
Starting in 2012, Plan International helped children and people in need without Thai citizenship gain the fundamental rights of citizenship, including the right to education and medical support. Without an official identity, getting around the country or medical treatment become difficult. Arza is a father and a farmer. Since he did not receive any education, he did not understand the importance of identity. Therefore, none of his family had an ID card, and getting access to basic rights was denied. Volunteers from Plan International helped build Arza's awareness of citizenship and basic rights. By performing DNA tests and storing their birth certificates in the database, Arza's family now obtained Thai citizenship and are able to enjoy medical welfare and travel to other places. On the other hand, Nafu is a mother without identity and medical expense has become a great burden for her. With the help of Plan International, not only did she acquire an ID card, but she can also enjoy Government's medical service and visit other cities for better job opportunities. During the past 10 years, Plan International has helped more than 16,000 people successfully obtain Thai citizenship, studying and working in other cities are no longer a dream.
Empower Girls to Have Control of Their Futures
Plan International started the "No Marriage and No Pregnancy under 18-year-old" project for young girls which allowed them to understand how child marriage and early pregnancy could adversely affect health, education, and future through a series of trainings. Under this project, Meen, who is a sponsored child and Youth Leader of the Community-based Child Protection Mechanism was able to learn about reproductive health; she and her teammates also learned how to advocate for their rights by working with parents, community leaders, and government officials to address the root causes of harmful practices, like child marriage and gender-based violence, and create lasting change.
Encourage Girls to Start Businesses to Achieve Self-Reliance and Improve Community's Living Standard
In order to achieve self-reliance, strengthening youth's sustainability is indispensable. With sponsors' support, Plan International is able to provide relevant vocational trainings and financial support to youth and women and at the same time, upgrade the socioeconomic standard of the community as a whole. Over 800 families were able to enjoy better living standards by starting small businesses with loans. Those children could continue having education and create a bright future. Ting comes from a village in Chiang Rai where the hygiene was unsatisfactory due to poor waste storage. As Ting understood the importance of proper waste management, she submitted a proposal to Plan International and got a subsidy to revamp the waste sorting and disposal system. Ting is so proud that she was able to contribute to her village and educate other villagers to protect the environment.
Promote Education among Children for Better Futures
Education can be a powerful way out of poverty. Plan International provided learning kits and materials to children and established a school bus allowance which helped over 1,000 children and youth to gain access to local schooling and higher education. Through participating in the early childhood care and development (ECCD) programme, teachers' knowledge and teaching performance was enhanced through trainings on critical thinking and giving speeches. 500 ECCD handbooks have been provided to teachers and parents to learn about early childhood learning methods. By joining hands with local communities, we have set up early childhood development centers and 11 mobile libraries for hundreds of children to gain access to fun and engaging learning materials.
Support from Sponsors becomes Sponsored Children's Greatest Back-up
Plan International is grateful for the continuous support from sponsors for the past 10 years, transforming the lives of countless children living in developing countries. Needless to say, donations and in-kind support are crucial in supporting the livelihood of the sponsored children and their families. Yet, the spiritual connection between sponsors and sponsored children is the essence of the Child Sponsorship Programme. By exchanging letters, sponsors are able to know more about their sponsored children and encourage them to overcome obstacles ahead.
Although our Child Sponsorship Programme is phasing out of Chiang Rai, we will continue to carry out other projects in Thailand. Our long-standing cooperation with communities and local authorities allows us to implement new projects in Mekong region in the North and east of the country, and provide assistance to migrants from Cambodia and Myanmar. We are happy to witness the improvement of Chiang Rai and its communities achieving self-reliance. Kamolnat Skultuan, Programme Unit Manager, Chiang Rai shared, "Sponsor's contribution has created changes for children to feel safe, to be heard, to receive adequate care, and to grow up in a protective environment."