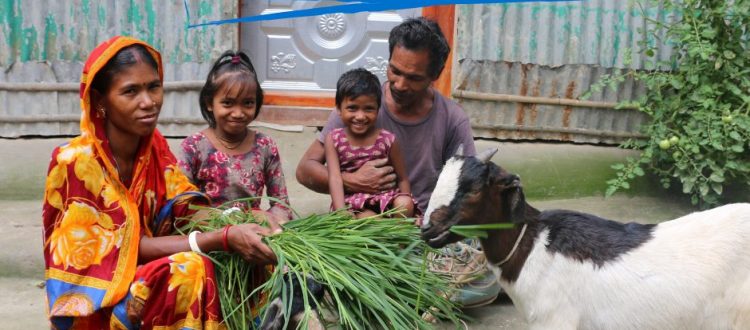 How Ongoing Support from Child Sponsors Transformed the Lives of Sponsored Children and Their Families
With sponsors' continuous support to the Child Sponsorship Programme, Plan International is able to utilise the monthly donation to implement numerous community-based projects in developing countries, which would improve the quality of life of many children, families, and communities including the aspects of education, early education and skills and decent work. Let's read the story of Lipi, one of our sponsored children from Bangladesh, and learn how the ongoing donations from sponsors could bring positive impacts on the lives of sponsored children and their families!
Lipi lives with her sister and parents, Budero and Tara, in Kurigram district. As a farmer, and also the breadwinner of the family, Budero's income was barely enough to support the entire family. The financial situation worsened when Budero lost his job due to the closing of the local market caused by the Covid 19 pandemic.
Learning about the sponsorship programme of Plan International from a community volunteer, Tara and Budero enrolled Lipi in the programme. They were eligible for a small financial grant which supports families affected by the pandemic. Tara decided to use the money to buy a female goat which provided milk to supplement their family's diet. Tara's decision proved wise when a baby goat was born a few months later. Other than learning practical livelihood skills, Tara was also able to generate income by selling the baby goats.
Collaborating with its local partner, Plan International's parenting sessions also benefitted Lipi's family. Local parents have been taught childcare techniques, thus raising awareness of positive parenting and gender equality. Although some of the topics were unfamiliar to Tara and Budero at the beginning, the sessions changed their perceptions and the way they raised their daughters.
Lipi now attends a child development centre for children aged 3-5 supported by Plan International, where she learns how to recite rhymes, act, sing, dance, and engage with other children. The centre provides guidance to parents and caregivers to support their children's all-rounded development, enabling their children to create and transform low-cost, free, and unused materials into learning tools.
Lipi's heartening story illustrates the transformative power of continuing donations that create huge positive impacts on children's lives. From struggling to make ends meet to building a sustainable business and creating a supportive nurturing environment for children, it is the journey towards self-reliance is made possible by the combined efforts of every sponsor. The child sponsors'support to the Child Sponsorship Programme has enabled us to create one inspiring story after another. Children and families are now towards a brighter future through access to education, livelihood opportunities, and other necessary services.