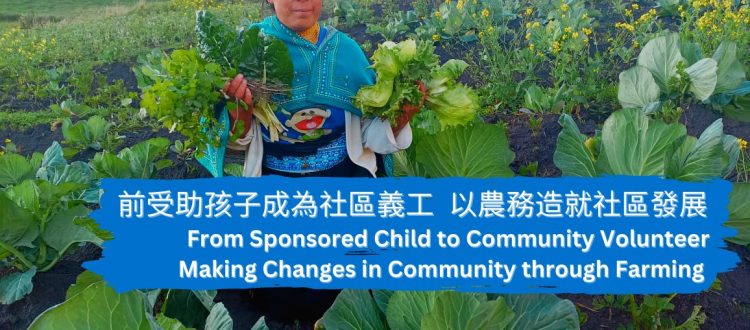 From Sponsored Child to Community Volunteer – Making Changes on Community through Farming
Under Plan International's Child Sponsorship Programme, ongoing support from sponsors provides every community with sufficient resources which let their sponsored children thrive and improve the children's and their families' livelihood while bringing last changes to the community that lasts for generations.
Hilda, our community volunteer in Ecuador, was once a sponsored child. Born in a poor village, Hilda's parents were farmers and their income was far from enough to cover her education expenditure. Thanks to the considerable support from sponsors and Plan International, Hilda was able to receive education and be equipped with key life skills through various projects. Currently, Hilda's children are also benefited from the community programmes.
Hilda became a volunteer after her graduation and helped support different development projects. In the community, malnutrition is common among children due to low awareness of food safety and nutrition. With the rich farming knowledge nurtured by her parents, Hilda initiated a new programme with the support of Plan International – teaching families to plant vegetable gardens at their homes.
Hilda organised different workshops and provided trainings to both women and men, so that people in the community can learn to grow local vegetables, fruits and herbs using eco-friendly gardening techniques. Families were provided with seeds so their children could have sufficient food. Apart from enhancing their nutrition and food safety knowledge, Hilda also taught families to produce their organic fertilizers and chemical-free pesticides, and other important rainwater-harvesting techniques and food processing knowledge.
Thanks to Hilda's efforts, more and more families in the community have become self-sufficient by consuming their planting products grown without chemicals. Families not only spend less on food but also access a wider variety of vegetables, which results in a more balanced and healthy diet for children. Meanwhile, families can earn additional income from selling plant products, allowing them to devote more resources to other areas, such as education and life necessities, etc. The living conditions of many families have improved and that encouraged them to seek further opportunities and development, gradually establishing skills and resources for sustainable self-reliance.
From a child to a mother, from a sponsored child to a community volunteer, we have witnessed the positive changes and development among children, families and the entire community through Hilda's story. Steady and long-lasting support from sponsors under the Child Sponsorship Programme has made positive changes in every family, and the community as a whole, gradually creating an equal and healthy environment for children to grow up in.