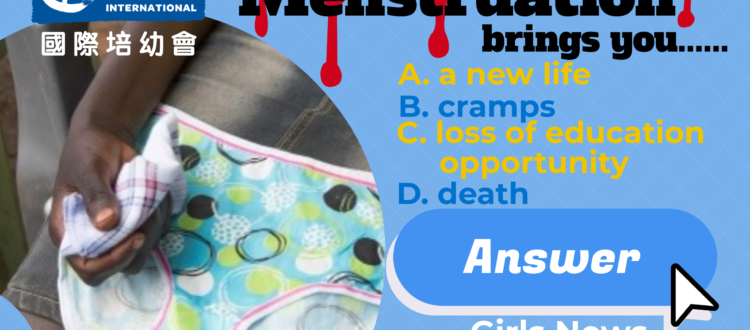 September 2020【Menstruation brings you…】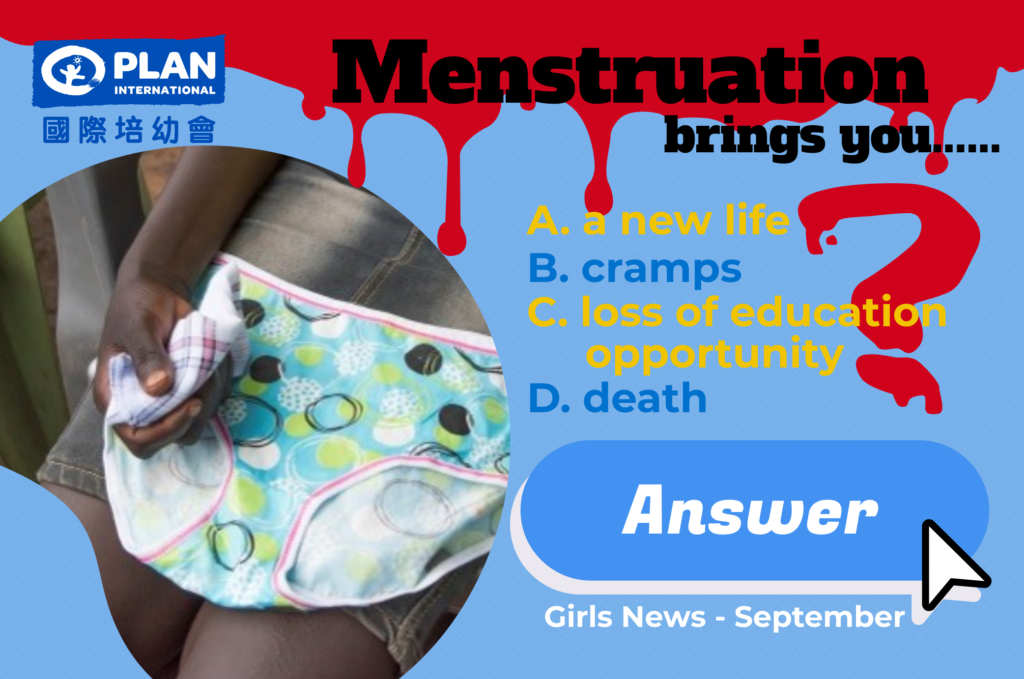 You Cannot Change Menstruation But You Can Change Your Attitude!
"Menstruation."
If you mention this word in Hong Kong, you will probably receive a few awkward stares. However, in some other parts of the world, if you talk about menstruation, instead of awkwardness, you will feel embarrassed, humiliated and scared! What does menstruation mean to you?
Menstruation is nothing but a female's natural physiological process. According to a research, every female spends an average of 3,000 days menstruating in her life. In spite of this, all of them have a slightly different menstrual story. She gets acnes, I get cramps but the lady over there can be totally fine.
Here is a question to think about before we start. What do you think is the implied meaning of menstruation to girls around the world?
1. A new life
2. Cramps
3. School drop-out
4. Death
5. All of the above
To find the answer, let's watch the story of Nepali girls.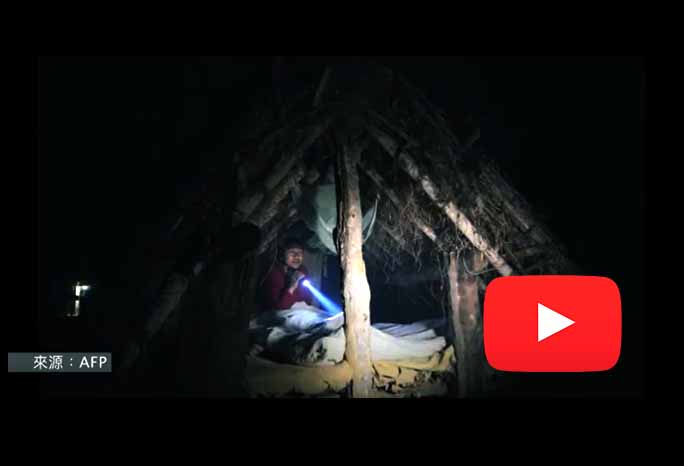 In this Nepali girls' story, menstruation brings negative impacts or even causes deaths. Although Nepal has criminalised the use of menstrual huts (Chhaupadi) since 2005, the situation remains rampant in the remote area of the far-western region. There are girls and women confined to desolate huts every day and cases of deaths are recorded every year. They may be attacked by poisonous snakes or suffocated to death while they are burning coals to keep warm. Due to stigma, a number of girls who had been abused and raped in the hut were too scared to report the case.
The Problem is Not the Law, But Our Mindsets
A research shows that close to 77% of the 14 to 19 years old girls in west-central Nepal are still kept in Chhaupadi during their period, 60% of them know that the practice is illegal. Another research in 2018 described the situation as "well-intended". Even when the huts are demolished, people find their other ways to isolate the girls. Sometimes, they replace the huts with sheds which are designed to keep livestock and the environment is even more unhygienic and dangerous.
Why are menstrual huts 'important' to Nepali people? Most of the Nepali population is Hindu and they believe menstruation is 'unclean' and offensive to God and spirits. When a menstruating girl touches cooking ingredients, water sources, things that are considered sacred or the male members of the family, bad luck comes to them. Therefore, the girls are retained in the huts far away from their homes. A law cannot change one's mindset, and it is not the solution to ensure villagers to abandon the practice completely.
Period Shaming Exists All Around the Globe
What's happening on Nepali girls is actually a reflection of 'period shaming'. 'Period shaming' is the phenomenon when a female is criticised or humiliated because of their periods. Given the low social status of female and the public knows little about this physiological phenomenon, a female can easily succumb to attacks. Menstruation destroys self-confidence of many girls and women. Some of them skip school to avoid criticism and humiliation, while some of them no longer have the courage to voice out their rights. These all increase their chances of dropping out of school, getting into child marriage and early pregnancy as well as receiving unfair treatments.
In fact, different levels of 'period shaming' exist in many countries around the world. Take the encounter of 18-year-old Pauline as an example. She once fainted at school during her period and was sent to the hospital. After she was discharged, she didn't get the caring she expected, on the contrary, she was alienated by the boys in her class and rumour has it that she was cursed. Pauline was under tremendous pressure and her parents have to transfer her to another school. The culture in Uganda is to blame. Female is not respected in the society and the boys copy the behaviour of the adults. In addition to the lack of education on the topic, boys have little understanding of the physical discomfort girls are facing.
Adults, particularly teachers, are the role model for kids. Yet, in a country that has long been suppressing discussions and education on gender and reproductive health, are the teachers well-educated to handle our children's puberty troubles? In 2019, in a small village of Kenya, Africa, a 14-year-old girl accidentally stained her uniform while she has her period. Her class teacher did not offer help to get her out of this embarrassing situation, instead, she called her 'dirty' in front of the class and asked her to leave the classroom. The incident hit her hard. Not knowing what to do, the girl got depressed. When she went home, her mother did her best to comfort the little girl, but still, she committed suicide when her mother walked out to fetch water.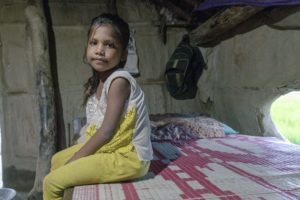 Not all Nepali girls are isolated in menstrual huts, but a study has found that all of them were restricted by a certain form of menstrual taboos.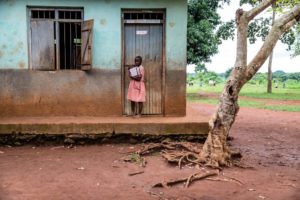 The United Nation Population Fund East and Southern Africa Region office has found that many African still view menstruation as 'unclean' and even forbid girls to touch their private parts during their period as it may contaminate the sacred water source.
Is 'Period Poverty' Only a Poverty Issue?
We may have heard of 'period poverty'. It means that female cannot afford sanitary products so they have to use other substitutes or reduce napkin changing frequency. Globally, 2.3 billion population have no access to basic sanitary services, 27% has no handwashing facility at home. In comparison, female not having sanitary products to use seems to be less important? Indeed, the lack of sanitary products has caused many problems. Do you know there were 'shoe sole girls' in a well-developed country like South Korea? Girls turned to use shoe soles to replace pads as sanitary product producers raised its product price dramatically to a point that poor families could no longer afford. The whole country was in an uproar. Period poverty bothers many girls and women in the developed region, what will happen in resources strained developing countries? In India, only 12% of female have sanitary products to use while many more can only use old rags, dust or newspapers.
'Period poverty' shattered girls' self-esteem and their dreams to thrive by forcing them to drop-out from school, suffer from early marriage, teen pregnancy, intergenerational poverty and bacterial infection. This can even claim their lives. We have known that poverty, high sanitary product price, high cost of living and shortages can be the culprits. Other than that, have you imagined that it is linked to 'period shaming' as well?
Since our society avoids talking about gender and reproductive health, menstruation is portrayed to be a monster. With the absence of knowledge and attention to girls and women, we fail to incorporate their needs into our daily and governmental decisions. We assume that sanitary products are not necessities and would rather spend our money somewhere else. This mindset has to be changed.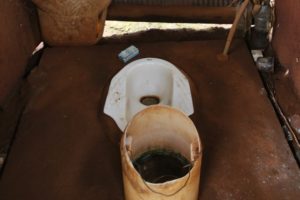 There is no latrine and enough water supply in many communities in developing countries to cater for girls' menstrual needs.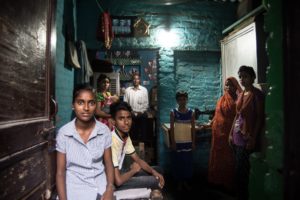 Indian female has very low status in their families and communities. Most of the households do not want to spend on buying sanitary products and the girls dared not to seek help.
You Cannot Change Menstruation But You Can Change Your Attitude!
15-year-old Nepali girl Smriti is trying to alter her life! Smriti was forced to stay in her neighbour's home for 11 days when she first got her period at the age of 13. She was not allowed to attend school, get in touch with any male family members or use water. It was a torture and from that moment onwards, she clearly knew that she has to break the taboos in order to bring girls a better life. She started to share her experience with her family and friends and hopes to influence the community to change their views on menstruation.
Menstruation itself will never change, nor the cramps and acnes. The poverty-led issues could not be solved within a day or two as well. However, we can always tune our minds. We have to change our attitude towards menstruation, talk about it and the solutions publicly without feeling embarrassed, teach our next generations the correct gender and reproductive knowledge and face the first puberty challenge together with our kids at home.
Plan International has been pushing forward a wide range of menstrual projects in the developing countries, including the set-up of menstrual-friendly rooms with beds, handwashing facilities, disposal bins and educational posters on menstrual issues as well as the provision of gender-inclusive training on gender and reproductive education and reusable pads DIY workshops. By engaging boys into the process, we can build a more supportive society. We also distribute menstrual education booklets, construct menstrual-friendly latrines and wells, distribute sanitary products and encourage girls to be policy advocates in the communities. By everyone's concerted efforts, we can give girls a care-free period!
It may take several persistent and powerful advocates to reform the laws, yet we need the whole generation on the boat to shape a new mindset. Are you ready to hop on board?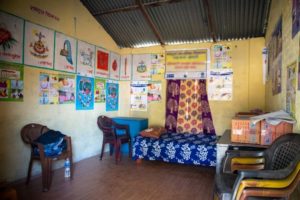 Plan International has set up menstrual-friendly rooms in 25 schools in Nepal, providing girls with a place to rest and a classroom to learn about menstruation.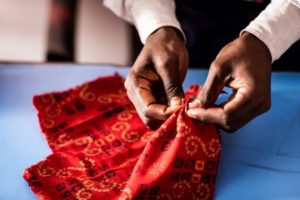 The participation of boys in menstruation education is vital. Through gender-inclusive education, boys can learn and understand the needs of their female counterparts and fight the taboos in society together.
Download Plan International x Little E Menstruation Themed WhatsApp Sticker