Renaming Announcement of Plan International Child Sponsorship Programme
Plan International has been promoting children's rights and equality for girls over the past 80 years. Through Child Sponsorship Programme, Plan international is currently working in 57 developing countries in Africa, Asia, the Americas, and Oceania, to make lasting improvements to the quality of life of children and their families, so they can move out of poverty and attain self-reliance. The Child Sponsorship Programme has always been an important part of our work. Between 1959 and 1973, Plan International operated a field office in Hong Kong. With the monthly donation of HK$45, we provided nearly 12,000 local children and their families with support in education, food, healthcare, housing and career counselling. In 1973, witnessing the improvements in living standards, Plan International decided to leave Hong Kong in order to divert and focus its resources on other developing countries where new programmes and field offices were set up. It was only until 2009 when Plan International re-opened its Hong Kong office to accept donations from the Hong Kong community to support the child development programmes and projects in China, Asia, Africa and the Americas.
As the organisation grows, Plan International reformed its original sponsorship model to the existing community-based approach. Resources are allocated to support children, their families and communities in six main areas including education, early childhood development, protection from violence, sexual and reproductive health and rights, skills and decent work and young people driving change. Sponsors can still build their relationships with sponsored children via letters and make positive impacts on their lives. This operation model benefits both the child and the community. Other than helping only one child and his or her family, we can now make long-lasting and comprehensive improvements in the community so that children's rights and gender equality can be achieved.
Plan International has been accompanying children and carrying out lasting and sustainable child development programmes over the years. To enhance the public's understanding of the programme, Plan International Hong Kong is now renaming the Chinese name of the Child Sponsorship Programme, from "助養兒童計劃" to "培幼兒童成長計劃", while all English names remain unchanged. Details are as follows:
Existing Name
(in Chinese only)
New Name
(in Chinese only)
English Name
(Remains unchanged)
助養兒童計劃
培幼兒童成長計劃
Child Sponsorship Programme
童助童愛-助養兒童計劃
培幼童助童愛計劃
Kids Sponsor Kids- Child Sponsorship Programme
培幼同行計劃
培幼之友
Plan with Children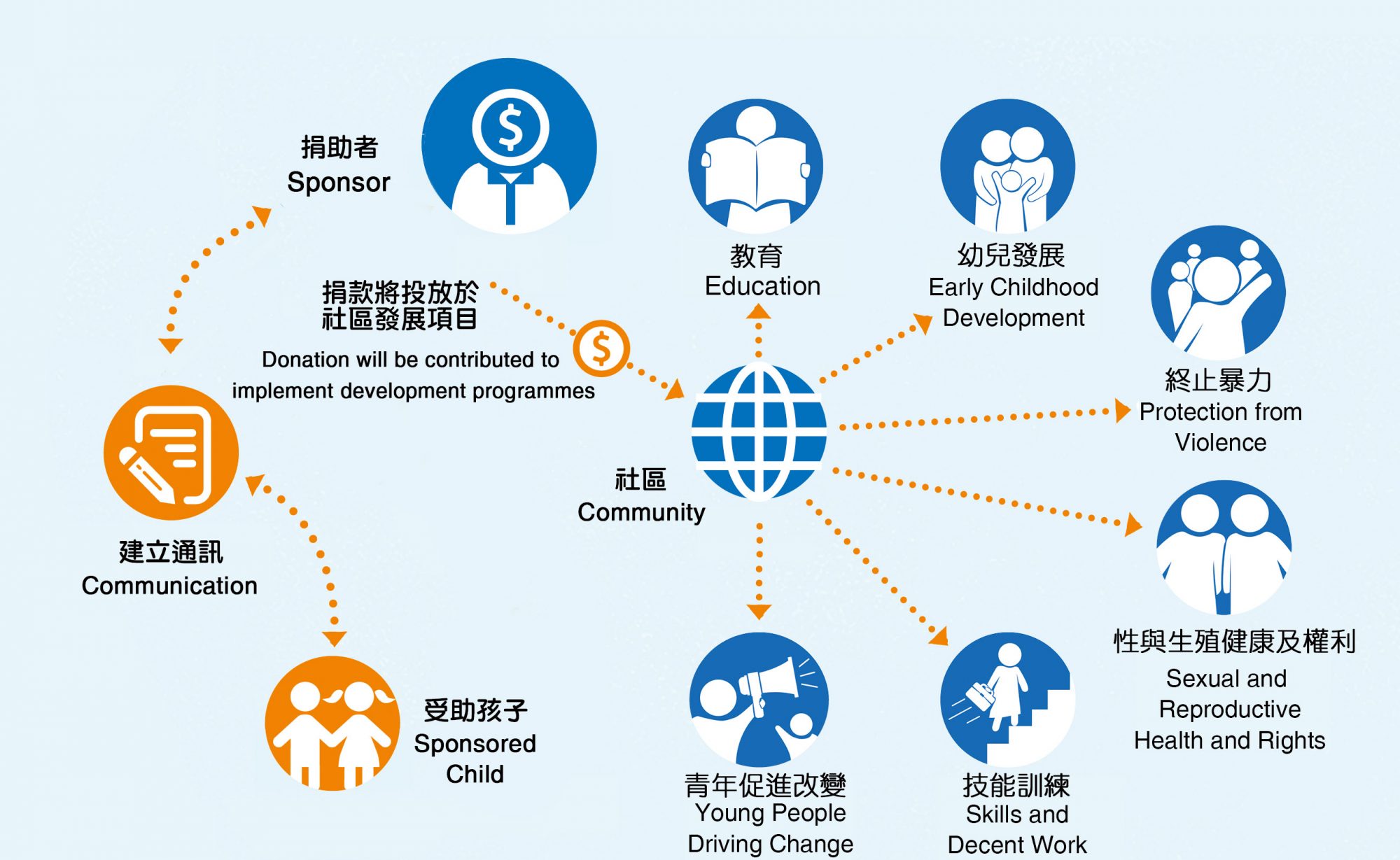 The renaming of the Child Sponsorship Programme does not affect the operation model of the programme or donors' connection with their sponsored children. The donations to the programme will be used on community development projects in the sponsored children's district in the above six aspects. Children from 57 developing countries will be benefitted from your generosity.
Plan International will continue to strive for children's best interests in developing countries and Hong Kong and to provide children with a healthy upbringing to reach their potential.
General Enquiries:
Please call (852) 3405 5305, fax (852) 2893 3619 or email to [email protected].