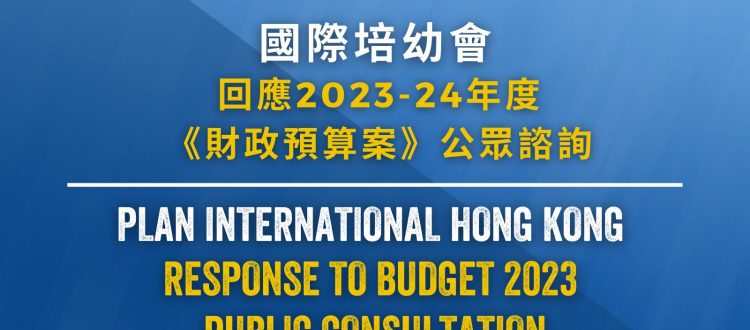 Response to The 2023-2024 Budget Public Consultation – Allocating More Resources to Assist Child-related Institutions Implement Child Safeguarding Policy and Improve Children's Eye Health
In 2022 Policy Address, the Government has proposed to legislate mandatory reporting for suspected child abuse cases. Apart from mandatory reporting, Plan International Hong Kong ("Plan International") also considers the necessity of reinforcing child safeguarding mechanism in Hong Kong to minimise the risks of abuse in the first place; Plan International also noticed there is a deterioration of students' eye sight after 3 years of pandemic. With the release of Budget 2023-2024 on 22 February, Plan International submitted recommendations in two aspects in response to its public consultation. It is hoped that more resources could be allocated to build a safety net for children so as to protect their physical and mental health.
A. The Need for Child-related Organisations to Implement Child Safeguarding Policy
With the controversial child abuse scandal in Hong Kong Society for the Protection of Children ("HKSPC"), local research on risks of harm to children in educational institutions showed that 1 in 5 interviewed children had been harmed or abused in education institutions in the past 6 months; more alarmingly, 10% were physically punished, these figures all pointed to the increasing risks of institutional child abuse in Hong Kong. The Government should accelerate the progress in the implementation of Child Safeguarding Policy in child-related organisations in order to reduce the potential risks.
To assure that children would enjoy the same level of safety across different child-related sectors, as well as to provide necessary support to the rising needs of implementing Child Safeguarding measures, Plan International has the following two suggestions:
a) Increasing the amount of manpower for child-related institutionsby recruiting and/or hiring external consultants to assist in establishing and enforcing a set of Child Safeguarding Policy;
b) Providing Child Safeguarding Trainings for all staff and related personnel who might have contact with children at work.
B. Resources to improve Students' Eyecare Service to mitigate pandemic's impact on Eye Sight
Multiple recent types of research, including the children-initiated research under the Voices of Children project supported by Plan International in 2022, reflected the substantial impact on children caused by Covid-19. As an organisation focusing on children's rights, including their rights to participation, we are obliged to allow local children to voice out their concerns and the solutions they long for:
a) Many children's eye sight declined with long period of online learning mode during pandemic. Plan International recommends the provision of comprehensive optical examination for children aged 4-16 years old, with special subsidies of new optical aids for children from deprived families; as well as strengthening eyesight protection knowledge via talks and public campaigns for parents and children.