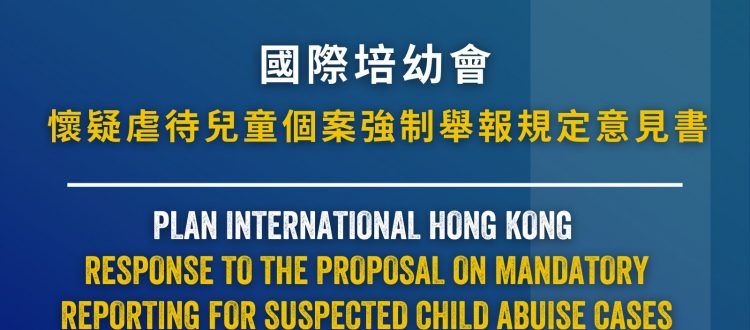 Response to The Proposal on Mandatory Reporting for Suspected Child Abuse Cases
Plan International Hong Kong is dedicated to enhancing the physical and mental health of children and youth in Hong Kong. We welcome the government's proposal to push ahead with the legislation on mandatory reporting for suspected child abuse cases as we believe it is a powerful initiative in preventing children from any forms of harm and abuse. It also encourages child-related professionals to fulfil their child safeguarding responsibility and facilitate early intervention into suspected child abuse cases. In late-September 2022, Plan International Hong Kong submitted a response paper with the following two recommendations to HKSAR government for the smooth implementation of mandatory reporting for suspected child abuse cases and creating better effectiveness in child safeguarding:
1. Extending the Scope of Mandated Reporters
Extending the scope of mandated reporters of suspected institutional child abuse cases to child-related practitioners from sports institutions, religious institutions, tutorial centres, and the practitioners and heads of child-related social service organisations.
2. Establishing Clear Guidelines for Child-Related Organisations
The Government provides clear guidelines for child-related organisations to establish internal reporting mechanisms on suspected child abuse cases. The Social Welfare Department takes the initiative to stipulate what 'reasonable steps' a service unit needs to take regarding Service Quality Standard 16 to prevent children from harm and abuse so as to build a stronger safety net for them. The organisations could also take reference from Plan International Hong Kong's Suggested Framework of Child Safeguarding Policy Point. 2 "To provide a clear code of conduct describing appropriate and inappropriate behaviours" and Point 10 "To identify, manage and minimise potential risks to children in daily operation", by listing out the appropriate steps and procedures, i.e. forbidding an adult to spend time with children alone or carrying out regular inspection, to further protect children from harm and abuse while preventing child abuse cases from happening again. Moreover, organisations could follow Point 14 "To provide employees with regular training and support on how to maintain child safety" and Point 15 "To provide training to volunteers, partners and other persons who have contact with children to maintain child safety" by providing stakeholders with clear definition as to what constitutes "abuse" and including relevant trainings into daily operation, for example, organising seminars or campaigns that raise awareness on child abuse and provide more information on the reporting mechanism.
Our response to mandatory reporting