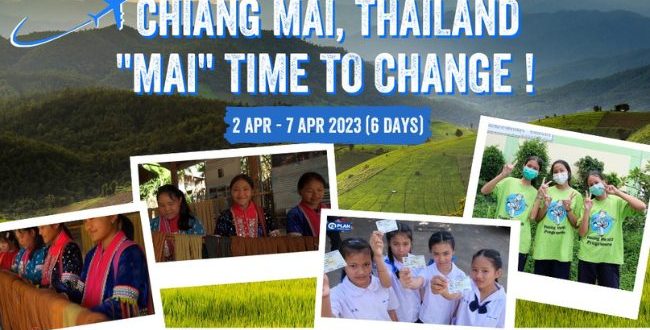 Plan International Hong Kong – Be a Change-maker 2023
Support young people to be change-makers with global awareness and the power to catalyse positive social change in their communities through experiential activities, training workshops, an overseas exposure trip, and organising awareness campaigns!
Apply now! Application Deadline has been extended to 13 Jan 2023 (Fri)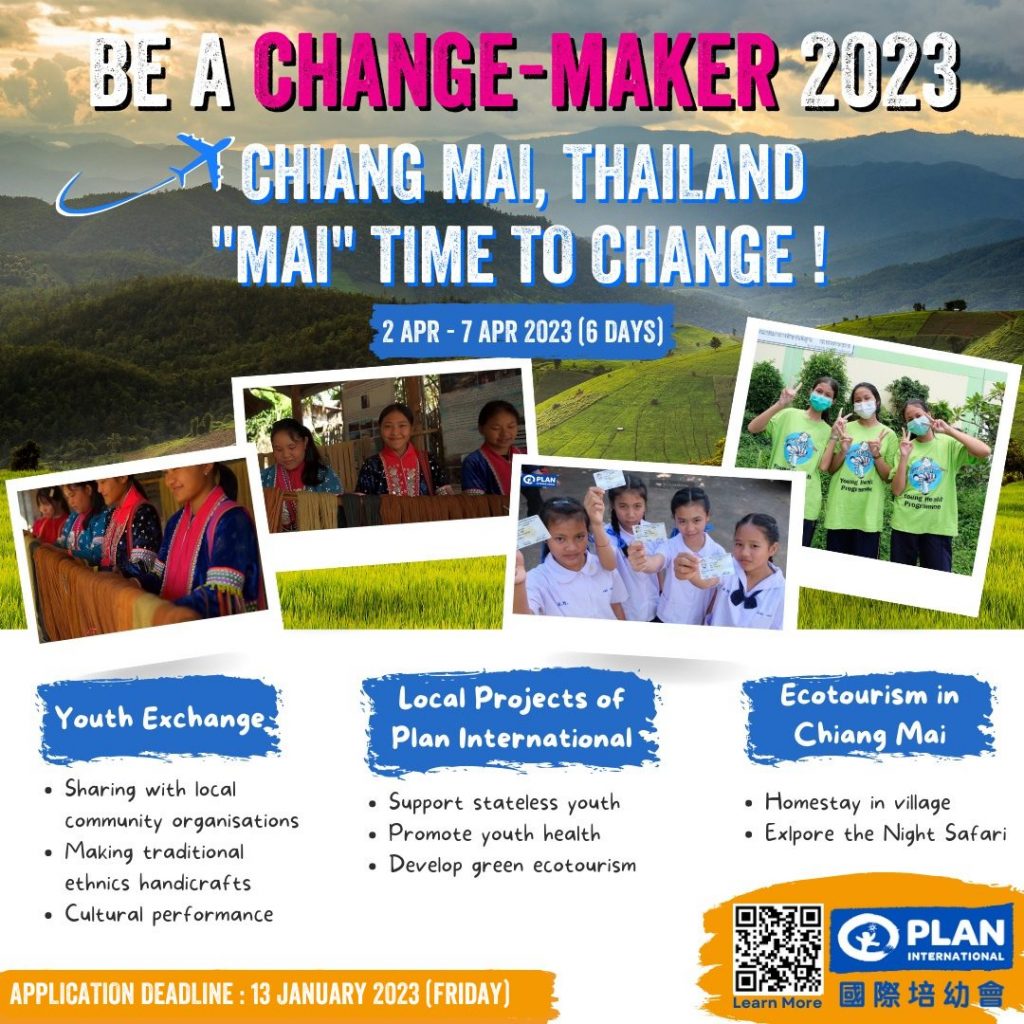 Introduction
Plan International strives for a just world that advances children's rights and equality for girls. We cordially invite young people interested in social and child rights issues to join 'Be a Change-maker 2023'. Through a series of activities from Jan 2023 to Jul 2023, participants will take the first step to become global citizens through learning, researching, and taking action to make a voice for children around the world, especially for girls living in hardship.
6-day Chiang Mai,Thailand Exposure Trip
The exposure trip for "Be a Change-Maker 2023" will resume after two years of the COVID-19 pandemic! With the support of Plan International, youth participants will explore the causes and phenomena of girl-related and climate change issues through a variety of activities including site visits and cultural exchanges with local youth in Chiang Mai,Thailand. Participants will thrive as global citizens who strive to create positive changes in their communities.
Training Workshops and Awareness Campaign
A series of training workshops will be arranged to equip participants with an understanding of all perspectives including global citizenship, social issues in Southeast Asian country and research skills, etc. Participants will develop their own action plan and initiate awareness campaigns based on their learnings with the support from Plan International Hong Kong and corporate partners to initiate CHANGE.
Important Dates
Recruitment
Application Deadline
13 Jan 2023 (Fri)
Interview
7 Jan 2023 (Sat)
Orientation Day Camp
28 Jan 2023 (Sat)
Training and Research
Training Workshop (1)
25 Feb 2023 (Sat)
Submission of Action Plan (first draft)
3 Mar 2023 (Fri)
Pre-trip Briefing
25 Mar 2023 (Sat)
6-day Chiang Mai,Thailand Exposure Trip
2 Apr – 7 Apr 2023 (TBC)
Training Workshop (2)
22 Apr 2023 (Sat)
Implementation
Launch of Awareness Campaigns
5 Jun 2023 (Mon)
Graduation
Graduation Ceremony
Jul 2023 (Sat)
Eligibility
Aged between 15 and 24 (Secondary school students are required to have teachers' recommendation)
Have received at least 2 doses of COVID-19 vaccination
Have a passion for global citizenship, girl-related and climate change issues.
Willing to take action to advocate rights for children and youth, and to make a voice for children around the world, especially girls in poverty and dire situation.
Youth of all ethnics, sex, and abilities are welcome to join
Priority will be given to applicants who︰

have joined youth activities organised by Plan International Hong Kong; and/or
have formed a group of 4 – 5
*Teacher-in-charge is obligated to provide guidance and assistance to students and provide support on any school-based activity and awareness campaign.
Quota: 15
Fee:     HKD$ 2,000 (Participants that have fully attended and actively participated in all activities may receive a full refund)
Remarks: Plan International Hong Kong strictly complies with the epidemic measures issued by HKSAR government and the local government of Southeast Asian country. If activities need to be postponed or cancelled, Plan International Hong Kong will update participants as soon as possible. Participants are encouraged to check updates related to the programme on Plan International Hong Kong's website regularly.
Application method
Please email the completed application form to [email protected]  on or before 13 January 2023 (Friday)
Download Application Form
For enquiries, please contact Kristy Yeung (Tel: 3405 5325) or Mandy Lau (Tel: 3405 5353)