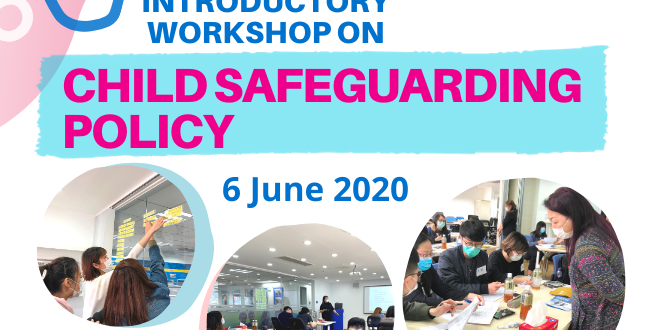 Introductory Workshop on Child Safeguarding Policy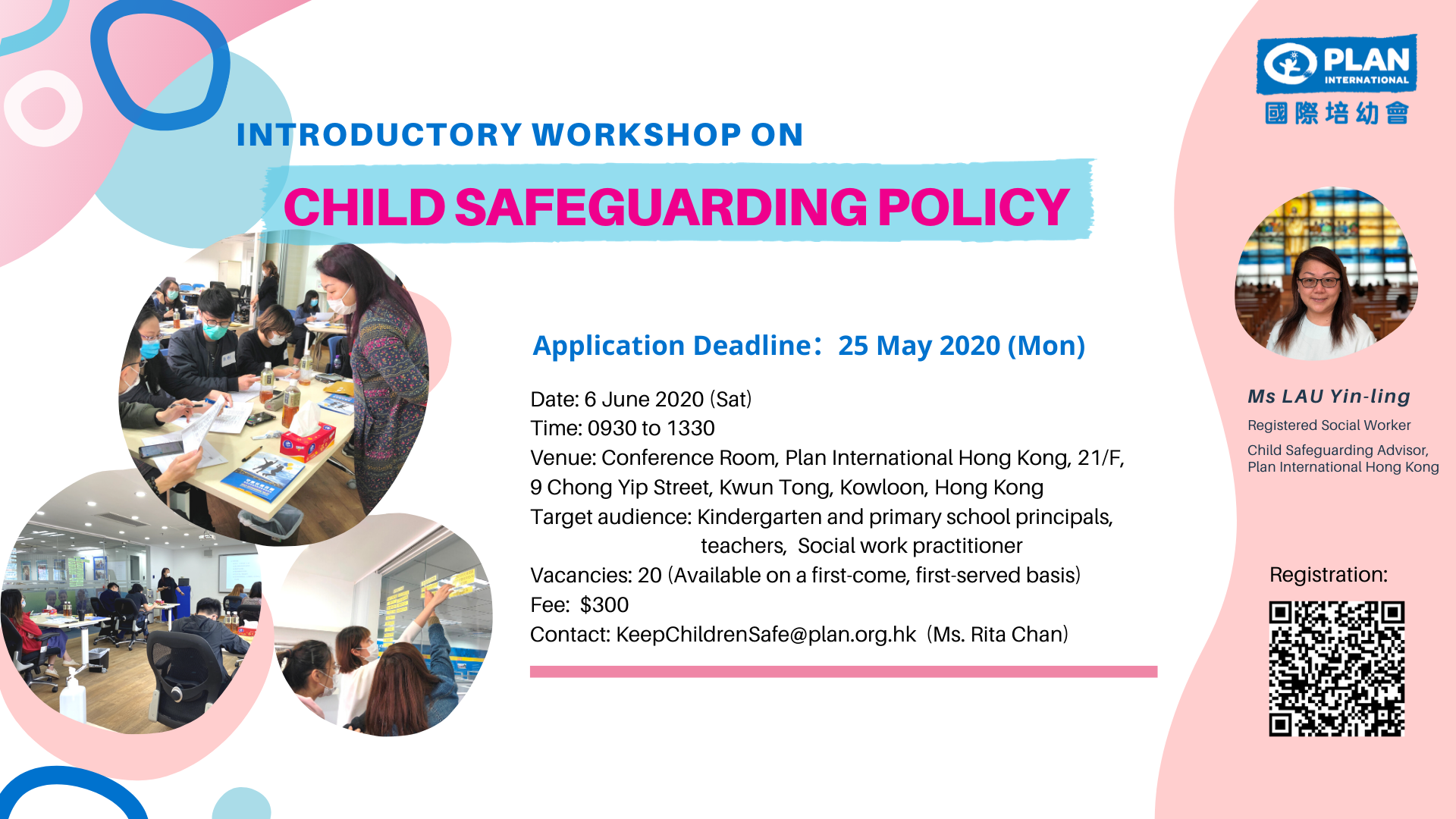 Introduction
Child Safeguarding is everyone's responsibility, but more importantly as educators and professionals, it is our duty to safeguard the highest bar of standard to keep children safe in our every interaction. Child abuse cases are on the rise and many of these acts are carried out by people whom children trust. Plan International Hong Kong commits to create a violence-free and child-friendly environment. Doing our part right is just the first step to safeguard children's safety and best interest. You are cordially invited to attend this workshop.
 Date:
6 June 2020 (Saturday)
Time:
09:30 – 13:30 (Registration at 09:15)
Venue:
Conference Room, Plan International Hong Kong, 21/F,
9 Chong Yip Street, Kwun Tong, Kowloon, Hong Kong
Quota:
20 Persons
Medium:
Cantonese (Supplement with English)
Fee:
$300/person
Application Deadline:
25 May 2020 (Monday)
Objectives
Enhance participants' awareness on child safeguarding and it's a matter to call for everyone to safeguarding Children and Young people in Hong Kong.
Content
Child Safeguarding vs Child Protection
Child Safeguarding Self-Assessment
Understand your organization's responsibilities under existing legislative context
Essential elements composing Child Safeguarding Policy
Steps on setting the Child Safeguarding Policy
Format
Lecture, Assessment Analysis, Video, Case analysis and group discussion
Introduction of Speaker
Ms LAU Yin-ling has worked in the government and non-governmental organization as the registered social worker for 20 years. She is experienced in handling the complicated family and child protection cases. She delivered professional training in universities, kindergartens, primary and secondary schools. She also designed and provided the training for the nurses of hospital authority and the coaches of different sports associations. She has also coordinated various sharing forum on child protection. Recently, Ms LAU was being the part-time lecturer of the tertiary education and the social work fieldwork supervisor. Ms LAU is now being the Child Safeguarding Advisor of the Plan International Hong Kong. She actively promotes the child safeguarding policy to local kindergarten, primary and secondary school, and the child related associations.
Online Application

or click HERE
Payment methods:
Please settle the payment ($300/person) within 5 working days after you submitted the enrolment form. The payment methods are as follows:
Bank direct transfer
Please make a direct deposit into HSBC account number 640-068292-001.
Crossed Cheque
Please mail the cheque payable to Plan International Hong Kong Limited. Please mention: "Introductory Workshop on Child Safeguarding Policy on 6 Jun" and write your name, address and telephone number at the back.
Address: 21/F., 9 Chong Yip Street, Kwun Tong, Kowloon, Hong Kong
Remarks on the Workshop
Confirmation email will be sent to the applicant through email on 29 May 2020 (Friday). Please contact us if you do not receive any notification one week before the activity/course starts (Tel: 3405 5325).
Personal information collected from the application form is used for workshop-related purposes only unless otherwise specified by the applicant.
We reserve the right to arrange photo taking, video or voice recording during workshop for the purpose of promotion in the future.
Arrangement under specific Typhoon or Rainstorm Signals: In case the Observatory hoists a typhoon signal no.8 or above, or red/black rainstorm, all indoor and outdoor activities to be held (within 4 hours) will be postponed or cancelled. Indoor activities will be held as scheduled 2 hours after the above signals removed.
Applicant should inform the responsible staff as soon as possible due to personal reason.
Attendance certificate and receipt will be delivered on due date.
For enquiries, please contact our Programme Officer, Ms. Rita Chan at 3405 5325 or email to

[email protected]

.
Map