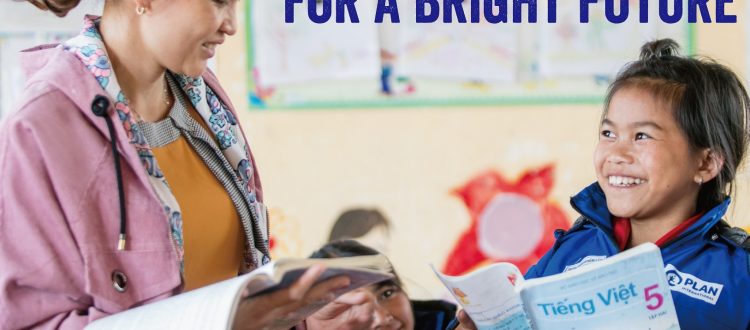 Develop Girls' Autonomy for a Bright Future
In Hong Kong, we have sufficient resources and freedom to make decisions for ourselves in different stages of our lives. Lives can be diverse and full of opportunities. However, it is not the case in many developing countries, where the child marriage problem is still common. As the pandemic devastated the economy, more parents force their daughters to get married at a young age in order to lessen the family's burden and get a certain amount of "dowry" as a source of income. Girls are robbed of the opportunity to receive an education and chase their dreams. Nowadays, about 12 million girls are forced into child marriage under the age of 18, which leads to our great concern.
Last year, it was a pleasure for Plan International Hong Kong to receive generous donations from 23 local women elites and other donors to implement the "Girls Ready for Future" project in Vietnam. The project has enhanced girls' awareness of their rights to protect themselves from child marriage. Meanwhile, our vocational support has equipped girls with the skills and knowledge to follow their dreams. This project has covered 49 schools from five provinces in Vietnam, including Ha Giang, Lai Chau, Quang Binh, Quang Tri and Kon Tum, benefitting more than 10,000 children, half of them are girls.
Enhancing Female Participation by Imparting Knowledge and Skills
In developing countries, unequal traditional beliefs on gender and customs are forcing girls into child marriage. Most of the girls falsely believe that marriage is the only way for them to escape from poverty and rewrite destiny. Therefore, we worked on various levels to deliver the right concept. Starting with education as it is the first and crucial step to change the misunderstanding, the project provided vocational training for girls to improve females' economic status and abilities, as well as raised public awareness of females' rights to eliminate the traditional prejudice and restrictions towards females.
Educational Perspective
Provided 900 girls with school book sets to ensure the continuity of their studies despite the worsening economic situation under the COVID-19 pandemic and promote equality in education among boys and girls.
Improved educational facilities, including the installation of 10 screens and projectors in two schools in Lai Chau to enhance teaching and learning efficiencies.
Organised career-oriented activities, including study tours and workshops, to equip girls with vocational skills and employability.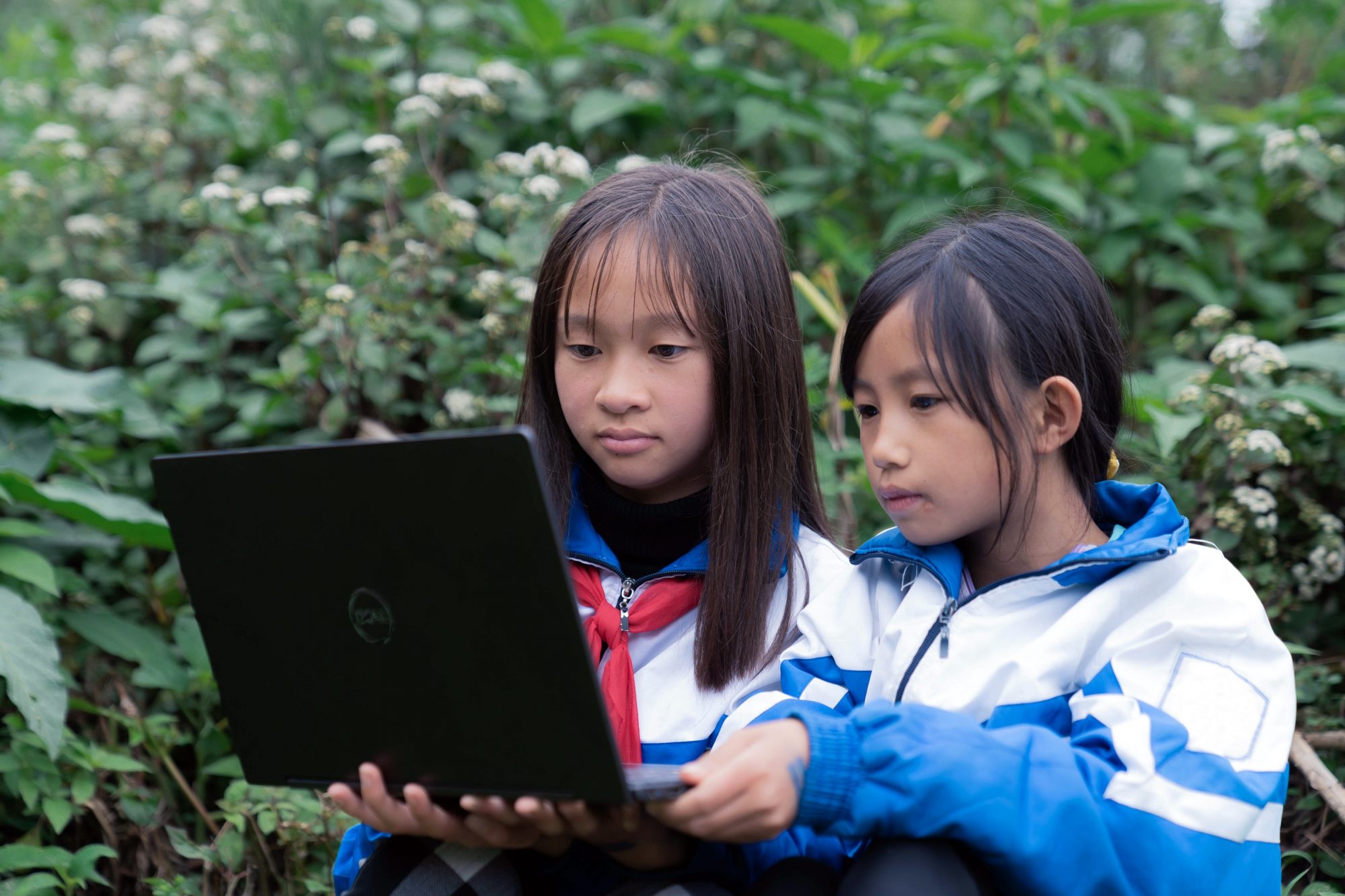 Girls use electronic devices for learning.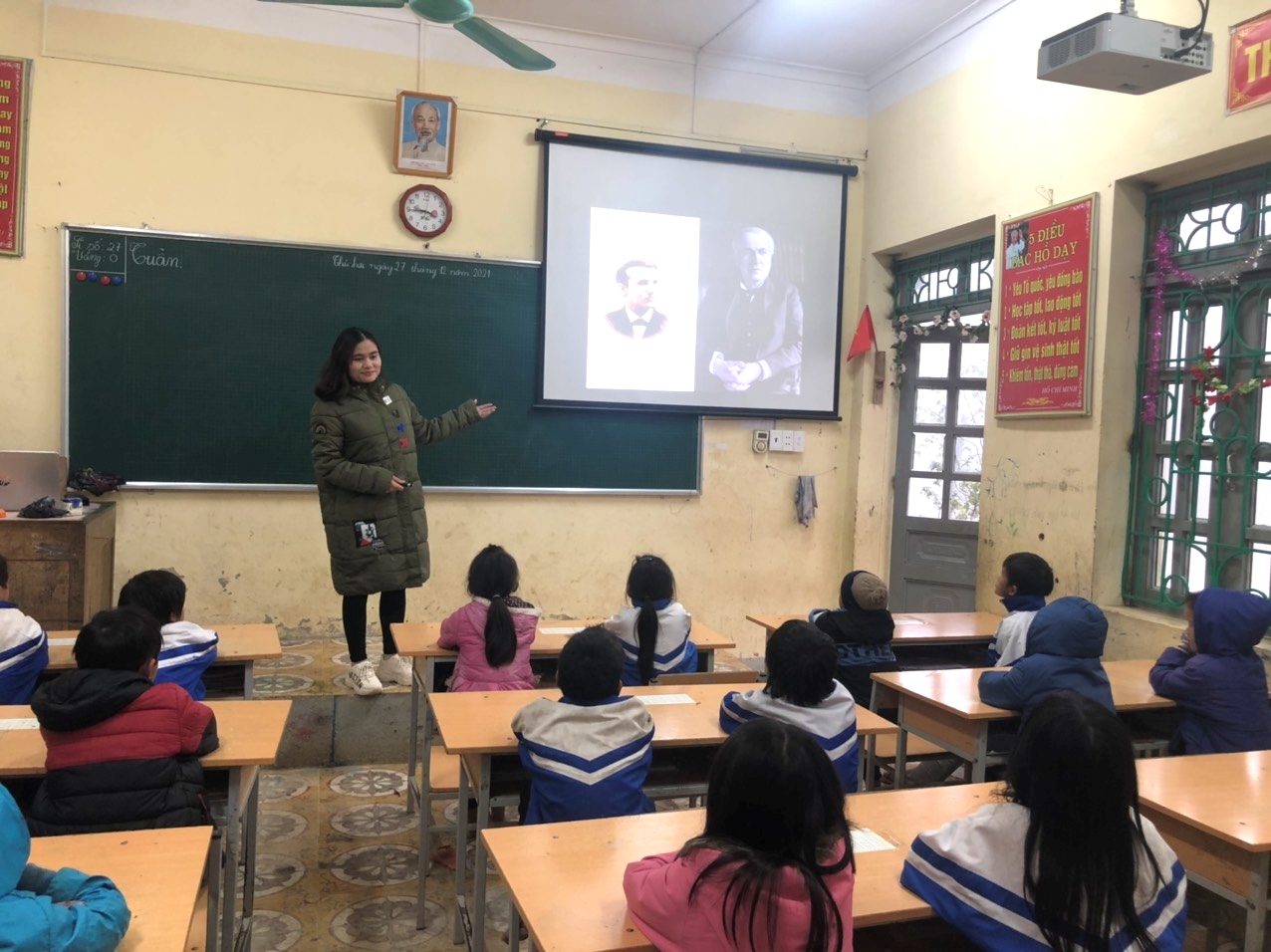 Projectors and screens are installed for e-learning.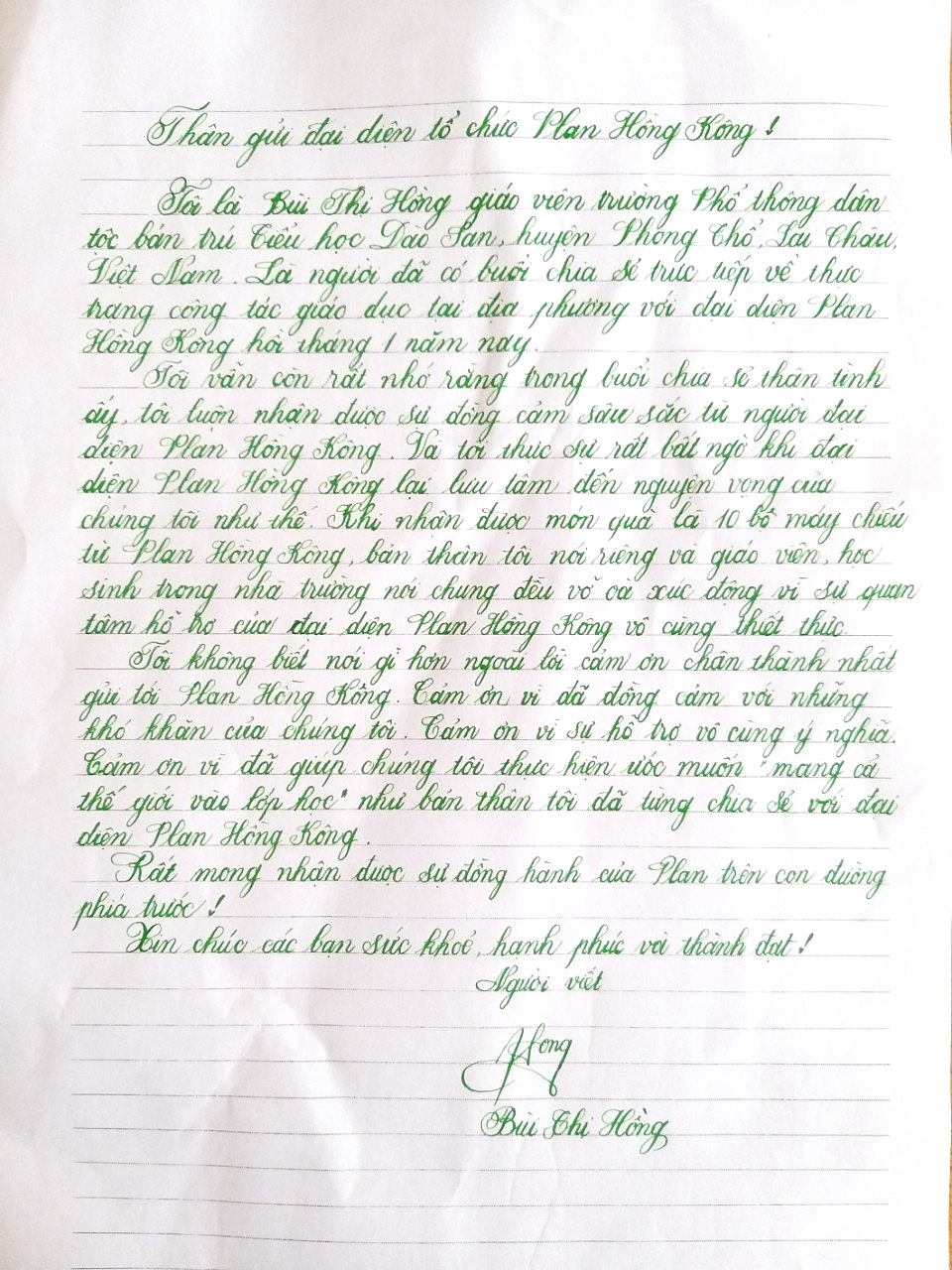 A local primary school teacher wrote a letter to thank Plan International for the new educational facilities.
Domestic Perspective
Facilitated the promotion of girls' rights and gender equality and let parents know the impacts of child marriage, thereby preventing girls from child marriage.
Policy Perspective
Collaborated with the Ministry of Education and Training (MOET) and Central Youth Union in Vietnam to implement vocational training more comprehensively. Our work includes:
Conducted career guidance training for girls and teachers in participating schools of the five provinces to ensure professional competence and knowledge of educators.
Included career guidance training as a compulsory subject and integrated the components of "gender equality" and "ending child marriage" into relevant teaching materials, with the aim to change the social norms, let the general public understand that both males and females have the same working abilities and females deserve equal career opportunities.
Local teachers participate in career guidance training embedded with the ideas of "gender equality" and "ending child marriage".
Multi-Sectoral Collaboration
Actively collaborated with local youth groups to launch projects which help girls to explore more vocational opportunities so that they can establish self-reliance and rewrite destiny. Relevant works are listed below:
Provided seed grants.
Trained the participants to analyse issues such as market demands and economic environment to enhance their concepts and abilities of production, instead of providing one-time assistance.
Girls participate in a broom-making class.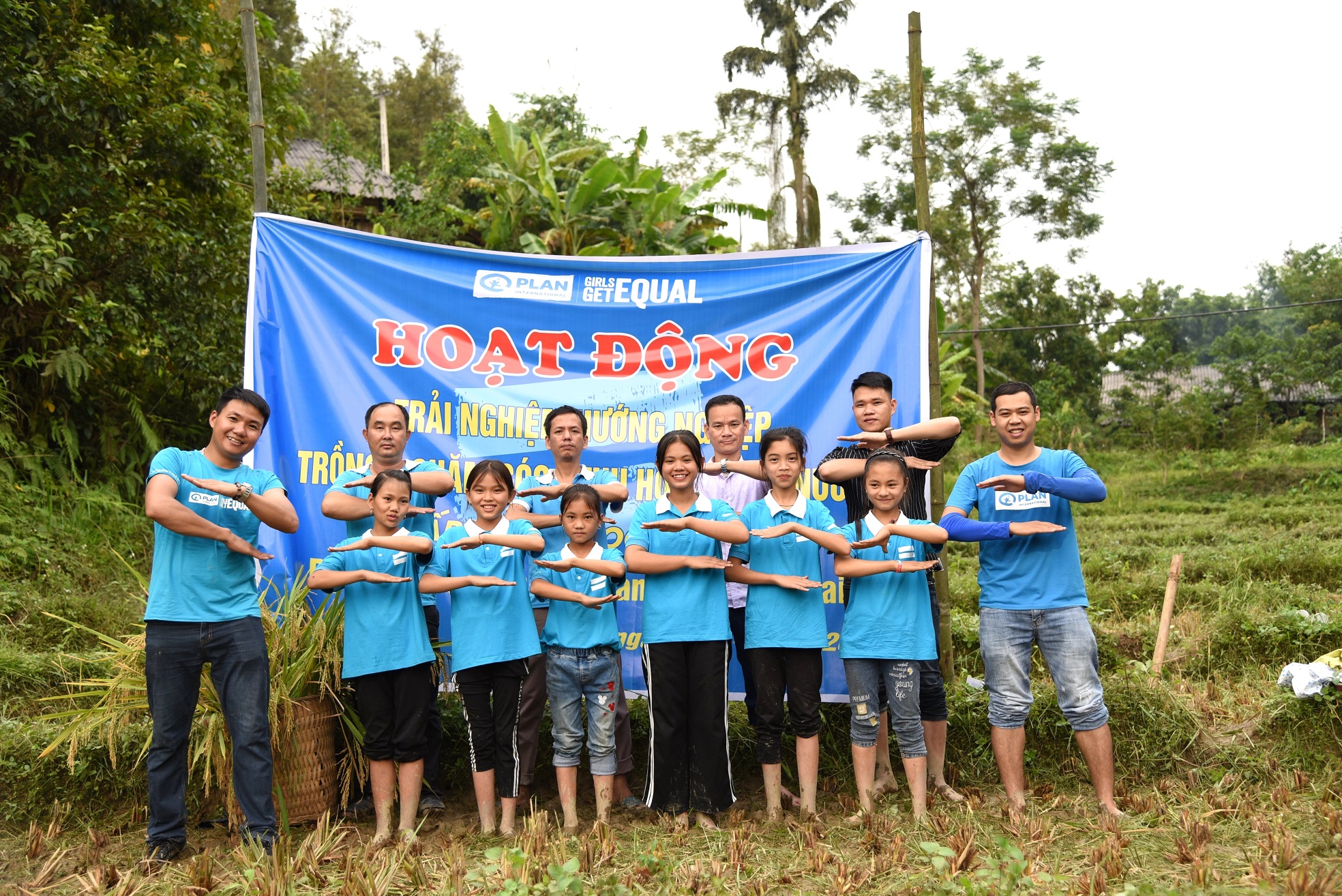 Girls join experiential learning activities in the field.
Special thanks to the following women elites who supported our anti-child marriage project in Vietnam (Listed in alphabetical order):
| | |
| --- | --- |
| Dr. Melanie Lee | Director of Alumni Affairs Office, Hong Kong Baptist University |
| Dr. Wendy Lee | Regional Manager, HK & Macau, Autodesk Far East Limited |
| Miss. Joanna Ho | General Manager, Xtep Retail Trading Limited |
| Miss. Karine Lam | District Director, AIA International Limited |
| Mrs. Bally Wong | Founder & Chairman, ABC Pathways Group |
| Mrs. Christine Ip | CEO, UOB Greater China, United Overseas Bank Limited |
| Mrs. Christine Ma-Lau | Founder and Principal, JEMS Character Academy |
| Mrs. Cindy Chow | Executive Director, The Alibaba Entrepreneurs Fund |
| Ms. Alice Yip | Partner, KPMG |
| Ms. Ophelia Lin | Managing Director, Meiriki Japan |
| Ms. Scarlett Pong | Chief Executive, HeQi Group Foundation (Greater China Area) Company Ltd |
| Ms. Sylvene Fong | Partner, KPMG |
| Ms. Charlene Tse | Culinary Artist, Cookies Quartet |
| Ms. Cynthia Leung | General Manager, Corporate Affairs & Regional Director, Americas, Hong Kong Tourism Board |
| Ms. Eva Yu | President & Managing Director, L'Oréal Hong Kong Ltd. |
| Ms. Gigi Tsoi | District Director, AIA International Limited |
| Ms. Leung Ho Ki June | Chairperson, Beacon Group |
| Ms. Linda Yan | Director of Communications, Public Affairs and Sustainability, L'Oréal Hong Kong Ltd. |
| Ms. Mary Suen | Strategy & Management Consultant, Innowaytive Company Limited |
| Ms. Sincere Yung | Brand General Manager, Guerlain (Asia Pacific) Limited |
| Ms. Vicky Wong | Managing Director, Prestique Ltd |
| Ms. Wanze LI | Section Head(Alumni Affairs and Associations), The Hong Kong Polytechnic University |
| Ms. Wendy Chan | Managing Director, Lamma Rainbow Seafood Restaurant Limited |