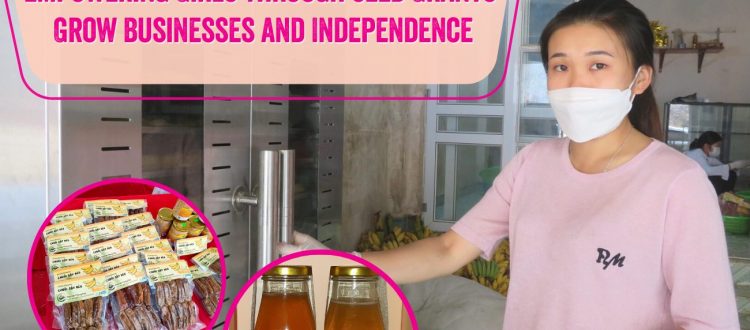 Empowering Girls Through Seed Grants Grow Businesses and Achieve Independence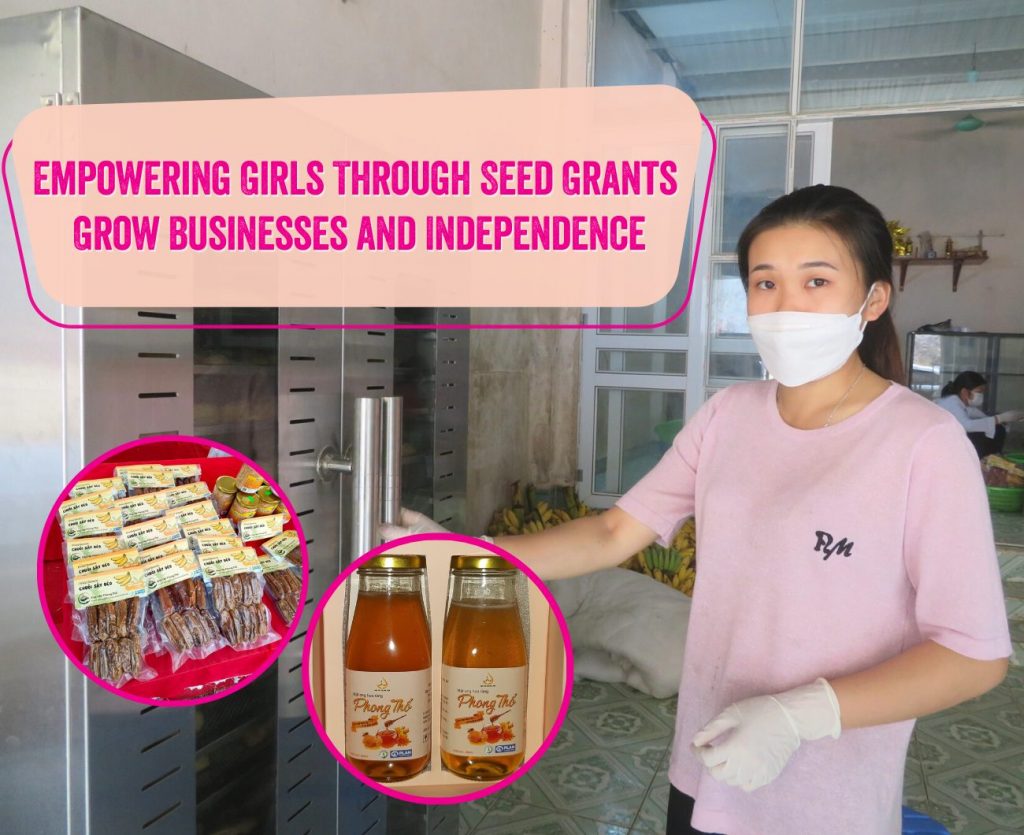 Women's entrepreneurship is rising in popularity in Hong Kong. Women are encouraged to achieve their potential and pursue their dreams through various employment development possibilities. However, in developing countries, being a girl is a burden that limits one's prospects for personal growth and education. Many girls are forced into child marriage by traditional culture and gender inequity to alleviate the financial burden for their parents. From that point on, rather than pursuing a personal career, they take on the roles of wives and mothers in the family by staying at home to take care of the children and the household chores. For them, having a dream is merely a fantasy.
It is with pleasure that Plan International Hong Kong received generous support from 20 local women elites and other donors and allocated USD 131 thousand dollars (HKD1.02 million) to implement the "Girls Ready for Future" project in Vietnam from June 2020 to June 2022. The project aims at enhancing girls' awareness of their rights and interests through education and helping them avoid the scourge of child marriage; at the same time, it provides girls with vocational trainings, and technical and resource support, so that they can establish self-reliance and rewrite their destinies. The project, which was started in the provinces of Lai Zhou and Ha Giang, helped 42 local young people, over half female, ran their own dried banana, honey, and cow and pig farming businesses.
"Seed Grants" to Support Girls in Building Personal Careers
To increase the employment prospects for girls and help them achieve self-sufficiency, Plan International initiated a seed grants model in Lai Zhou and Ha Giang, Vietnam, in June 2020. The project worked in conjunction with local youth organisations and agricultural service centres.
16-year-old girl Sung Thi Thao lives in a remote village in Lai Zhou province, where most girls could only finish secondary school in grade 9 and then they have to stay at home to help their parents work in the fields. Some even get married early only because they are poor. Before Thao joined the  Bee group, she gave up her study and worked in the fields with her parents. She thought that life would be dull forever, but after participating in the seed fund program, she rekindled her passion for life, tried her best to learn new things from scratch, and gradually started the honey-making business with a team.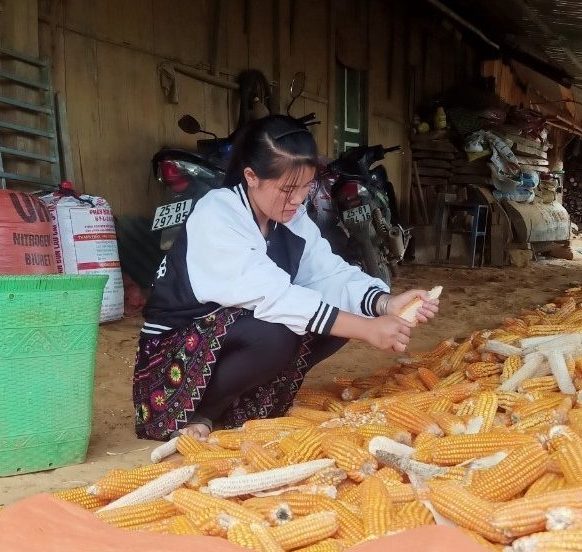 Thao was unable to continue her studies in high school due to the family's financial situation, she assisted her parents with farming every day before participating in the seed grants programme. 
At the same time, the seed grants project also supports girls in making and selling dried bananas in another village in Lai Zhou province . 18-year-old Thinh comes from a poor family and her father was too frail to work. She was forced to drop out of school after completing secondary grade 9 and stayed at home for housework every day. After joining a team to make dried bananas, she finally met a group of supportive teammates who allowed her to express herself and utilise her potential.
In contrast to the one-form subsidies programme in the past, the seed grants model allows girls to demonstrate their proactivity, creativity and autonomy through founding their businesses. Under the seed grant model, participants are led step-by-step with technical assistance from local partners and Plan International's staff, from identifying market demands, matching them with regional conditions in terms of land, water, and human resources, and putting their business plans into action, ensuring they are in line with the local context and conditions.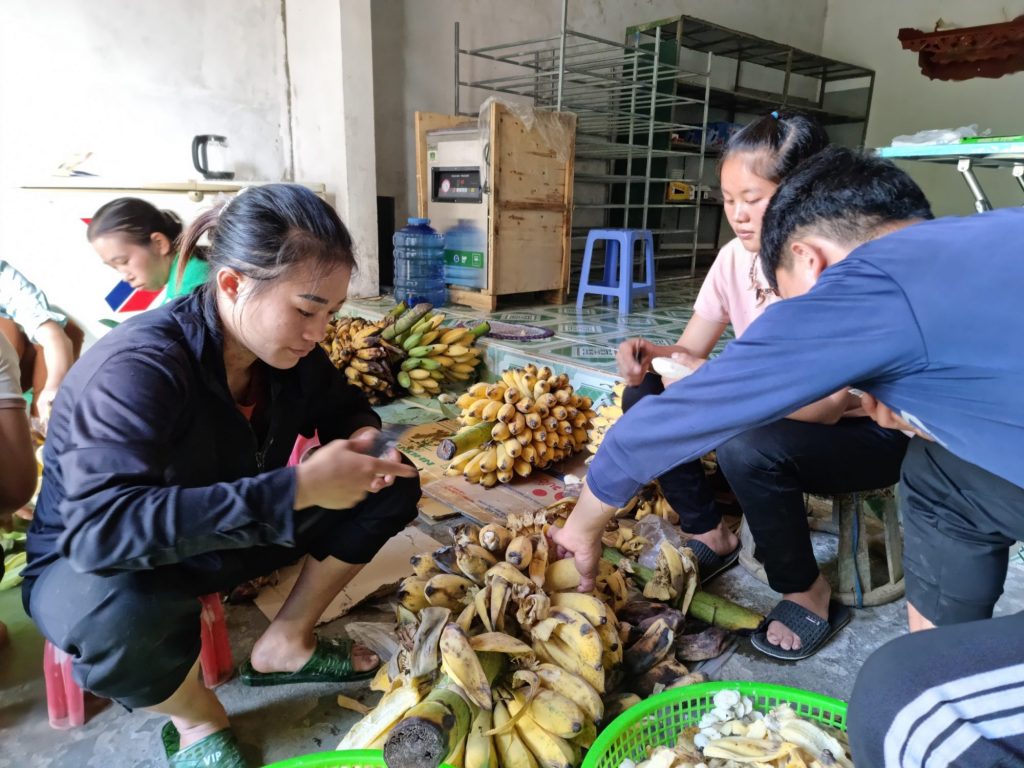 Girls have the chance to start their businesses and become independent with the help of Plan International and local partners.
The fruitful harvest was selected by the authorities as an official souvenir
Though moving forward is never simple, with the help of Plan International Staff and local partners, Thao and her teams were proactive at every stage of executing the business plan, from making honey to promoting the product and managing costs throughout the process, the members of the team were overjoyed that their efforts had paid off, and they were all eager to start the new adventure.
Running the dried banana business granted Thao and her teammates the freedom to explore their potential outside of their familial roles, which gave them a great deal of fulfilment.
Thinh shared how the seed grants model has made her grow. They are assigned to specialised duties in the dried banana business, allowing them to fully utilise their talents rather than simply taking care of household chores or agricultural production. She hoped that the team can produce more high-quality products and sustain its long-term revenue.
Dried bananas and honey are well received in the local community, which have been considered the prior products of the district to respond to the national programme OCOP (one commune, one product).
Locals and the government have shown a lot of support for this seed grants model. Currently, four funded teams are operating businesses in Lai Zhou and Ha Giang, Vietnam to produce dried bananas, honey and cow and pig farming. The dried bananas and honey have been considered the prior products of the district to respond to the national programme OCOP (one commune, one product). These products will continue to receive special interest and favour from both the district and the provincial authorities. At regional events like festivals for tourist promotion in Lai Chau, dried bananas and honey have been actively advertised and sold. Additionally, local administrations purchase the products and present them to guests on official visits as souvenir gifts.
The seed grants model has brought positive results and demonstrated young girls' possibilities. Instead of falling into child marriage, they are capable of attaining self-sufficiency and earning an income to support themselves.
Special thanks to the following women elites who supported our anti-child marriage project in Vietnam (Listed in alphabetical order):
| | |
| --- | --- |
| Dr. Melanie Lee | Director of Alumni Affairs Office, Hong Kong Baptist University |
| Dr. Wendy Lee | Regional Manager, HK & Macau, Autodesk Far East Limited |
| Miss. Karine Lam | District Director, AIA International Limited |
| Mrs. Bally Wong | Founder & Chairman, ABC Pathways Group |
| Mrs. Christine Ma-Lau | Founder and Principal, JEMS Character Academy |
| Mrs. Cindy Chow | Executive Director, The Alibaba Entrepreneurs Fund |
| Ms. Alice Yip | Partner, KPMG |
| Ms. Ophelia Lin | Managing Director, Meiriki Japan |
| Ms. Scarlett Pong | Chief Executive, HeQi Group Foundation (Greater China Area) Company Ltd |
| Ms. Sylvene Fong | Partner, KPMG |
| Ms. Charlene Tse | Culinary Artist, Cookies Quartet |
| Ms. Eva Yu | President & Managing Director, L'Oréal Hong Kong Ltd. |
| Ms. Gigi Tsoi | District Director, AIA International Limited |
| Ms. Leung Ho Ki June | Chairperson, Beacon Group |
| Ms. Linda Yan | Director of Communications, Public Affairs and Sustainability, L'Oréal Hong Kong Ltd. |
| Ms. Mary Suen | Strategy & Management Consultant, Innowaytive Company Limited |
| Ms. Sincere Yung | Brand General Manager, Guerlain (Asia Pacific) Limited |
| Ms. Vicky Wong | Managing Director, Prestique Ltd |
| Ms. Wanze LI | Section Head(Alumni Affairs and Associations), The Hong Kong Polytechnic University |
| Ms. Wendy Chan | Managing Director, Lamma Rainbow Seafood Restaurant Limited |