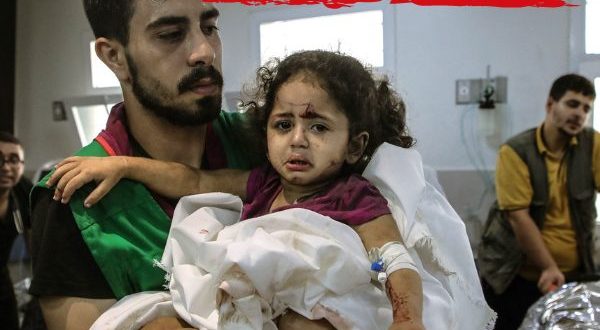 【Gaza Crisis Urgent Appeal】 Countless Children Suffer in Conflict Your Immediate Action Helps Save Precious Lives
Since 7 Oct morning, the conflict between Palestine and Israel has escalated to an unprecedented level with the number of casualties soaring. In total, there are over 12,000 deaths and 32,000 injuries. Buildings, including schools, hospitals and churches, were destroyed by hundreds of air raids in Gaza Strip. Among the casualties, 68% were children and women, and more than 4,500 children's precious lives have been lost! Children, women and patients are struggling to survive as there is a shortage of water, food, medicine and fuel. The United Nations estimated that the displaced population is around 1.6 million in Gaza Strip, humanitarian assistance is urgently needed.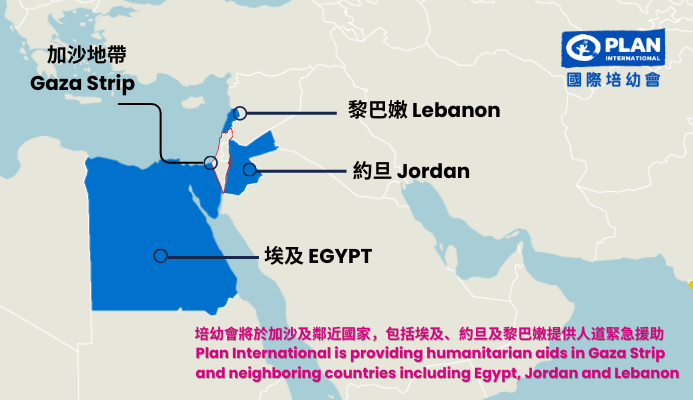 Children's Lives are Hanging on a Thread
Bombings have torn down one family after another, innocent children have to endure fear, loss, hunger, dehydration, dropping out and death, the situation is worrying. Plan International humanitarian programmes will work with partners and provide humanitarian aids to the affected children and families in Gaza, and the neighboring countries including Eygpt, Lebanon and Jordan. Dr. Kanie Siu. Chief Executive Officer of Plan International Hong Kong expressed deep condolences to those who had lost their lives in the attacks, "Plan International, with other 500 organisations from 60 countries, openly call for an immediate humanitarian ceasefire to prevent further loss of civilians and children's lives. Under conflicts, children, especially girls are vulnerable, they are in urgent need of assistance and protection. Hope you all can offer a helping hand to rescue children and their families from dire situations."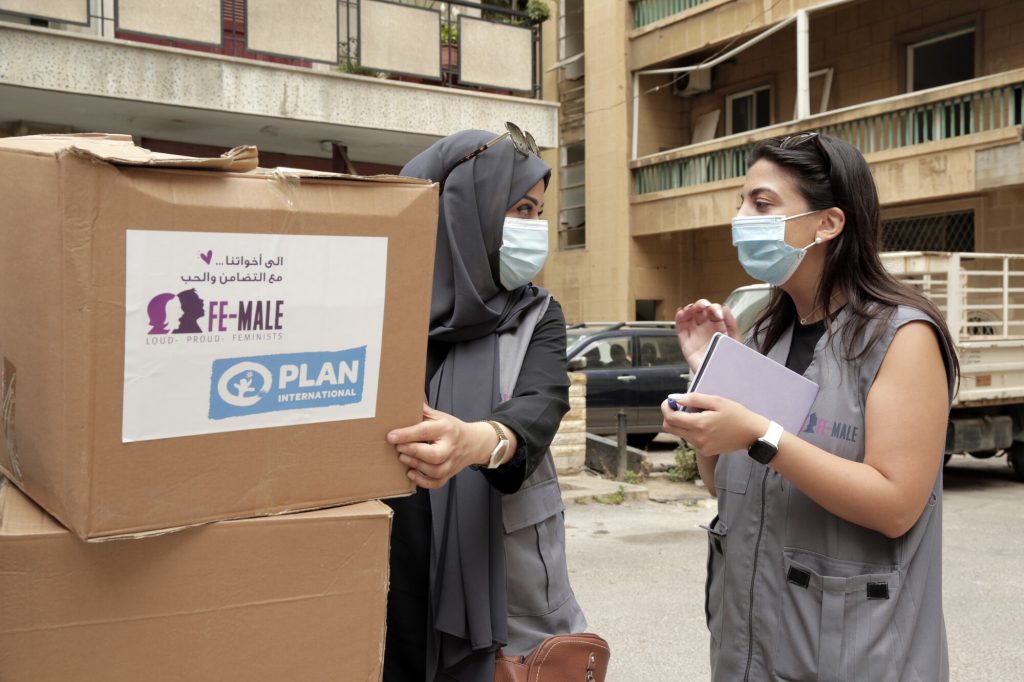 Plan International will provide dignity kits to girls and women so that they can manage their periods and hygiene well to avoid infectious diseases.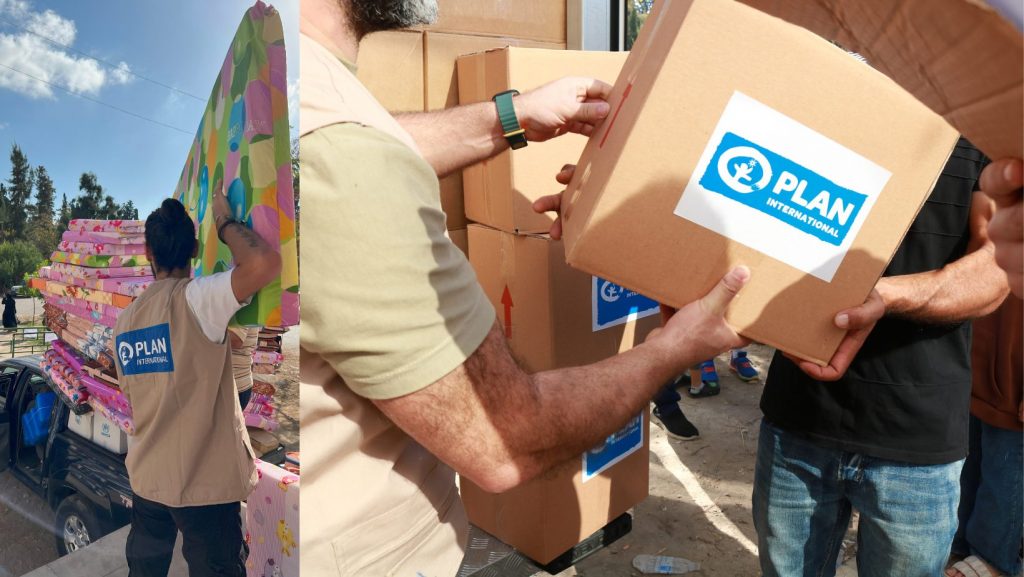 In southern Lebanon, Plan International distributes life-saving assistance such as food and mattresses to the affected.
Our Works:
Long before the start of this conflict, a serious humanitarian crisis has been going on there. Now, this has become a humanitarian catastrophe and immediate actions have to be taken. Hundreds of thousands of displaced Palestinians need shelters, clean water and food. Plan International will provide the following emergency supports to the affected in Gaza Strip and neighboring countries including Egypt, Lebanon and Jordon:
• Donate HK$500: Provide 4 personal hygiene kits (including soaps, toothpaste, towel, hairbrush and hand sanitiser) for maintaining personal hygiene
• Donate HK$1,000: Provide 1-week food basket for 5 households
• Donate HK$3,500: Provide a 1-week food basket for 15 households and 5 sets of dignity kits for women to manage their periods and personal hygiene
• Donate HK$5,000: Provide 22 personal hygiene kits (including soaps, toothpaste, towel, hairbrush and hand sanitiser) & 5 safe water kits (including water purifying tablets, Oral Rehydration Salt, buckets and cups) for water consumption and maintaining personal hygiene
Donation Methods:
1.Online Donation:
ONE-OFF DONATION
2. Bank Transfer*
Please make a direct deposit into HSBC account #640-068318-838.
3. Crossed Cheque*
Please make a cheque payable to Plan International Hong Kong Limited.
4. Cash Donation via Circle K, VanGO or U Select*
Please visit any Circle K, VanGO or U Select in Hong Kong and present the barcode to make a cash donation*. (Each transaction cannot exceed HK$5,000.)
5. PayMe Donation
Please scan the QR code below to donate and enter your information (English name, telephone number and email address) and state "24UNID001 – GHCA" in PayMe message box.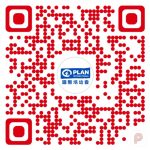 *Please send the original bank receipt/ crossed cheque/ Circle K, VanGO or U Select original receipt/ a screenshot of the mobile donation transaction details together with your name, telephone number and email address to Plan International Hong Kong by mail or email. Please mark "24UNID001 – GHCA". (Email: [email protected]  Address: 21/F, 9 Chong Yip Street, Kwun Tong, Hong Kong)
Disclaimer:
Plan International is independent, with no religious, political or governmental affiliations. Please note that any donations received that exceed what is required to support this emergency will be directed to other areas with the greatest humanitarian needs, helping assist more children facing global crises and conflicts.