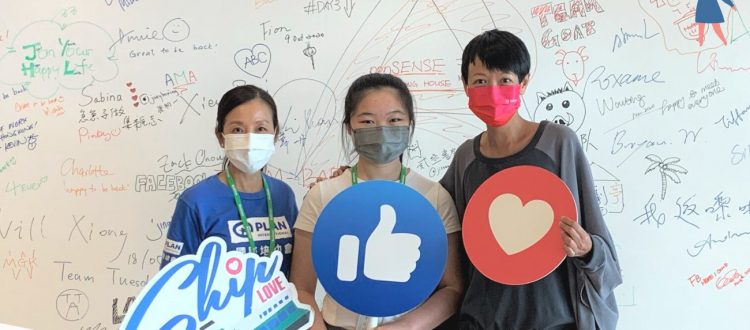 Girls Fight for Women's Online Freedom through Girls Takeover
To celebrate the International Day of the Girl on 11 October, Plan International has organised more than 5,200 Girls Takeover campaigns globally since 2016. By occupying spaces where girls and young women are rarely seen or heard, they demand actions and solutions to ensure all girls can learn, lead, decide and thrive.
The theme of this year's event is responding to the cyber crisis under the pandemic so that girls and adolescents can be benefited from the convenience of using the internet without being intimidated by negative information and experience. Thus, we are happy to partner with Facebook and offer our participant a chance to take over the position of Ms Jayne Leung, Vice President, Head of Greater China, Facebook and build a better and safer online environment for girls and adolescents through proposing concrete actions to one of the most influential social media platforms around the globe.
Bernice, who is currently studying Physiotherapy at the Hong Kong Polytechnic University, is the participant this year. After being selected, she did exhaustive research and tried her best to make suggestions from different angles to better Facebook's current guidelines and policies on female online safety at the meeting she hosted. Attendees from Facebook appreciated her performance and said that they would take some of her ideas into account when deciding on their policies in the future.  Dr Kanie Siu, Chief Executive Officer of Plan International Hong Kong, also praised Bernice for her outstanding performance. "She proves that good preparation is the first step to success. The ideas she proposed are rational, well-founded and feasible. Thank Facebook for supporting Girls Takeover. Through speaking for female online freedom on such an influential social media platform, what our young girl does will be much more impactful," said Dr Siu.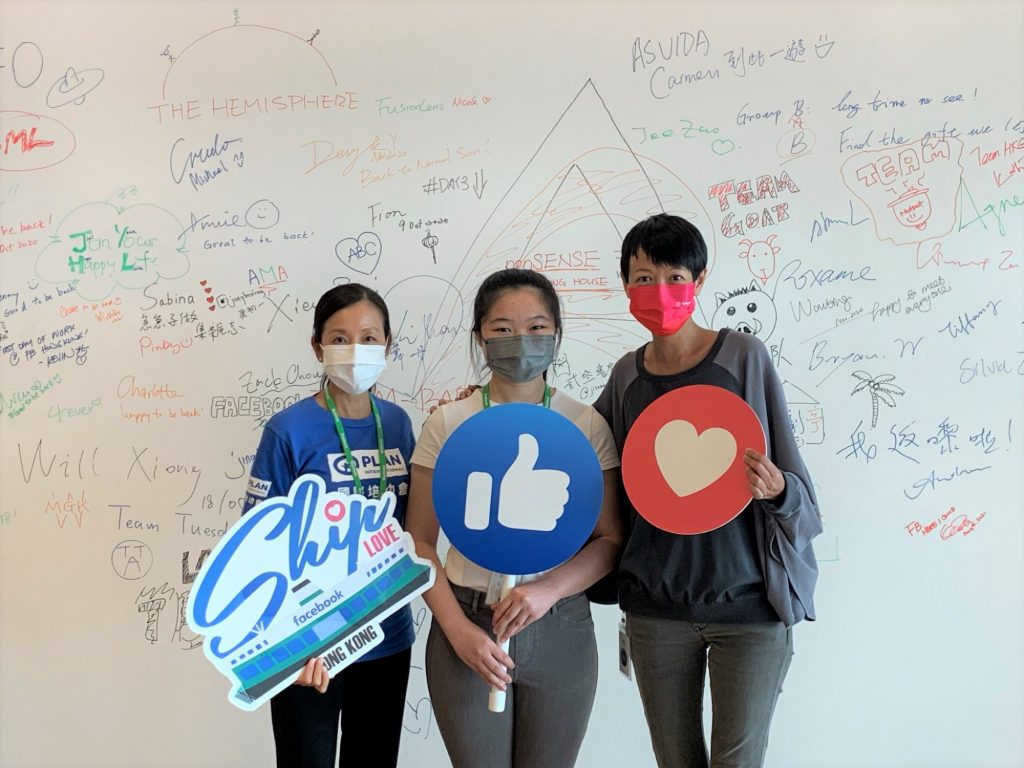 Ms Jayne Leung (right), Vice President, Head of Greater China, Facebook and Dr Kanie Siu (left), Chief Executive Officer of Plan International Hong Kong, both appreciate Bernice's (middle) well preparation and performance.
Bernice's Report on Girls Takeover – Facebook
Four months ago, I applied as the participant of this year's Girls Takeover co-organised by Plan International Hong Kong and Facebook to take over the position of Ms Jayne Leung, Vice President, Head of Greater China, Facebook. I am extremely grateful to be selected and given the opportunity to visit Facebook's Hong Kong office and discuss their current policies and possible new policies in their future development to protect female online safety and freedom.
I decided to join because of two major reasons. Firstly, I have always been passionate to advocate for equal opportunities and girls' rights. And secondly, it may be difficult for children and teenagers to overcome problems of cyberbullying, misinformation and disinformation by themselves and therefore, I think having direct communication with one of the biggest social media platforms to discuss policies on protection is a rare opportunity and the most viable solution.
During the research process, I was glad to see that Facebook has initiated many policies and programmes to protect children and girls on their platforms. On the event day, I had a wonderful opportunity to chat with Jayne. She encouraged me to experience different careers to broaden my horizons in the future. After that, it was the meeting time. I was quite nervous at first because some of Facebook's local and overseas senior staff members joined the meeting and I had no experience in hosting a meeting like this beforehand. I was surprised that my ideas were discussed and considered by the senior management seriously. It has boosted my confidence and I was thankful to have received valuable feedback from them. The event was an eye-opening experience for me to learn about meeting preparation and deepen my understandings of female rights and freedom online. At the end of the event day, I was given the chance to tour Facebook's Hong Kong office. It has changed my perception that the workplace is dull and tense because Facebook's office looks lively and refreshing that will surely make work much more enjoyable!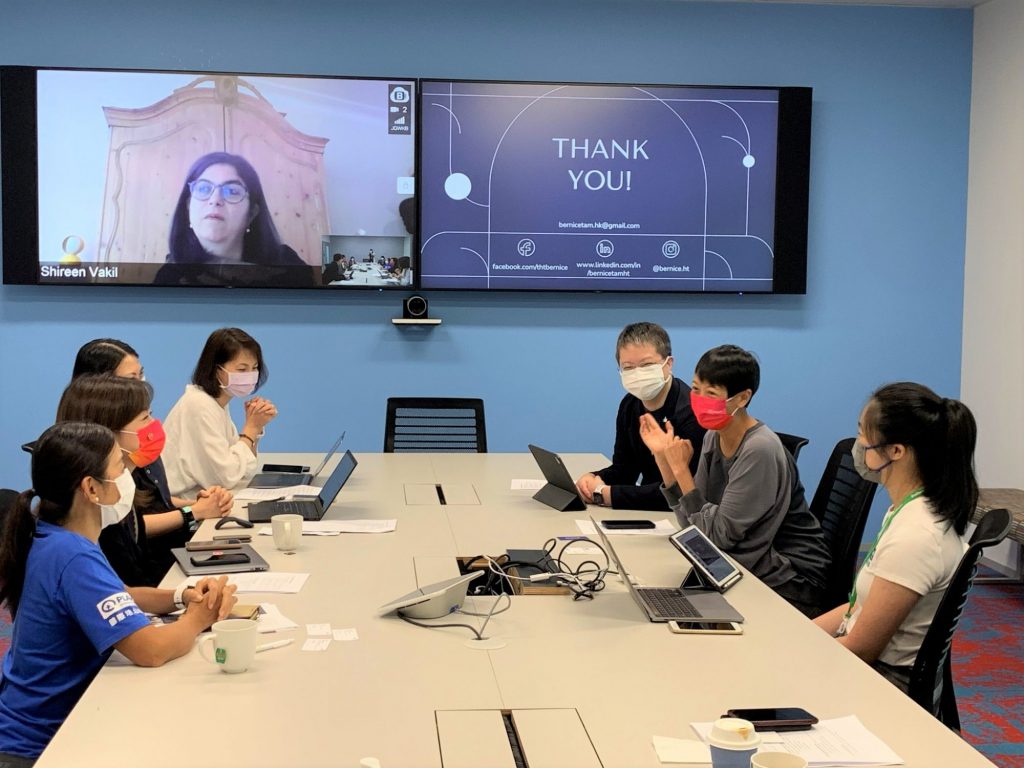 Bernice (first right) makes suggestions to Jayne and the senior management of Facebook to further protect female online safety and freedom.
After the event, I designed two awareness and educational campaigns on social media. The first one focused on explaining the negative influence of misinformation and disinformation on girls and the second one focused on cyberbullying. Misinformation and disinformation are getting more serious under the COVID-19 pandemic, so when I was designing the campaign, I listed out the adverse impacts of both misinformation and disinformation first and then provided tips on how we can utilise different tools to avoid being affected.
(Please click the graphics to view the posts.)
As for the design of my cyberbullying campaign, I began by listing out the detrimental impacts cyberbullying can have on girls to show the severance of this matter. Then, I provided tips on what the victims of cyberbullying can do to deal with the situation and inform the victims' friends and families on the assistance they can offer to protect them from further attack in the following three posts. The main focus was placed on cyberbullying, which continued to be a big problem since the beginning of internet usage. With these two campaigns, I wish to bring positive influence to social media users and encourage them to create a safer online environment together.
(Please click the graphics to view the posts.)
To sum up my journey, I am grateful to have acquired valuable knowledge in this year's Girls Takeover and I would like to thank the staff from Plan International Hong Kong and Facebook for their preparation and arrangements, as well as the continuous guidance and feedback all along. Initially, I was also not very familiar with Facebook's policies but they were very supportive to set up a briefing session to help me understand more about them. Furthermore, this experience made me step out of my comfort zone to learn numerous new things, for instance, I learned how to host a meeting and how to plan a social media campaign. I hope that I can utilise the knowledge I gained from this activity to continue to fight for girls' rights in the future.