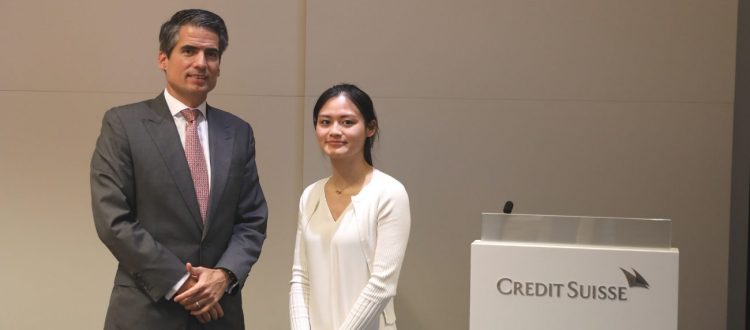 Through Girls Takeover, Let Girls Shine Bright in Male-dominated Industry
To celebrate the International Day of the Girl on 11 October, Plan International has organised more than 5,200 Girls Takeover campaigns globally since 2016. By occupying spaces where girls and young women are rarely seen or heard, participants demand actions and solutions to ensure all girls can learn, lead, decide and thrive.
We are pleased to collaborate with Credit Suisse this year to launch a Girls Takeover project across regions. Not only Hong Kong, but also offices of both Plan International and Credit Suisse in London, New York City and Zurich took part in the project. Thus, we have given young girls the valuable opportunity to work with the senior management of Credit Suisse and it was such a great celebration for the International Day of Girls this year.
Focusing back on the Girls Takeover in Hong Kong, Cassy, a final year student majoring in Finance at Lingnan University, was selected to be the participant to work with Mr Carsten Stoehr, Chief Executive Officer of Greater China and Head of Asia Pacific Strategic Products at Credit Suisse, and meet the senior staff members from different departments such as Diversity & Inclusion, Corporate Citizenship, Hong Kong Women's Network and Campus Recruitment.
On account of Credit Suisse's arrangement and Cassy's well preparation, the event was a great success. Mr Stoehr was proud that Credit Suisse Asia Pacific participated in Plan International's 'Girls Take Over' global campaign "Hearing Cassy's insights really brought to life the importance of our support for young people through our signature programmes. The two-way exchange of information between Cassy and our senior Credit Suisse colleagues proved to be extremely valuable for both parties," he said. Dr Kanie Siu, Chief Executive Officer of Plan International Hong Kong, observed the performance of Cassy during the event. "I am impressed by Cassy's well performance under such a short preparation time. She was able to raise sound questions and fresh ideas from a youth's perspective and I am sure that it would be a rewarding experience for her. Thanks Credit Suisse for giving young girls like Cassy a precious opportunity to broaden their horizons and empower themselves."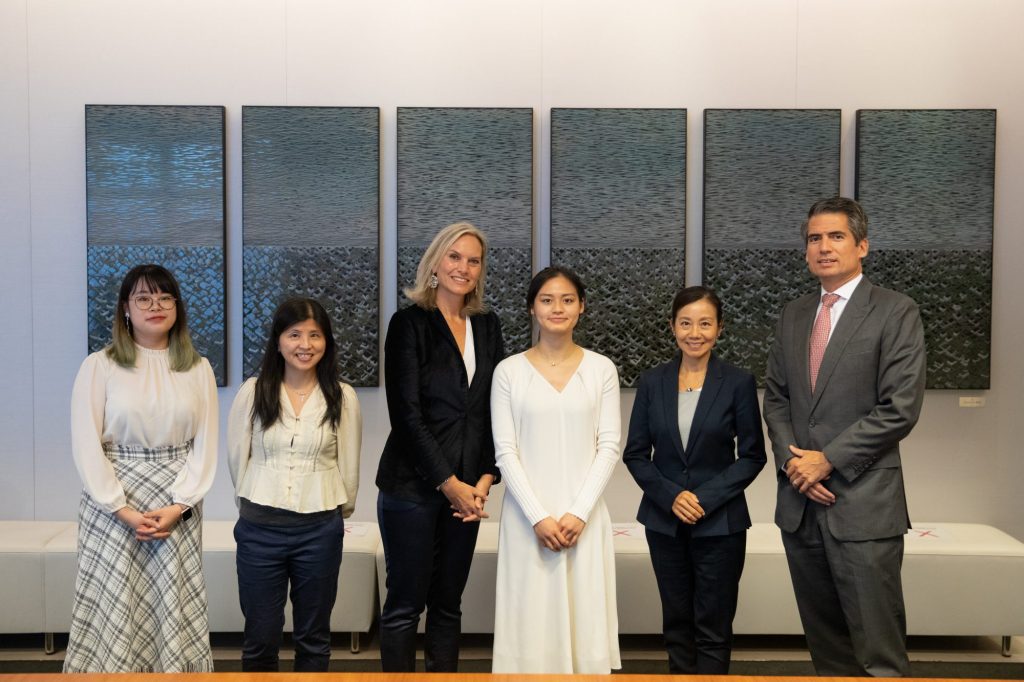 Mr Carsten Stoehr (R1), Chief Executive Officer of Greater China and Head of Asia Pacific Strategic Products at Credit Suisse, participates in the Girls Takeover campaign. Dr Kanie Siu (R2), Chief Executive Officer of Plan International Hong Kong also attends the event as observer.
Cassy's Report on Girls Takeover – Credit Suisse
The reason why I would like to join the Girls Takeover event with Credit Suisse is that women are always underrepresented when it comes to the business and finance industry. Women in this era are still being told that they cannot achieve what men can achieve. Inspired by the girls in Afghanistan who are fighting for their rights to receive education, I would like to go one step further to help promote gender equality. On the other hand, this programme enables me to learn about the industry and hence empowering myself and other young ladies with the confidence and necessary skills to succeed as business leaders. I believe the percentage of female enrolment in this field will increase and the gender gap will start to narrow as more young women are motivated and inspired.
Learnings from an Effective and Dynamic Leader
Working with a leader is a unique opportunity to experience leadership firsthand. I had the utmost fortune to sit in a pre-board meeting with Mr Carsten Stoehr. During the meeting, I was deeply impressed by the complexities of a leadership role and insights which are valuable for my future career in the business field.  It also allowed me to understand the connections between regional regulations and corporate finance, to look at the bigger picture from a new perspective and to understand more about the operation of an international financial company. The most unforgettable part was trying to follow Mr Stoehr's thinking process. When we were going over the questions or outstanding issues about the grants being proposed and presented, Mr Stoehr raised the questions that were outside the box in multi-dimensions. By learning from his thinking process, I could shape my workplace behaviour which would help in tackling and solving problems. I would summarise my key learnings as follows:
Realising the importance of asking the right questions
Understanding the industry more thoroughly
Reacting quickly to opportunities
Communicating viewpoints and seeking consensus with others
Creating a value proposition for myself
All of the learnings help me become an effective and dynamic leader like Mr Stoehr.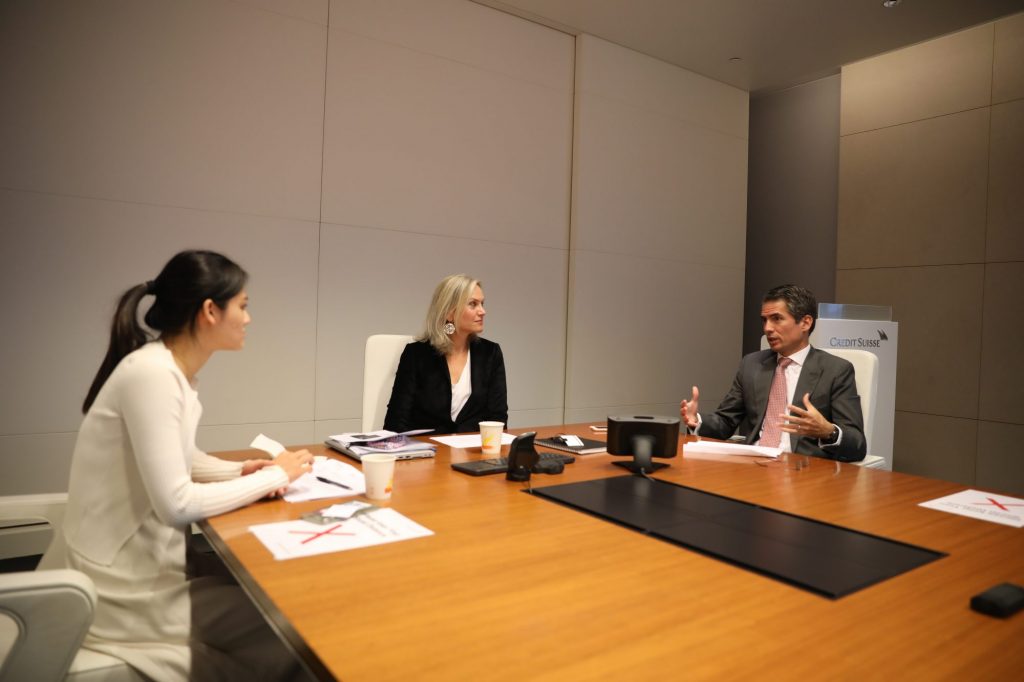 Cassy participates in a meeting with Mr Carsten Stoehr and the Head of Corporate Citizenship at Credit Suisse.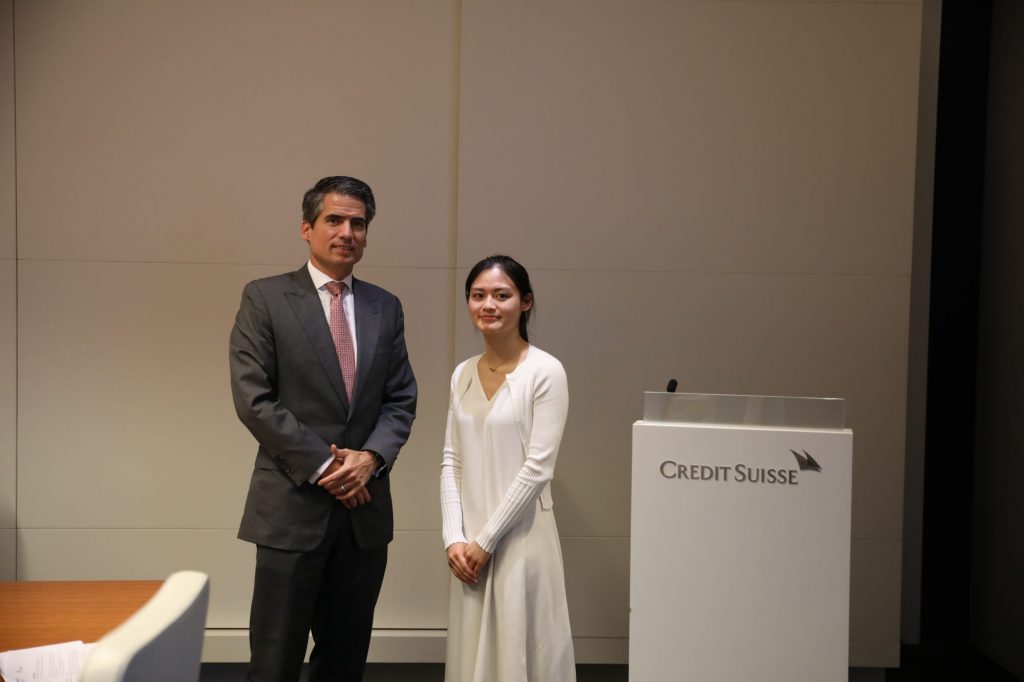 Cassy has learnt a lot from Mr Stoehr.
Corporate Citizenship – The Only Way to Achieve Long-term Success
Good corporate citizenship is as important as good leadership. It plays an important role in developing corporate culture when companies optimise their core competencies to address opportunities and goals, especially in the environmental, social, and governance (ESG) aspects. During the meeting with the Corporate Citizenship team, I realised that corporate citizenship pushes companies to a higher standard as they are accountable to operate ethically. Credit Suisse is a leading organisation to utilise the power of business for a better future. I was able to know more about how the company delivers long-term value responsibly and sustainably, and accelerates a future where society and the planet thrive. The meeting gave me lots of insights into how a company contributes to society.
Diversity and Inclusion – Create a People-oriented Working Environment
The meeting with the Diversity and Inclusion team provided new insights on how inclusion matters and which aspects of it are regarded as significant for employees. The Head of Diversity and Inclusion in Credit Suisse shared her personal experience in the workplace with me. That was really thought-provoking and encouraged me to be more mindful of the related topics. We also discussed how companies face significant challenges in creating a working environment characterised by inclusive leadership and accountability among management, equal and fair opportunity, as well as openness and freedom from bias and discrimination. Thus, not only gender diversity, but also ethnic and cultural diversity in corporate leadership are significant.
Hong Kong Women's Network – Let Women Support Women
There is a perception that some women in senior management tend to distance themselves from female junior colleagues, and often to be more accepted by their male peers. However, it's not true at all. In the meeting with Hong Kong Women's Network, I was thrilled by the power of women connecting and supporting each other at work in the company. As a staff association that aims at caring for female employees, Hong Kong Women's Network serves as a network for them to connect at and across all levels. The conversation with the two chairmen of the association addressed my struggles during the current stage of my life. That was wonderful as it reassures women that we are not alone though calling for what we want can be challenging.
Campus Recruitment – Set Clear Career Goals for a Bright Future
The future is made by us. The meeting with the Campus Recruitment team gave me a chance to gain insights into my career planning. There are lots of myths in the investment banking world, like what qualities do investment banks look for and what are the criteria for candidate selection. The Head of Campus recruitment APAC and her colleague gave me lots of useful career advice. The most inspiring one was to simplify your career goals to just a few things and then focus on working on them to the best of your ability. It can be hard when you have a long list of opportunities that all seem super valuable or relevant. The conversation with the team empowered me to be successful in my future career endeavours.
To conclude, joining Girls Takeover with Credit Suisse is an exceptional learning experience. I never imagined that I would have a chance to take over such a senior and important position in the finance industry. This programme demonstrates that all girls can aspire to do whatever they want. It inspires me that I still have the power to make a difference as an ordinary girl. The people I met during the programme are all firm, compassionate and authentic. They taught me not to be distracted by stereotypes and discrimination but to focus on what I believe and walk my way. All of the meetings provided valuable information and eased my anxiety in preparing for my future life and career plan. Female is as capable as male in making their dreams come true. Therefore, girls, let's take action now!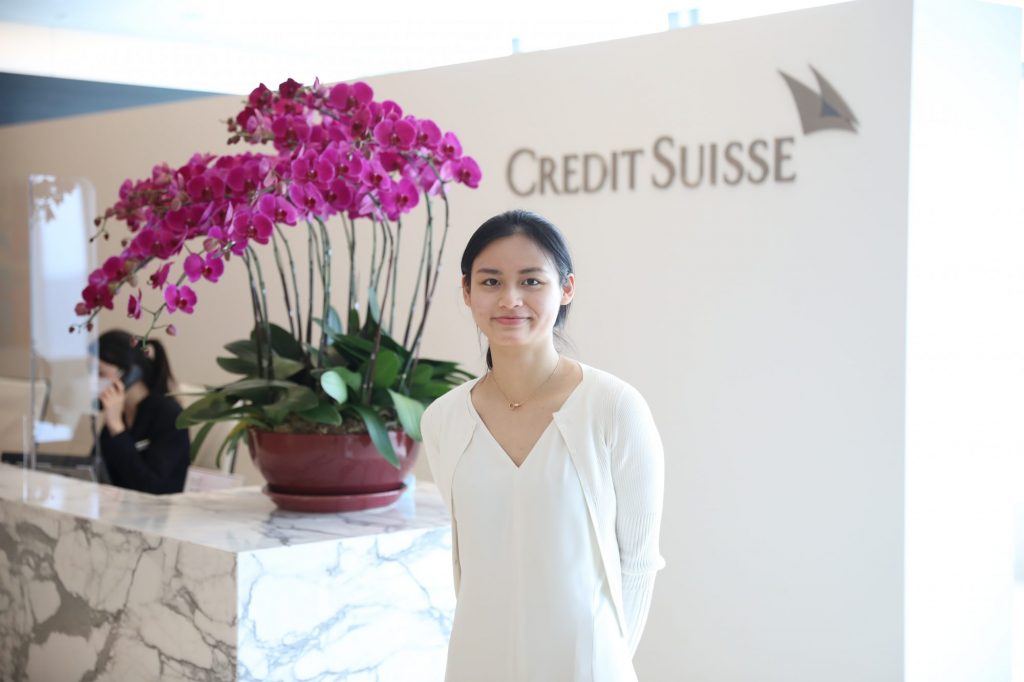 It is a fruitful and life-changing experience for Cassy to participate in the Girls Takeover event.