Highlights of Girls Get Equal Youth Conference 2020/21 Training Workshops
Since 2015, Plan International Hong Kong has jointly organised a Youth Conference with the Department of Asian and International Studies of City University of Hong Kong, an annual occasion for local young people to meet, reflect and exchange ideas on international issues, particularly girls' situations in low income countries.
To align with Plan International's new global campaign on combating gender inequality, 'Girls Get Equal' was adopted as the theme of this year's conference with the aim of inspiring participants to advocate for girls rights. This year, we continue the 'Youth Power – Best Campaign Award', providing a chance for the students to ulitise their creativity by launching their own social media campaigns to raise awareness of girls issues within their local community.
Throwback of Youth Conference 20/21 Workshop 1 & 2
'Girls Get Equal' Youth Conference 2020/21 officially launched in late January. Children's safety is always our top concern under the pandemic, therefore the workshops were hosted online. We are glad to announce that we have a total of 47 youth participants (in 14 teams) from secondary schools and the City University of Hong Kong joined the conference.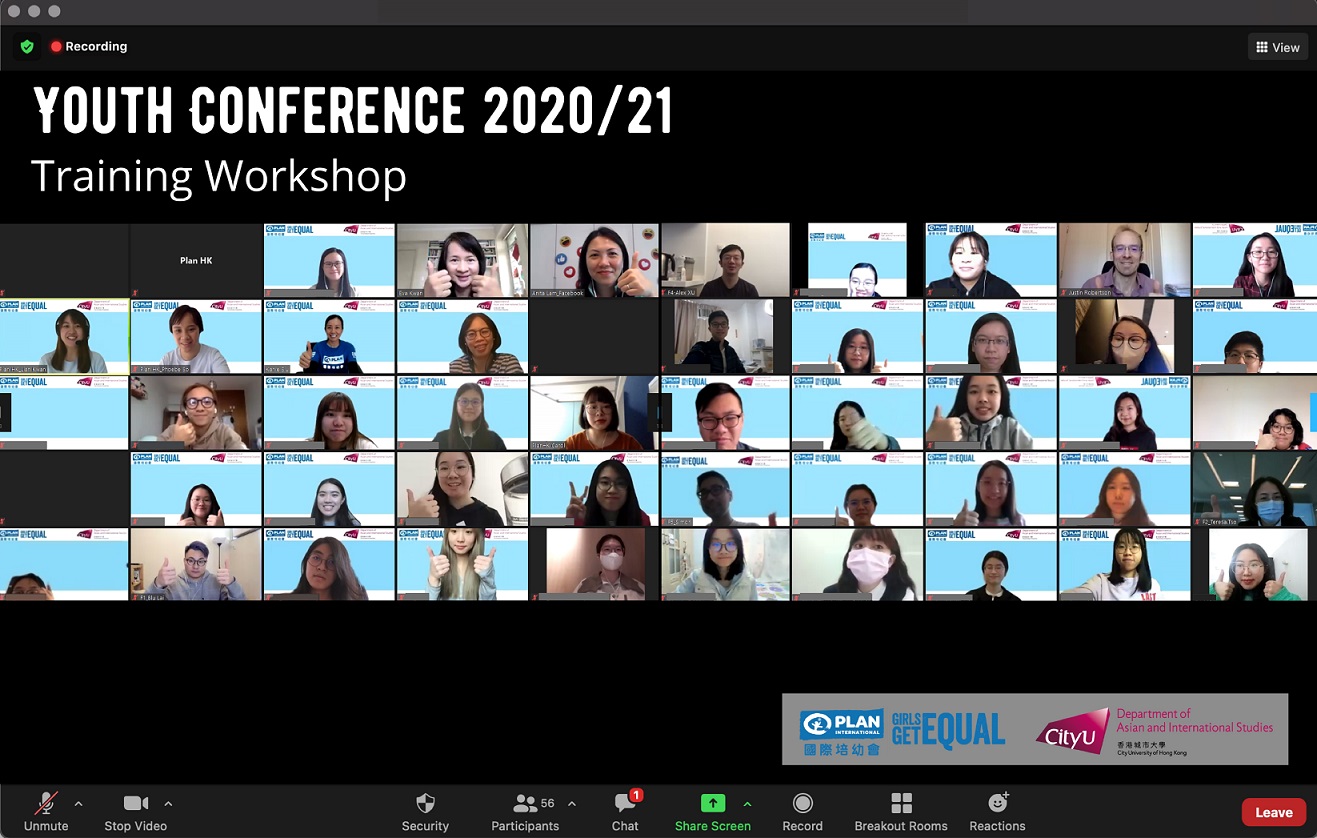 Training workshops were held online this year.
In the first and second workshops, participants learnt about essential skills and knowledge to tackle their presentation topics. Those topics were all related to girls' issues in developing countries. Other than speakers from the host organisations, who are Ms Phoebe So, Manager of Hong Kong Programme and Development Education Department from Plan International Hong Kong to share on 'The Situation of Children and Girls in Developing Countries, and Dr. Justin Robertson, Associate Professor from City University of Hong Kong to share on 'Desktop Research and Presentation Skills', it was also our great pleasure to have the following guests shared different topics with us in the workshops:
'How to Build a Successful and Effective Social Media Campaign' by Ms Anita Lam, Head of Industries, Facebook Greater China
'Tips for Preparing Group Presentations' by Blu Lai, AIS Alumni
Apart from the presentation, participants will also design a social media campaign on their presentation topic in the form of a social media post. The objective is to raise public awareness towards different girls' issues in developing countries. To facilitate the process, an online consultation session was arranged in Workshop 2. Participants were given chance to seek advice from following advisors:
Alex Lo, Founder of Social Strategy Hong Kong giving advice on social media campaign for university teams
Ms Vivian Cheung, Associate Account Manager from Social Strategy Hong Kong giving advice on social media campaign for secondary school teams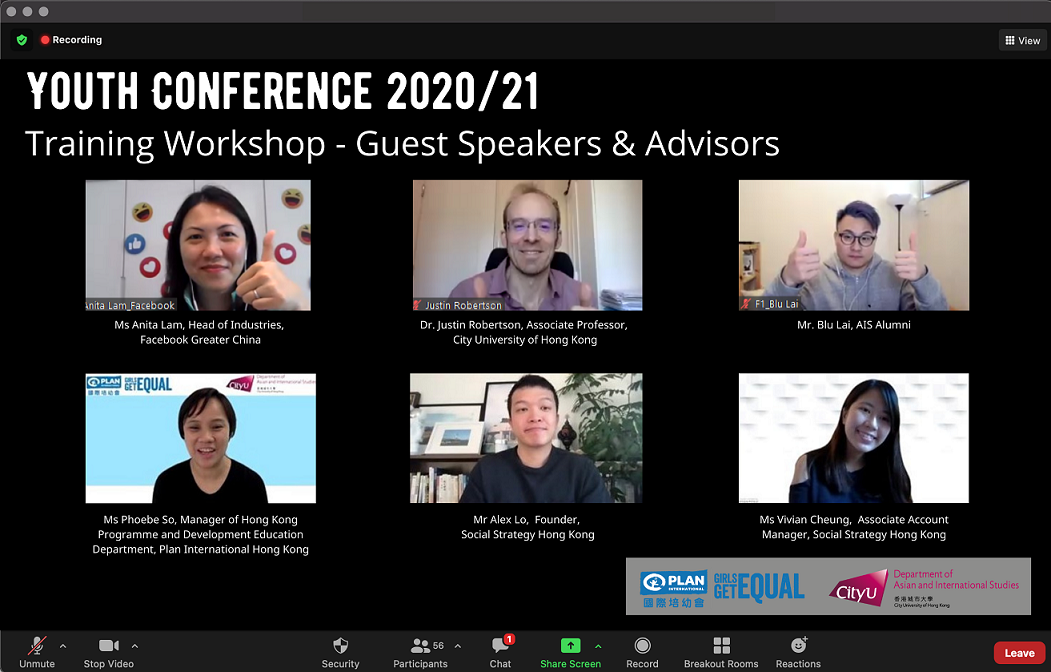 Professionals from various sectors were invited to provide participants with different knowledge and advice.
Moreover, 14 facilitators were invited to guide the participants throughout the programme. These facilitators are expert in both girls' issues and presentation skills.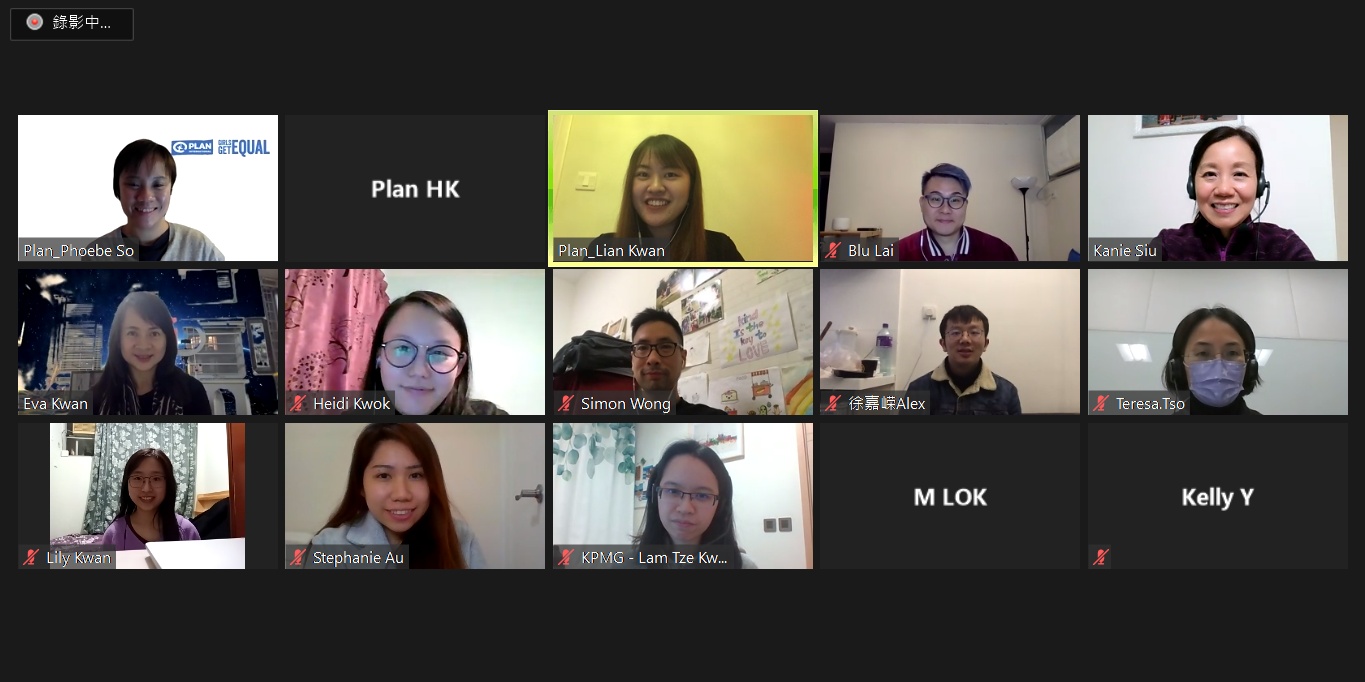 Participants kept enhancing their work with the guidance of facilitators.
Meanwhile, online workshops can be fun as well! Members of Youth Organising Committee (YOC) conducted warm-up activities. Speakers also adopted interactive poll and breakout room functions for discussions.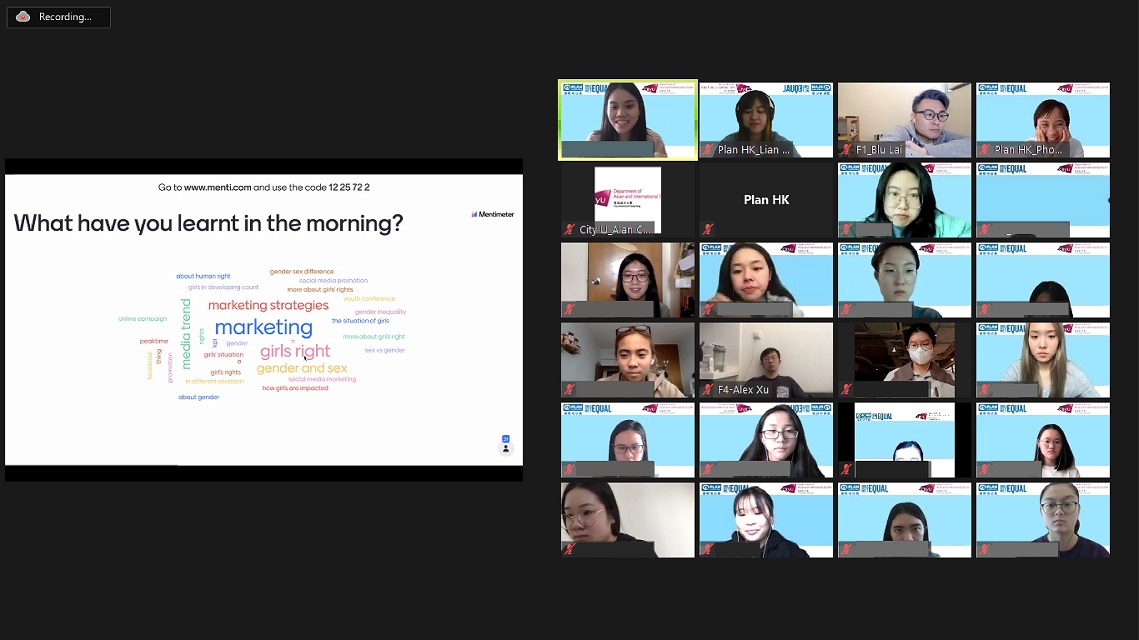 Members of YOC led warm-up activities to help participants get involved into the workshops.