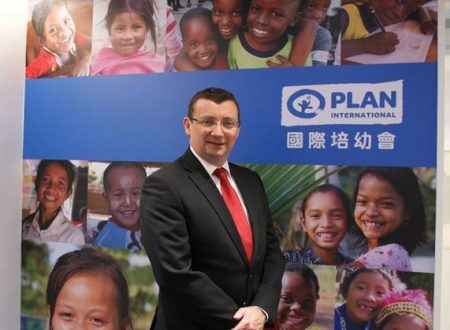 Plan International Chairman Receives Award for Sustained Efforts in Corporate Governance
Mr Andrew Weir, Board Chairman of Plan InternationalHong Kong, has been selected as an Awardee for Directors of the Year Awards 2016 in the category of Statutory/Non-profit-distributing Organisations Non-Executive Directors. He was awarded in recognition of his sustained efforts to achieve outstanding corporate governance and superb leadership skills in leading the development of the organisation.
Dedicated efforts
Andrew Weir joined Plan International Hong Kong as a Board Member in 2010 and has been the Board Chairman since 2014. Weir has made significant efforts towards promoting child rights and advocating international development in his role with Plan International Hong Kong. His expertise in accountancy and his network at KPMG have also proven to be valuable assets to the organisation in achieving its vision.

Mr Andrew Weir was awarded for his leadership skills and advocating International development.
Weir has also helped to enhance corporate governance at Plan International Hong Kong by calling for regular board meetings to review, discuss and evaluate all financial, auditing and internal control issues; internal guidelines on expenditure were also developed to ensure prudent use of donations; risks are reported and considered before taking action.
Under his guidance, Plan International Hong Kong uses resources wisely and prudently and has developed strategies to reduce fundraising costs, such as establishing in-house direct dialogue teams, obtaining more support from volunteers and seeking more pro bono services. There have also been several new campaigns, including Count Every Child, Anti-child Marriage Projects and Kids Sponsor Kids – Child Sponsorship Programme, which were implemented to help children in developing countries. To demonstrate his trust and support, Weir also personally participated in these fundraising campaigns and helped to engage the community.
As Senior Partner of KPMG Hong Kong, Weir is determined to go the extra mile – mobilising people to advocate Plan's cause. KPMG for example has sponsored 30 underprivileged children in Shaanxi, China through Plan's Child Sponsorship Programme in the past years; the firm has donated to people affected by the Nepal earthquake; sponsored the "Plan International Youth Conference" in two consecutive years since 2015 and encouraged their employees to become volunteers to help youngsters understand the difficult situations that some girls face in developing countries, as well as foster global citizenship. The conferences inspired a teacher and a group of students to jointly sponsor a girl in China by joining Plan's Child Sponsorship Programme.

Mr Andrew Weir and other board members attended Plan International Hong Kong Annual General Meeting.
"This recognition is not only for me, but also for all board members and staff of Plan International Hong Kong," commented Weir. "Compared to other international non-profit organisations, Plan International is relatively new in Hong Kong. We strive to raise our brand awareness, educate donors about our work and engage the public in our activities."
From past to present
Founded in 1937 and headquartered in the UK, Plan International is one of the world's leading development organisations focusing on children. Concentrating on making lasting improvements to quality of children's lives in the areas of health, education, environment and livelihood through the Child Sponsorship programme, Plan International works in more than 51 developing countries across Africa, Asia and the Americas, and is supported by fundraising offices in 21 countries.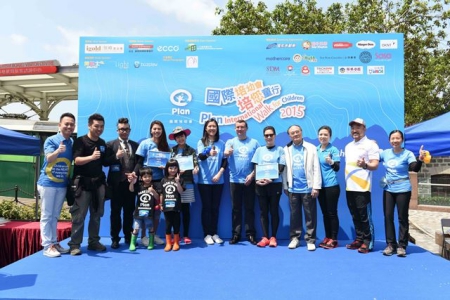 Mr Andrew Weir attended Plan International "Walk for Children" 2015 fundraising event.
Plan International originally operated a field office in Hong Kong from 1959 to 1973, helping nearly 12,000 local children and their families, and re-opened its Hong Kong office in 2009. The famous film director Mr Alfred Cheung was once a sponsored child of Plan. With a specific focus on girls' rights, Plan International launched the Because I am a Girl campaign in 2012, which has helped 5 million girls around the world.
Going forwards, Weir plans to continue to collaborate with board members, the CEO and colleagues to pursue excellence in governance, so as to gain greater public support for their work in bringing positive change for children in developing countries.
*Published in The Standard, 7 December. Special Thanks To KPMG for sponsoring this supplement.