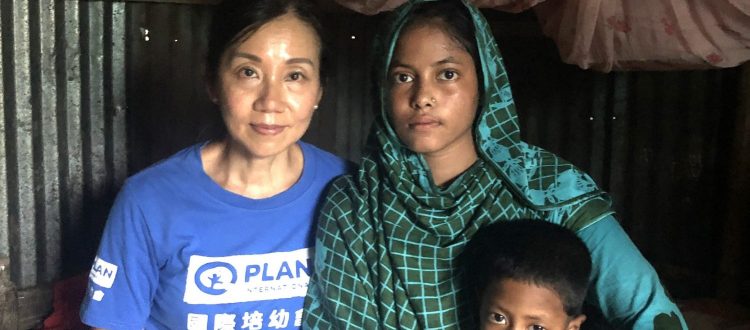 Surging Child Marriage under the COVID-19 Pandemic Countless Girls in Bangladesh Are in Despair
By Plan International (Hong Kong) CEO, Dr.Kanie Siu
At the age of 16, the best year of our lives, we are figuring out who we want to be in the future. In Bangladesh, one of the countries with the highest child marriage rate, the lives of two 16-year-old girls are totally different. One girl has just turned 16 but she has already gone through dropping out of school, getting married, giving birth, and becoming a full-time housewife; another girl of the same age is able to escape from child marriage on her own, becoming an advocate to stop tragedy from happmening again while helping more girls to get hold of their fate.
A soaring number of child brides under the Pandemic ruining girls'future
In August 2022, I travelled to Bangladesh where the child marriage rate is among the highest in the world. This trip allowed me to explore further how girls struggled to survive under rampant child marriage conditions and what Plan International has done so far for the community.
According to the United Nations Population Fund, 50% of girls got married before reaching 18 years old, while 15% of them were aged under 15. Due to severe gender inequality in Bangladesh, girls are seen as a burden to the household since they often engage themselves in economic activities with low productivity. Under the ongoing influence of the COVID-19 pandemic, 24 million people have become newly poor and over 40% of citizens[1] are currently living below the poverty line, worsening the problem of child marriage. Kurigram, a district in Bangladesh that I visited during the trip, its child marriage rate has reached 46.8%[2].
Following child marriage, threats like premature pregnancy and domestic violence are waiting ahead for the child brides. Their precious futures and dreams are lost forever. The world's largest NGO, Bangladesh Rural Advancement Committee (BRAC), conducted a survey in 11 regions of Bangladesh showing that there was a 13%[3] increase in child marriage cases in 2021, an unprecedented record in Bangladesh in 25 years.
Suffering Child Brides are forever Trapped
Although the law of Bangladesh stated that the legal marriageable age is 18, the binding force is weak. In primitive districts like Kurigram, the hand-written birth certificate is often altered by parents to marry off their daughters when the financial burden is too heavy for the families. The pandemic further weakened the supervision against child marriage as the committee hasn't called for any meeting for over three months. During the four-month peak, 121 new cases of child marriage had been reported[4].
Discussing with local girls about child marriage is heart-wrenching. 16-year-old Khadija has been married off to a stranger at the age of 11 due to financial stress at home. She hadto leave school and her friends behind while entering a new life of just doing household chores. School life was not the only thing she lost after becoming a child bride, her health was severely damaged because of premature pregnancy. She never recovered from having a baby at such a young age, leaving her sick and unwell with underweight, vomiting, and dizziness. Knowing that most girls in the community are having the fate as her, she hopes her daughter could receive education, develop a career and escape from the abyss of child marriage.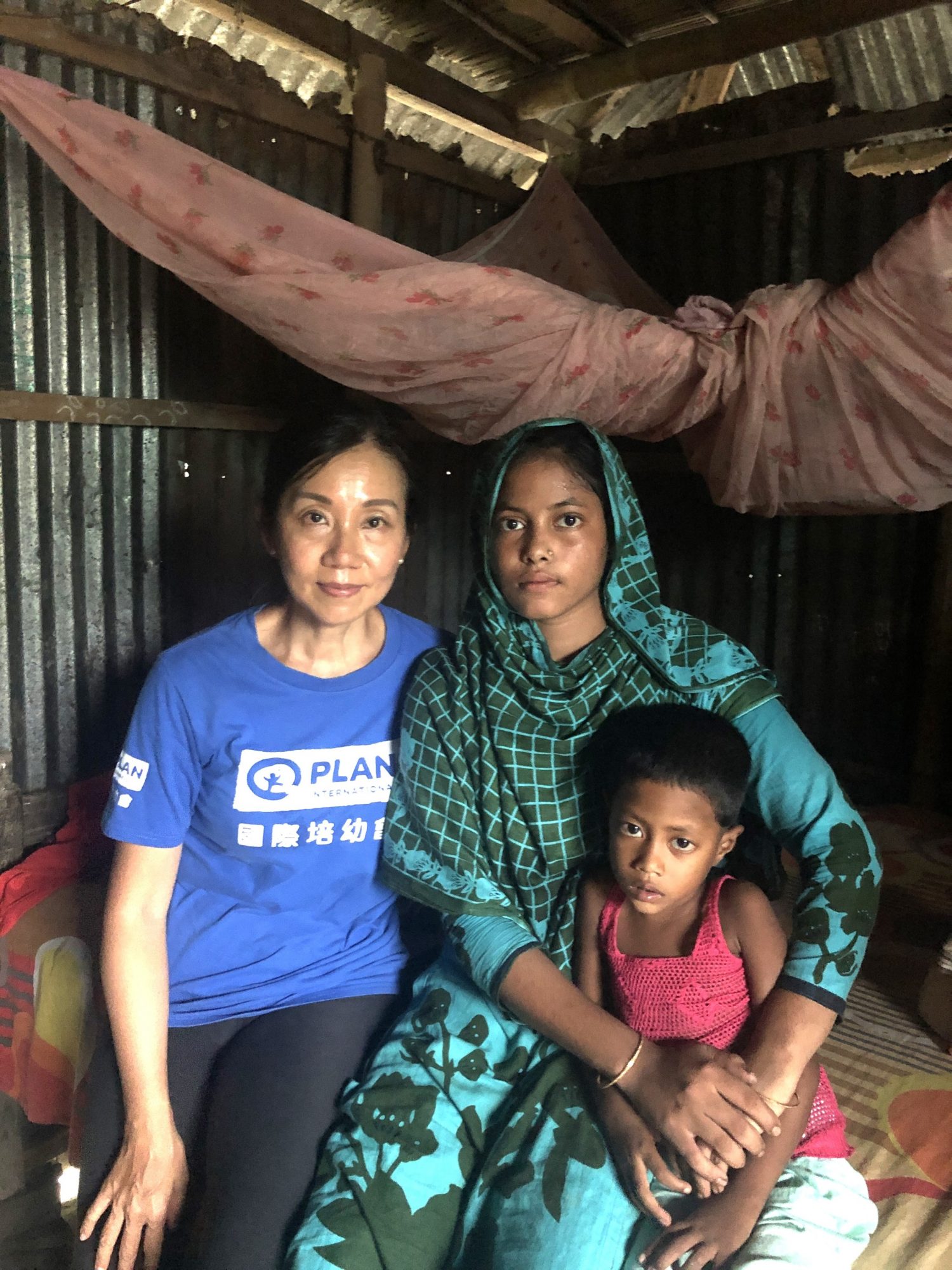 I shared candy with Khadija's 3-year-old daughter, and the moment her daughter smiled innocently, Ishe suddenly realiszed that her mother, 16-year-old Khadija, is also a little girl, but her innocence had been ruined by child marriage, "To be a good wife and a good mother" is her destiny only goal.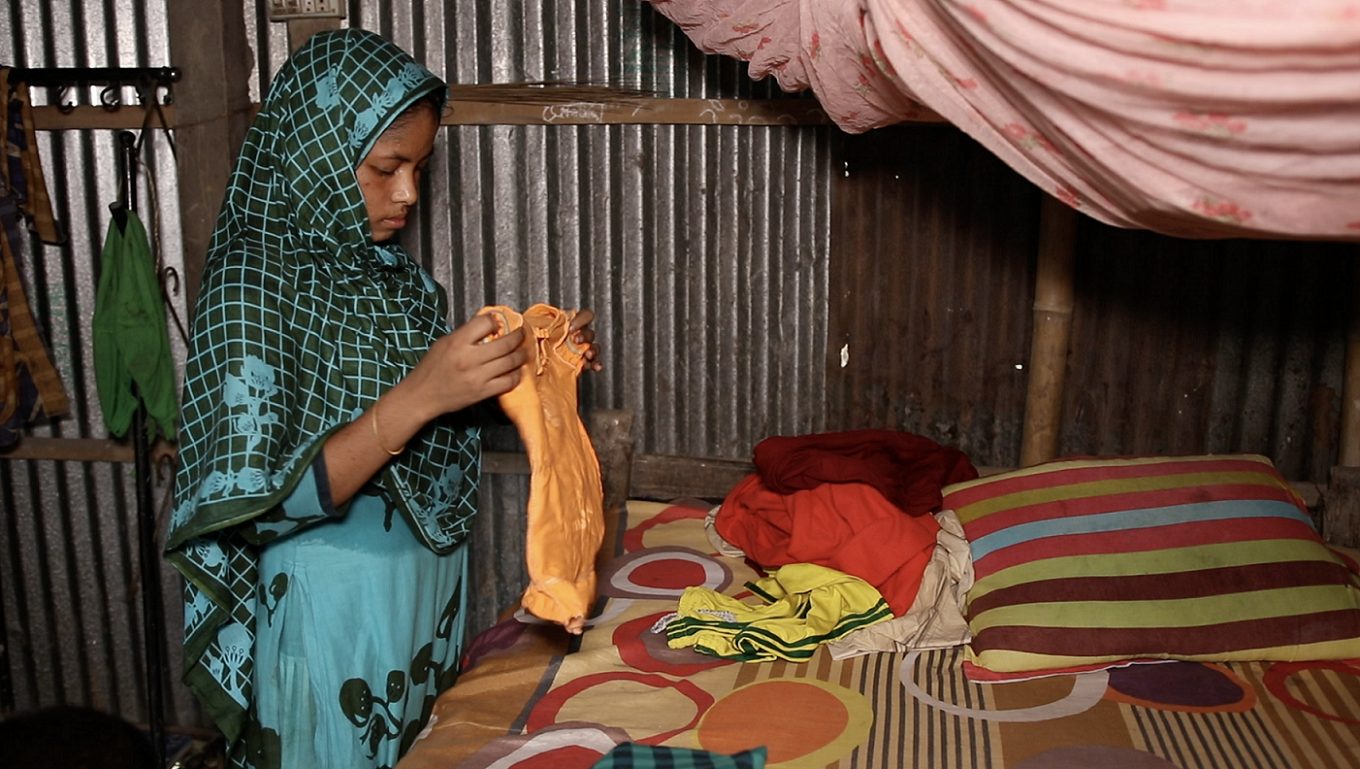 Poor Khadija has to look after her daughter and do all the houseworks on her own. She lost all hopes in her future. 
Continuous Efforts bring Hope
Advocating girls' rights has been Plan International's most important work throughout the years. We provide scholarships as an immediate financial assistance to families with low income. Vocational training are available for drop-outs and adult to help alleviate their financial stress.
Through years of educational work and advocacy, we strived to introduce the disastrous effects of child marriage to the community and eliminate the deep-rooted concept of gender inequality.  Between 2017 and 2019, the child marriage rate in Kurigram has dropped from 65% to 46.8%. Moreover, we are working with the local government to digitalise all marriage and birth records to avoid tampering. More than 4,000 officers have been trained so far and it will be tested and implemented in more areas.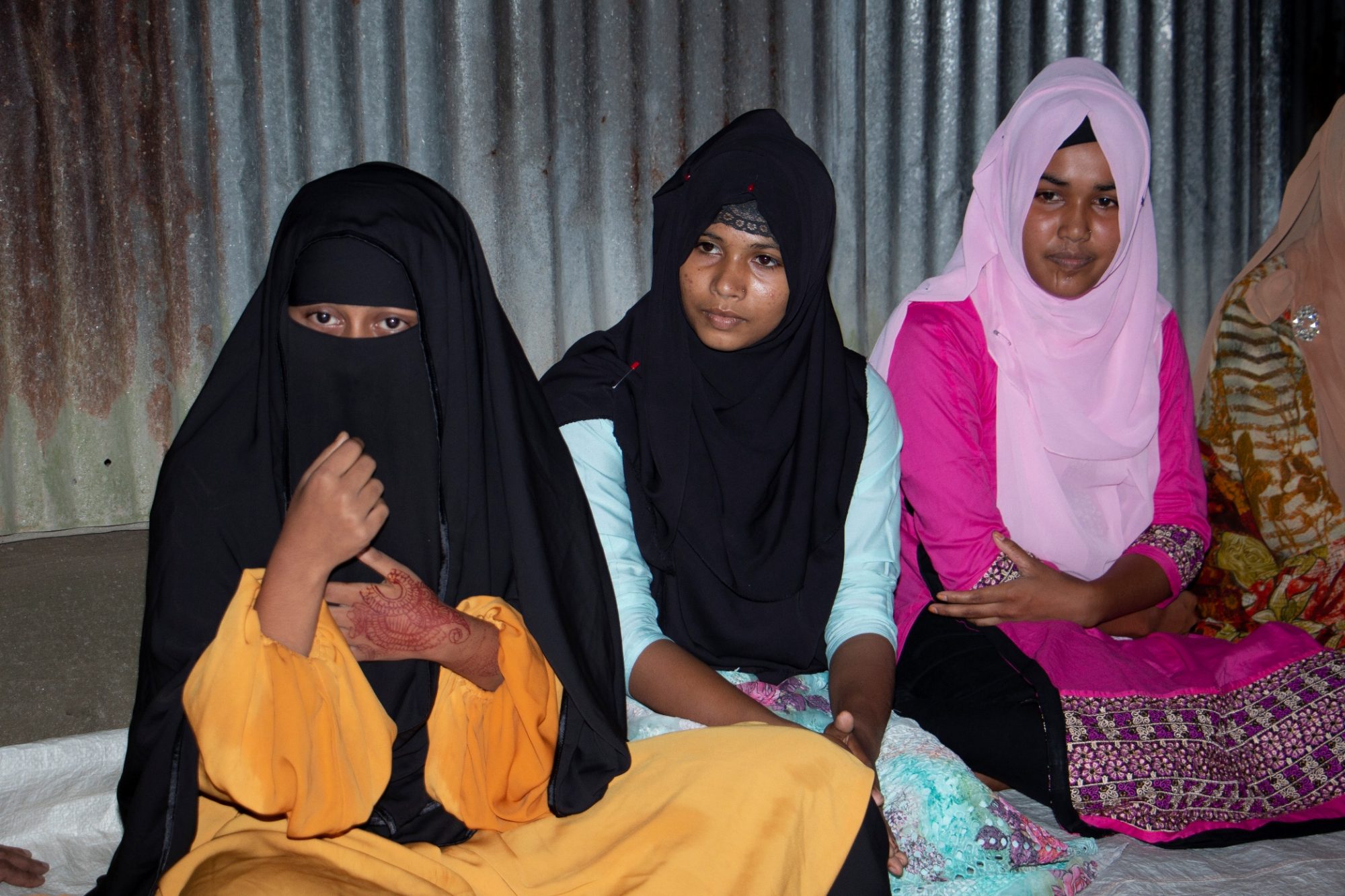 I am happy to talk to Oishi, a participant of the "Child Not Bride" Programme. Through continuous educational work, she developed confidence and has successfully stopped 19 child marriages, which is encouraging. 
Epilogue: Girls should not be Trapped; Girls are destined to Thrive
During the trip, I visited one youth club that provides handicraft and IT courses for youth. I am very much impressed by the passion of a 17-year-old girl. By showcasing her artworks, she shared with me her dreams of receiving education, becoming a voice actress, and opening a restaurant. I could see the infinite possibilities right before her hopeful eyes. Yet, the child brides lives are completely destroyed by child marriage. Exploring the world and developing their future seems distant, let alone fulfilling their dreams. Every girl has the right to thrive, show your support by signing up Sponsor a Girl Programme or Girls Fund Monthly Programme or making a one-off donation. The key is to stop child marriage so that girls are no longer trapped and get back the opportunities to exercise their rights and chase their dreams.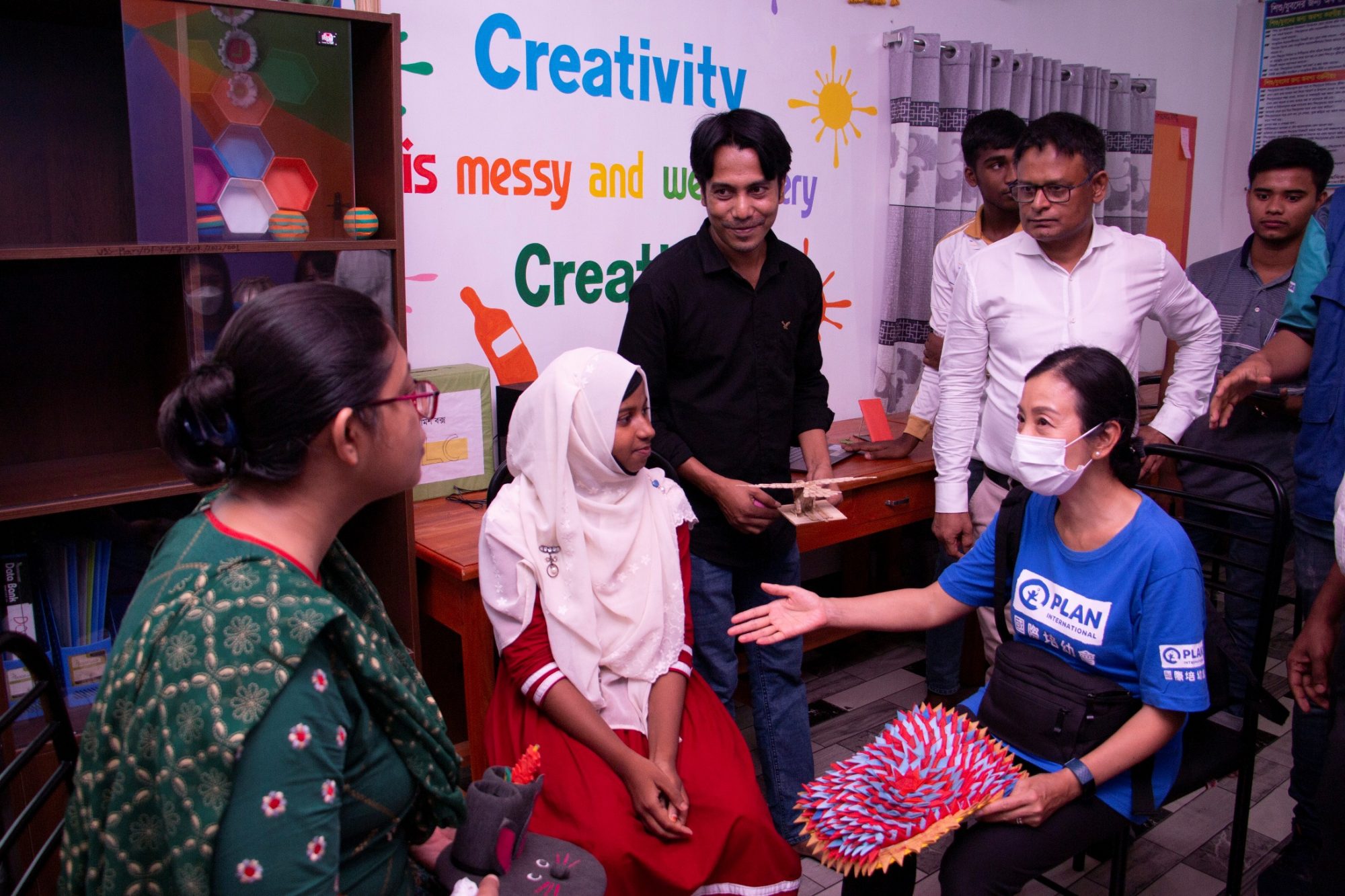 A hopeful look from the girl made me realise the importance of having a dream. 
Girls Fund monthly donation
By donating $4 a day: you can support Plan International in carrying out different anti-child marriage programmes in developing countries, to help more girls escape from child marriage and live their fullest lives.
Bangladesh anti-child marriage project – one-off donation
Donate HK$300: Provide 5 girls with a one-month scholarship to help them receive education and prevent girls from becoming victims of child marriage
Donate HK$600: Provide 10 girls with a one-month scholarship to help them receive education and prevent girls from becoming victims of child marriage
Donate HK$1,000: Provide girls with vocational training to achieve self-reliance
Donate HK$3,000: Provide 5 girls with a half-year scholarship to help them receive education, as well as educate parents and community about the negative consequences of child marriage, and provide girls with vocational training to achieve self-reliance
Reference:
[1]Study: 42% people under poverty line, Dhaka Tribune, Retrieved from:https://archive.dhakatribune.com/bangladesh/2021/08/31/study-42-people-under-poverty-line
[2]Child marriage in Kurigram reduce to 46.8pc, The Financial Express, Retrieved from:https://thefinancialexpress.com.bd/public/index.php/national/child-marriage-in-kurigram-reduce-to-468pc-1642249702
[3]Child marriage up 13% during Covid-19 pandemic in Bangladesh, Dhaka Tribune, Retrieved from: https://archive.dhakatribune.com/bangladesh/law-rights/2021/03/28/child-marriage-up-13-during-covid-19-pandemic-in-bangladesh
[4] Pandemic puts more Bangladeshi girls at risk of child marriage, South Asia Monitor, Retrieved from: https://www.southasiamonitor.org/index.php/bangladesh/pandemic-puts-more-bangladeshi-girls-risk-child-marriage