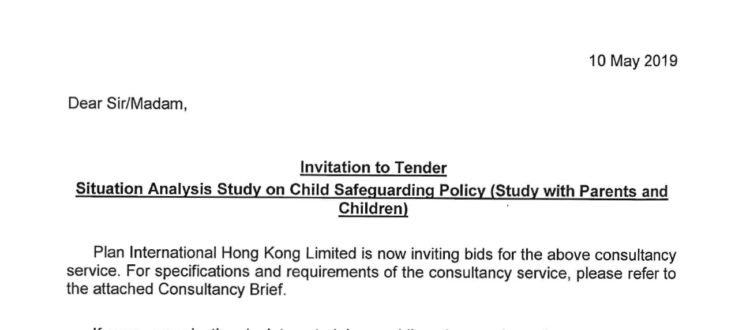 Tender Notice for Situation Analysis Study on Child Safeguarding Policy (Study with Parents and Children)
Tender Notice for Situation Analysis Study on Child Safeguarding Policy
(Study with Parents and Children)
Tender Deadline Extended to June 13, 2019 (Thur) 12:00 noon
All children have the right to be protected from abuse, neglect, exploitation and violence. However, many of these acts are often carried out by people children know and should be able to trust; or by people in places where they should feel safe. Keeping children safe is everyone's responsibility, and is even more so for child-related organisations which have frequent contact with children in their daily operation, who have every duty to set up their own Child Safeguarding Policy to ensure their environment is safe and friendly for children.
To support our Child Safeguarding Policy Movement, Plan International Hong Kong is now preparing to launch a situation analysis study on Child Safeguarding Policy to gauge the opinions of parents and children on this issue. Open tendering is adopted. All interested contractors/suppliers/service providers are invited to tender. For more information about the study and the tendering process, please refer to the tender notice and consultancy brief.
Plan International Hong Kong does not bind itself to accept the lowest tender or any tender, and reserves the right to negotiate with any tenderer the terms of its offer. Details of the contract award will be published on this page.