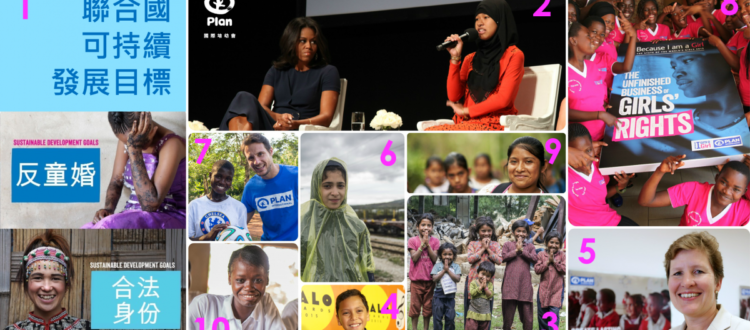 10 Key Steps to Transforming Children's Lives in 2015
As the year draws to a close, Plan International would like to take a look back with you at 10 key steps towards creating lasting change for children in 2015.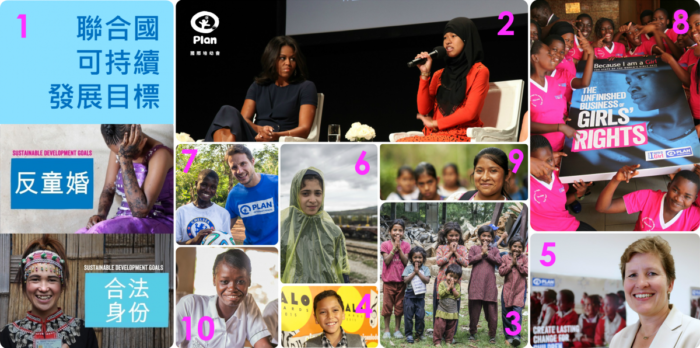 Sustainable Development Goals reinforce child rights


Plan International has worked to influence the Sustainable Development Goals (SDGs) since 2011, ensuring they truly represent children's rights, especially for the most marginalised.As a result of targeted advocacy by Plan International, we achieved commitments in the goals to end child marriage, to ensure schools are safe, free, and of good quality, to sexual and reproductive health services for all, and to end violence against all children.

Plan International girl advocates meet world leaders


Plan International has been working with girl advocates to ensure their rights are a priority in the international agenda.As a result, Nurfahada, 16, from the Philippines, joined the First Lady of the United States, Michelle Obama, on stage at an event in New York on 29 September, to demand education for all teenage girls.

Rebuilding education after the Nepal earthquake


In response to the 7.8 magnitude earthquake in Nepal on 25 April, Plan International supported children through the provision of emergency shelter, food and water and immediate access to temporary learning centres and safe spaces. Until now, we supported over 250,000 individuals, including over 100,000 children, impacted by the earthquakes.As Nepal moves into the recovery phase, we are appealing for an additional €20 million to meet the long-term needs of education and protection for children affected by the disaster. These include providing construction materials to 65,000 affected families for building their houses and helping 135,000 children receive quality education by building transitional classrooms, etc.

Plan International and Nickelodeon campaign together


From June to November, Nickelodeon's "Together For Good" campaign, in partnership with Plan International, set out to find children from around the world who are making an impact in their communities.8-year-old Estebanfrom Guatemala was selected by Nickelodeon viewers as the winner of the competition for his project Mini Doctor. Since the age of 6, Esteban has been utilising his bi-lingual Spanish and English language skills to help foreign doctors communicate with kids and families in his home country of Guatemala.

New Plan International CEO champions change for all


Top UN executive Anne-Birgitte Albrectsen took over as the CEO of Plan International on 1 September. After taking up office, Ms Albrectsen stressed the need for change within the development sector if the Sustainable Development Goals are to be truly transformative.Plan International will look at working more with the excluded, including children with disabilities, young mothers, young people living on the streets and those affected by disaster.

Supporting Syrian children's rights to education and protection


Plan International is helping Syrian refugee children and their families with education, child protection and psychosocial support. We have worked through partner organisations to provide child-friendly spaces, support to enable education to continue, psychosocial programmes, food and medical assistance and back to school kits. Up till now, 15,000 children and 3,000 families were benefited.

Plan International and Chelsea FC partner for gender equality


Plan has become Chelsea Football Club's global charity partner in September. Together, Plan and Chelsea will develop a football-themed programme to teach both boys and girls about equality and respect by harnessing the power of football.

Global celebrations mark International Day of the Girl


Plan International launched the latest in the series of reports on the State of the World's Girls on the International Day of the Girl. "The Unfinished Business of Girls' Rights" brings together 14 prominent voices – including former Australian Prime Minister Julia Gillard – hailing progress, but lamenting the fact that girls still face huge challenges.

No more girl brides in Guatemala


On 5 November, after 3 years of advocacy efforts by Plan International and partners, the National Congress of Guatemala approved a law establishing 18 as the minimum age for marriage. The previous law had allowed girls to get married at 14 years old, and boys at 16.

Sierra Leone declared Ebola free

After a year and a half of the Ebola outbreak, Sierra Leone was declared Ebola free on 7 November.Since the start of the outbreak Plan International has responded by working with communities to raise awareness of the virus and how to prevent it, supporting health centres, water and sanitation in schools, implementing child protection measures and the provision of psychosocial support.