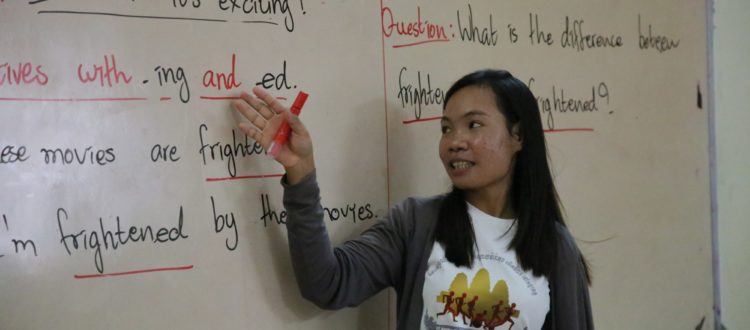 An Unusual Teacher: Rewrites her Life Story with One Arm
In the biopic film Hichki, Naina, an Indian girl with Tourette syndrome, attained her goal to be a teacher despite her non-stop tics, hiccups and the disapprovals from the people around her. In a nearby country, Cambodia, there is also a girl who was born with only one arm and dreams to be a teacher. Her perseverance and faith in bringing more children out of poverty have got her through the limitations of her body and resources.
Mother's Love Raised an Optimistic Young Lady
By the time I took off for Cambodia, I was reading the autobiography Life without Limits by Nick Vujicic. Nick was born with no limbs and went through a tough time being severely discriminated and bullied. I imagined Tort, the single-arm 24-year-old, would have similar experiences; yet, her positive vibes have surprised me at first glance. The young lady was born to be different from her other seven siblings in a small village in Siem Reap, Cambodia. Kheny, her mother, believes the missing limb should be the result of taking too many painkillers to cure her headaches during pregnancy and lacking pregnancy checkups as the hospital was too far away.
As a mother of two boys, I fully understand the mixed feelings of guilt and love in Kheny towards her daughter Tort. While Kheny was worried about the future ahead of Tort, she was also very concerned about how people look at her daughter. She stood in front of Tort to protect her when people said her suffering was a curse. She was the first to tell everyone 'It is not her fault!' Kheny's attitude has become Tort's shield in her childhood. No matter what she encounters, it all vanishes on the other day when she wakes up and she continues to write her life story with her one hand.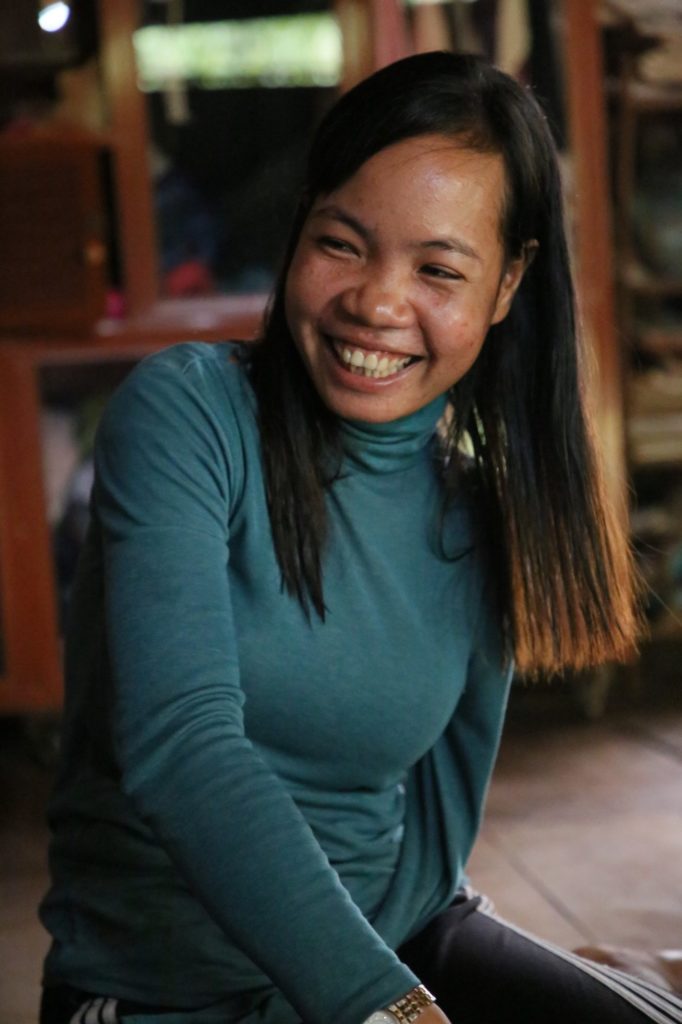 Tort never complains and wears a big smile.

Thanks for the love from her parents, Tort now has the faith in following her dreams.
All Human Are Created Equal, Eliminating Discrimination by Community Education
Since 2005, Tort has become a sponsored child under Plan International. From that moment onwards, not only does she have the support from her mother, but she also started receiving the love and warmth from her foster parents in Germany. Her life is never the same again. In the first letter she got from her foster parents, it is written 'we are glad to have a child in Cambodia' which encouraged Tort to stay strong. In the conversation with Tort, we discovered how the Children's Club built a safe and happy environment. In the club, Tort and her friends in the community learnt about self-protection, respecting others and children's rights, in which helps a lot in eliminating discrimination in her surroundings.
Plan International has also provided scholarships for needy children like Tort, and built health centres and water facilities in her community, aiming to bring more children to schools, change their lives and improve their families' living standards.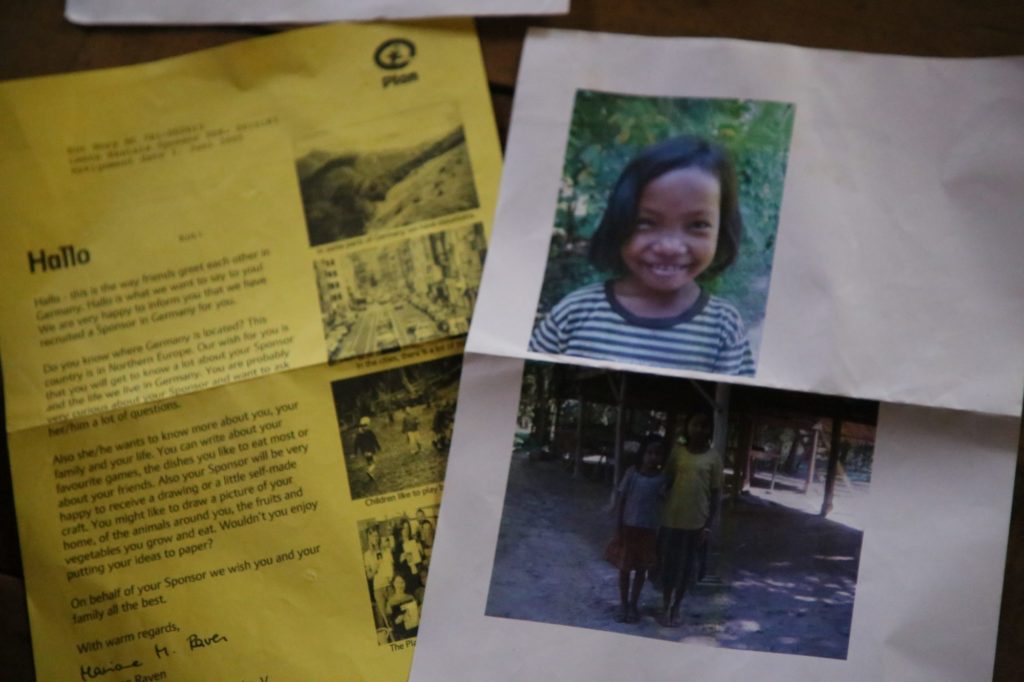 Tort started receiving sponsorship in 2005 and she treasures the letters she got from her foster parents.
Studied While Pasturing Cattle, Help Children in Poverty
Kheny and her husband have devoted all their time to farming and they were not given the chance to study at all. Still, they insisted on getting all children to school, including Tort. Tort's passion for studying has touched her mother deeply. 'Even if I asked her to pasture the cows, she brought along her books and she is the only child who did not drop out,' Kheny said.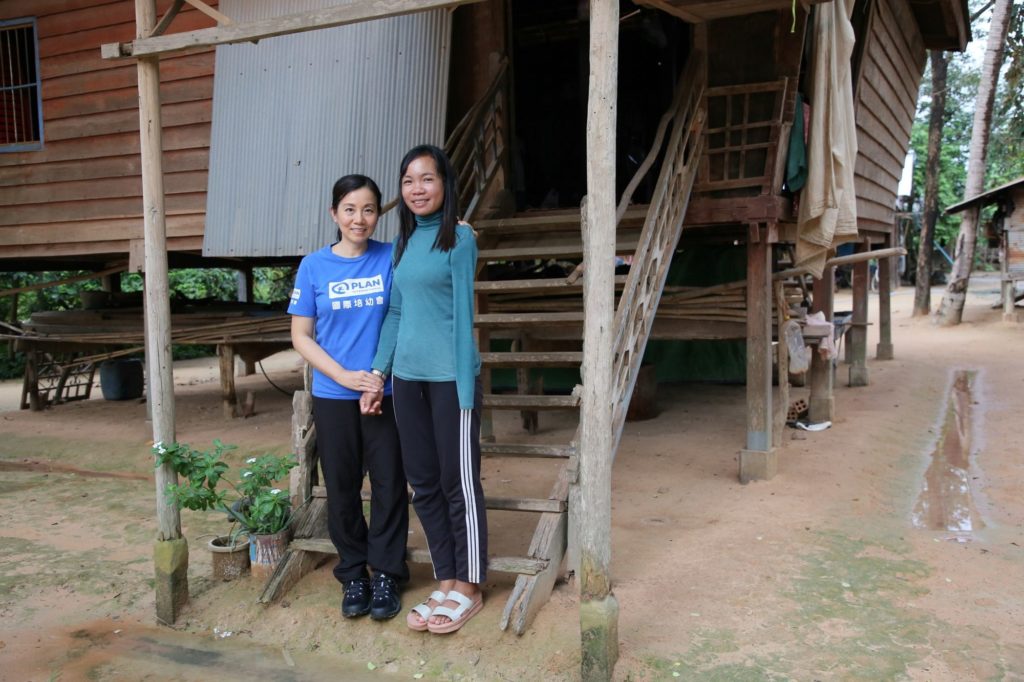 Tort and her family live in a stilt and make money by farming. She strives to change her fate.
'We cannot change the past but we can change the future!' has been Tort's motto. She is working hard to change her and many other Cambodian children's future. She is now in her first year at the university; she set her goal as a high school English teacher. To pave her way, she is now teaching Khmer language in a primary school, reading stories to children in the school library, encouraging students to read more and volunteering herself in English teaching at a local NGO helping poor students like her. She is fighting against her 'fate' with her single-arm.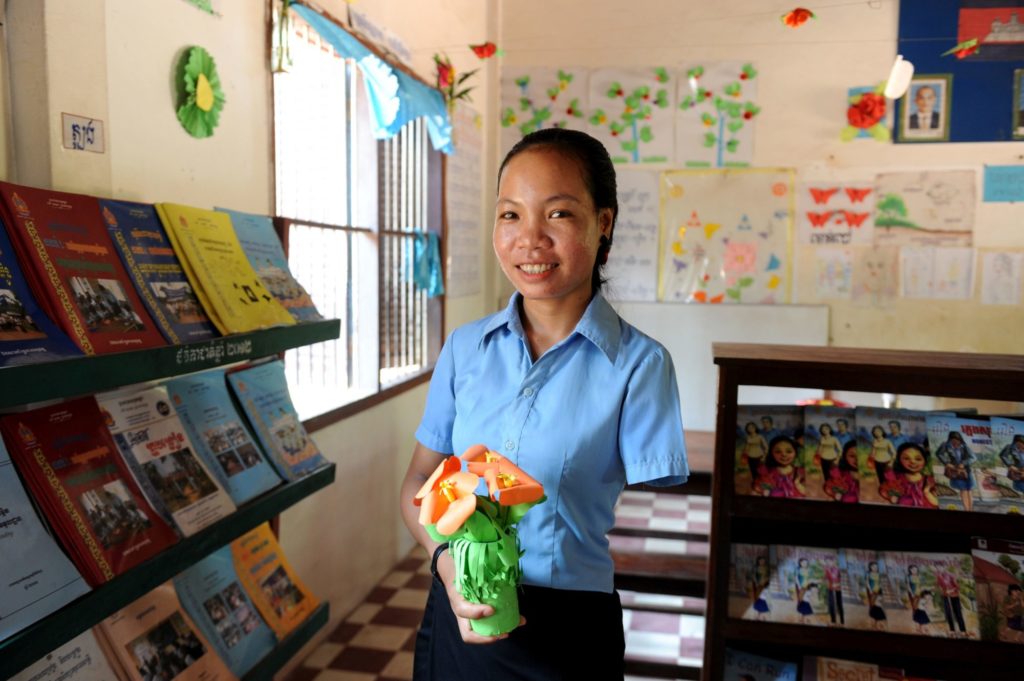 Tort reads storybooks for the children in the primary school she is teaching.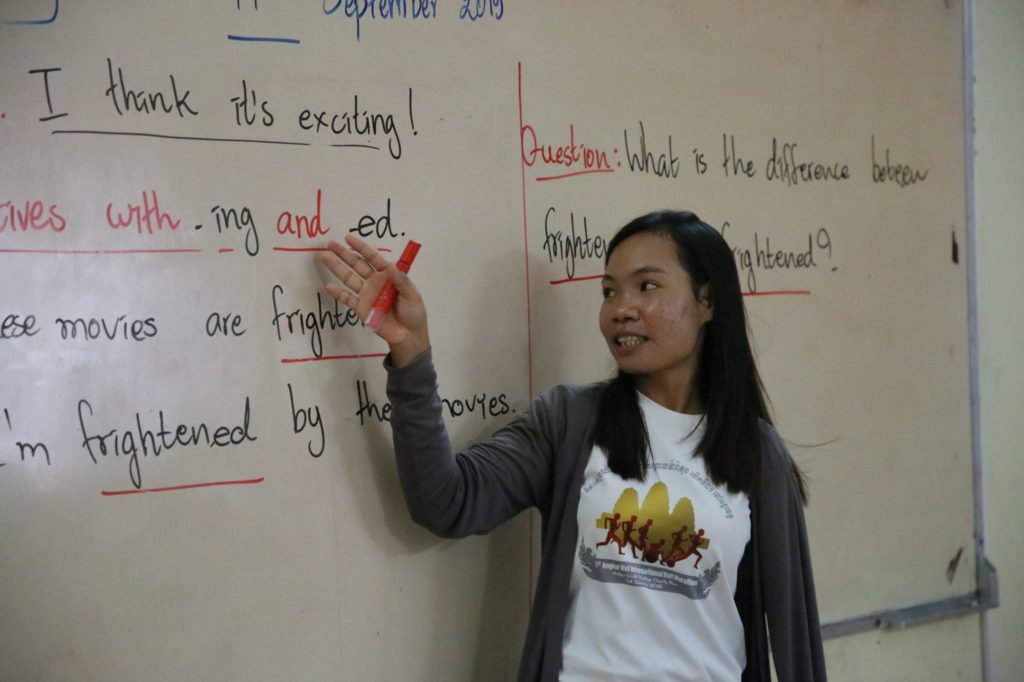 Tort volunteers herself for teaching in a local NGO, helping poor students to get out of poverty.
Remember how Tort's disability was considered as a curse, and how tough she is, how high she has reached and how much she contributed in her community, all these made me emotional. It was time to say goodbye. Tort was about to drive her motorbike back home on the muddy road with her only arm. I could no longer hold back my emotions. I hugged her and told her 'I love you'. It was the first time I saw tears in this tough young lady's eyes. I wish she will always wear her signature smile and head to her bright future, regardless of the challenges coming in her life.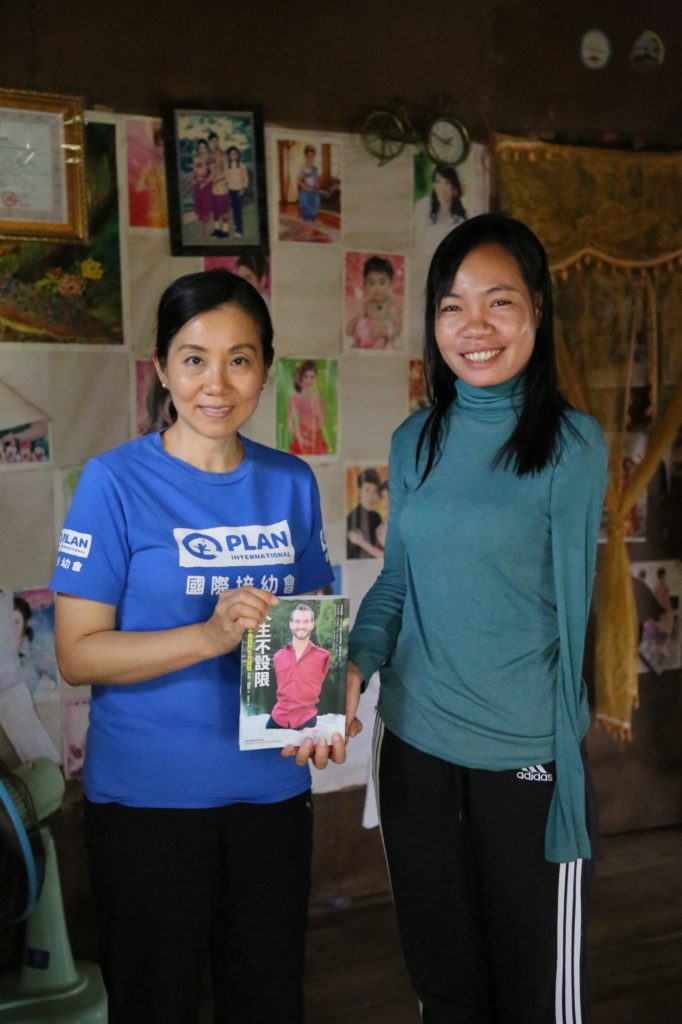 I introduce the autobiography Life Without Limits by Nick Vujicic to Tort and send her the English copy after the visit, wishing her unlimited possibilities in her life.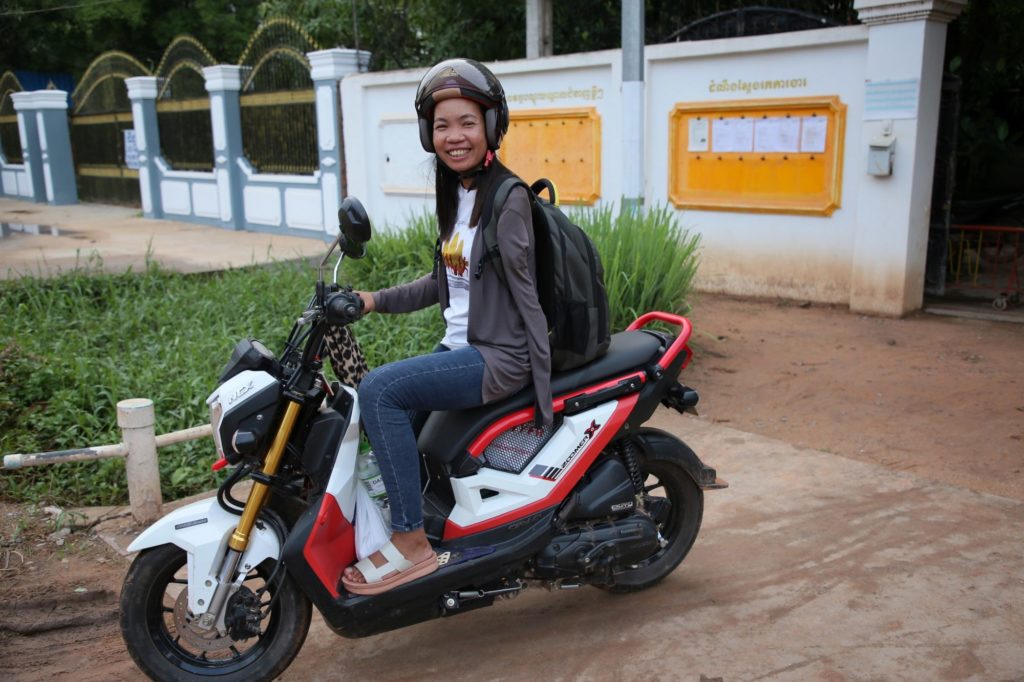 The scene of Tort driving with one hand impresses me a lot.
Just 8 dollars a day, you can support Plan International's community projects and give a helping hand to children like Tort who want to chase their dreams and transform their lives.
Sponsor a Girl
Photos taken by Plan International Volunteer Photographer Mr. Tsang Wing Kai