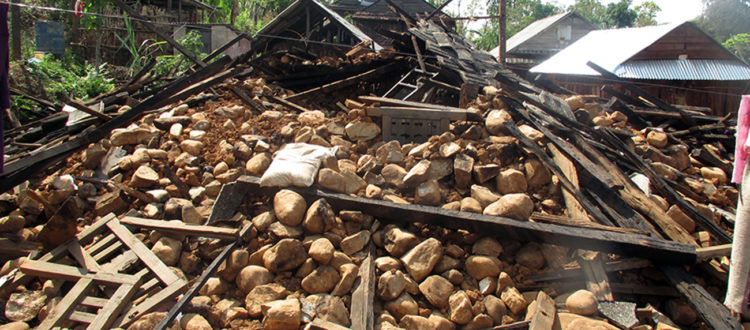 Appeals for public support to help children and vulnerable communities after Nepal earthquake
On April 25, a magnitude-7.9 earthquake centered less than 80 km from Kathmandu rocked Nepal with devastating force, affecting 30 of the country's 75 districts. Nepal's Home Ministry has reported at least 7,900 injured and a death toll of more than 4,300, expected to increase.
Development partners must act swiftly and effectively to meet the needs of children and families following this tragic disaster, says Plan International, a global children's charity.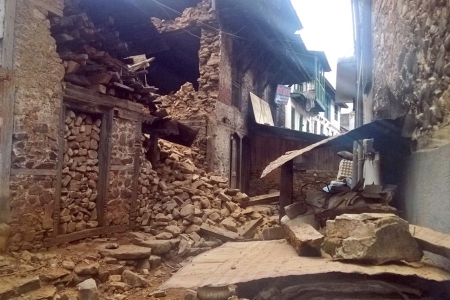 A badly damaged house awaits repair in a village near Kathmandu
Support Needed for the Most Vulnerable
Remote communities in Nepal need aid as quickly as possible. Many rural areas were significantly damaged in the earthquake and some are so remote that emergency respondents cannot reach them until roads and bridges are repaired. Children in these areas are particularly vulnerable. Disasters turn the lives of children upside down. They may be separated from their families, injured or caring for an injured parent, or coping with a damaged or destroyed home.
Plan International is appealing to raise 10 million euros for the emergency response in Nepal.  Plan is committed to focusing its response on the most remote communities where children have been left at risk. Meeting their core needs – including water, health care and essential protections – will be amongst Plan International's immediate priorities. Children may be deeply traumatized by a disaster of this magnitude, which is why emotional and psychosocial care and support are crucial and will be a priority for Plan.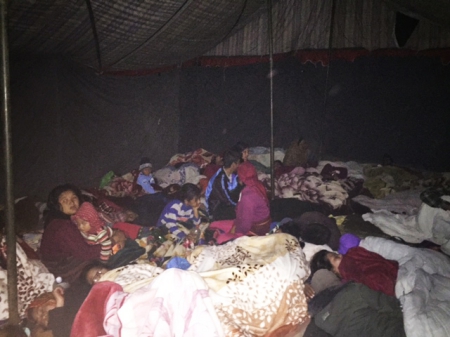 Families left homeless by the quake sleep in a temporary shelter
A Quick Response

An effective and efficient response saves lives. Plan has already deployed an international team of technical experts to Nepal focusing on disaster response management, child protection, logistics, communications and more. Nine staff members are in Kathmandu and Plan International has also sent teams to remote communities in Makwanpur and Baglung, close to the epicentre of the earthquake. An assessment team is likewise headed to Pokhara to coordinate distribution of immediate aid and to try and reach cut-off rural communities to assess their needs. The initial focus will be on temporary shelter, sanitation and Child Protection in Emergencies.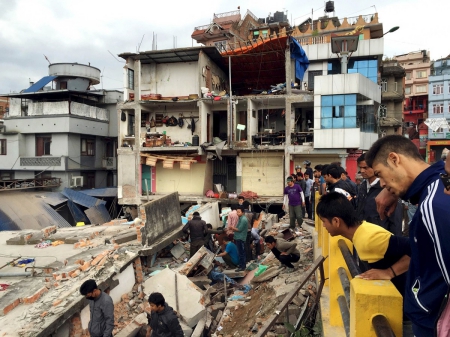 People survey a site damaged by the earthquake in Nepal's capital city Kathmandu
Appealing for Assistance
Ms. Kanie Siu, CEO of Plan International Hong Kong has made an appeal for public for donations. An estimated 1 million Nepalese children are in urgent need of assistance and Plan International, with its field offices, active programming and child assistance work throughout earthquake-affected areas, is in a strong position to help.
"Plan International has been working in Nepal since 1978, helping poor children to access their rights to health, education, economic security and protection. There have been no reports of deaths and injuries amongst Plan's sponsored children in Nepal, but many children and their communities have lost their homes. A number of non-food items including 500 blankets, 300 mosquito nets and 600 education kits have been sent to the affected districts of Makwanpur and Sindhuli. We aim to support an estimated 2,000 households whose houses are completely collapsed or extensively damaged and no longer in liveable condition and approximately 7,000 families with non-food items. More resources will be needed to meet evolving needs. We're asking everyone to act now and help the Nepalese children in need!" Ms. Siu said.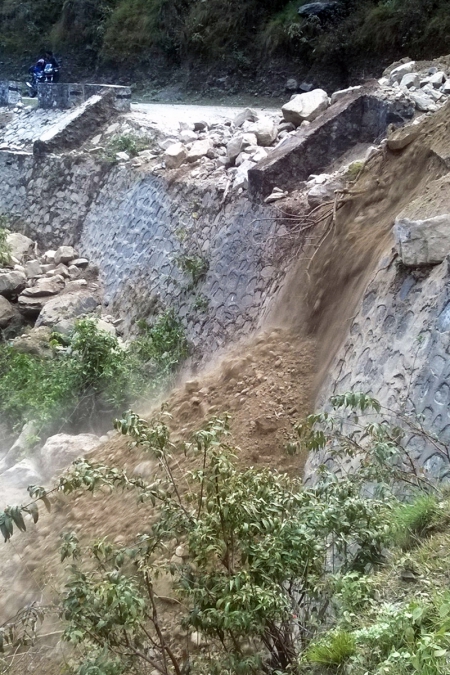 Landslides have led to further road and infrastructure damage
Please donate to the needy children and vulnerable communities in Nepal earthquake:
Online donation
Bank Transfer
Please make a direct deposit into HSBC account #640-068292-838.
Please mail the original bank receipt (mention: Nepal earthquake) together with your name, address and telephone number to Plan International Hong Kong, Rm 1104, 11/F, Cameron Commercial Centre, 458 Hennessy Road, Causeway Bay, HK or email to 

[email protected]

Crossed Cheque
Please mail the cheques payable to Plan International Hong Kong Limited. Please mention: Nepal earthquake and write your name, address and telephone number at the back of the cheque to Plan International Hong Kong, Rm 1104, 11/F, Cameron Commercial Centre, 458 Hennessy Road, Causeway Bay, HK or email to 

[email protected]