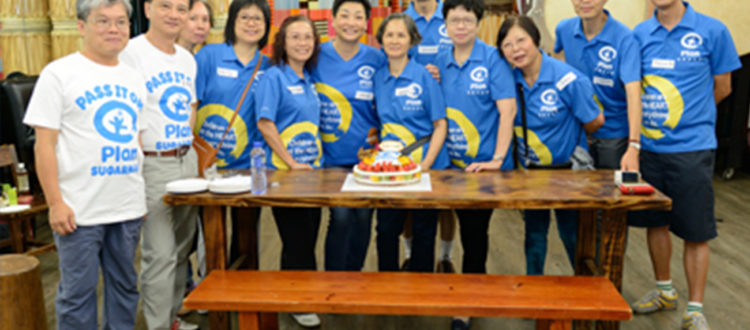 Former Plan beneficiaries gather for 5th annual "Friends of Plan"
It's been more than 40 years since Plan International operated a field office in Hong Kong. Today the city is an important fundraising centre, and contributions from its generous donors help support less fortunate children in China, Asia, Africa and around the world. But the legacy of the early days – when Hong Kong had yet to become the affluent, cosmopolitan city it is now – lives on in the hearts of those who benefited from Plan's child-centric programmes.
Between 1959 and 1973, Plan helped nearly 12,000 local Hong Kong children gain access to education, food and healthcare. Some of them recently got together with Plan staff during the 5th annual "Friends of Plan" celebration held on 30th August 2014, a group started by passionate ex-beneficiaries that reconnects old friends and contributes toward Plan's fundraising efforts.
The anniversary event took place at Ban Gig Drums Academy, of which the founder Ban Leung, is also an ex-Plan child in the 1960s. Ban and his drumming team had delivered a number of wonderful performances in Plan's fundraising events, including BIAAG Variety Show & Walk for Children. He volunteered to teach a drumming class to the fellow "Friends of Plan" , which they all spent an "energetic" and enjoyable evening.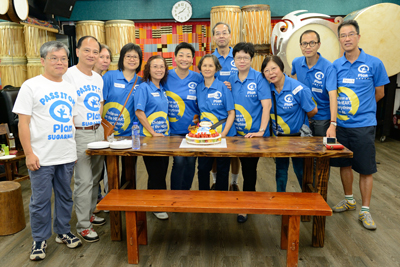 "Friends of Plan" is a great opportunity for old friends to reconnect and make new ones, too. "We have known each other for five years because of Plan," said Shadow. "I hope we can have more gatherings and make more contributions to Plan. It feels good to be a part of Plan."
Activities at this annual event often include  giving talks at local schools and participating in fundraising and eating together. "It's always nice to meet other 'Friends of Plan,'" said Amy. "Everyone enjoyed the food and this special event. We are glad to be a part of it."
One new and very popular event at the 5th "Friends of Plan" gathering was a drum performance. "I am very content with this year's 'Friends of Plan' 5th anniversary party as I can gather, enjoy a meal and reminisce with friends that I got to meet in these past five years," said Francis. "I hope that this event can continue and prosper with a 6th, 7th, 10th, 20th and even 30th anniversary. It would also be great if we could organize a drum team so we can gather at least one or two times more every month."
Stories of individual triumph always feature at "Friends of Plan". Said Vincent of fellow attendee Ban: "I met Ban very early on through Plan's activities, but I never got to know him properly. Our talk at the gathering was great and very beneficial. Ban, who is also an ex-Plan beneficiary, is a single father, also carried out motherly duties and managed to successfully raise his son. His perseverance is admired by many people. Now he uses his experience to help and support teenagers with single parents. He received support from his sponsored parents through Plan early on, and now he returns the favor by contributing to society and helping those in need." Vincent also wrote a poem for Ban and his son, which used the metaphor of the two drumming together to represent the devotion and connection they share.