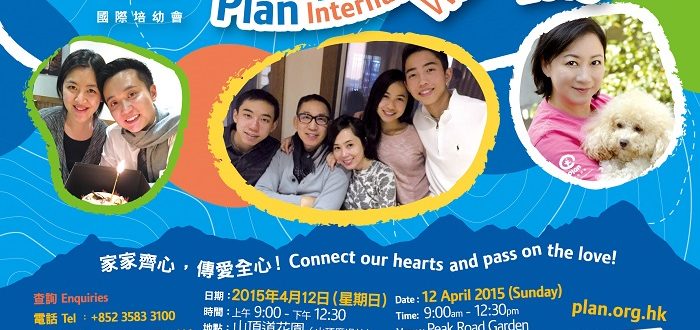 Join Plan International Hong Kong's "Walk for Children" 2015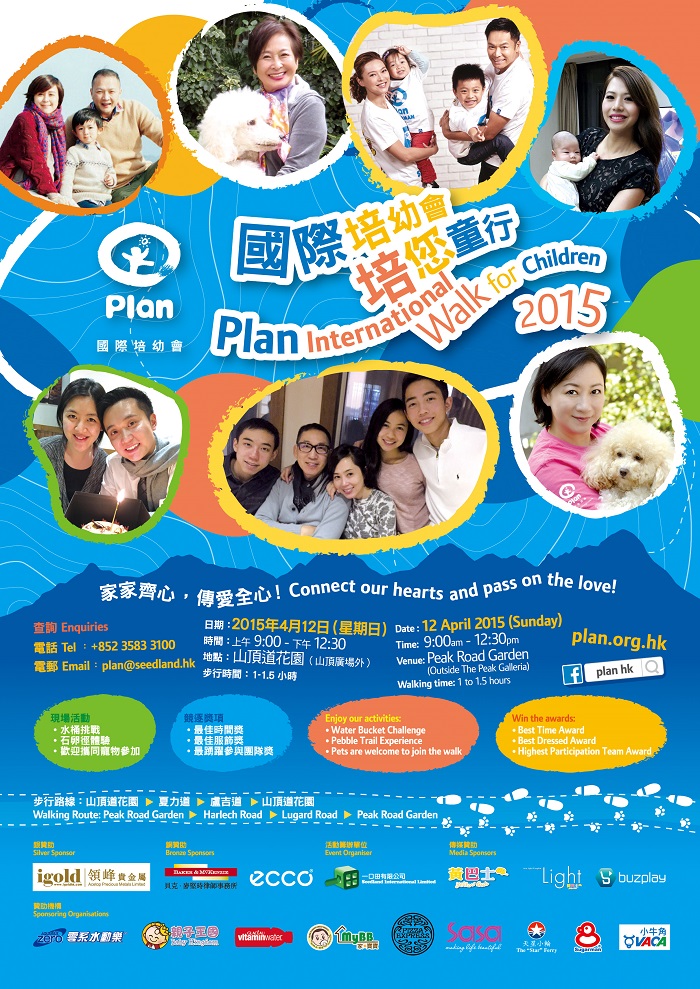 Being the annual fundraising highlight of Plan International Hong Kong, the 4th "Walk for Children" will be held on 12th April at Peak Road Garden (Outside The Peak Galleria). The event aims to raise funds for the education programmes in Vietnam and Ghana, lifting underprivileged children out of poverty.
Since it was launched in 2012, "Walk for Children" has received tremendous support from the public. Every year around 1,000 participants join the Walk to support Plan's charity projects in remote regions. Last year's "Walk for Children" has benefitted the preschool education programmes in Longde County in the Ningxia Hui Autonomous Region of China. Following the previous success, this year's event will focus on helping 266 young children directly in Lai Chau, Vietnam and 800 girls in Ghana. By providing them with quality education, Plan aims at empowering the children to gain a better future via the power of knowledge.
Being one of the poorest provinces in Vietnam and obstructed by its inaccessible location, Lai Chau suffered from its lack of basic infrastructure and community support, especially on early education facilities. Furthermore, since many of the local children belong to ethnic minorities, Vietnamese is not their first language. They often find it difficult to integrate into formal primary education. The funds raised from this year's "Walk for Children" will be used to improve early education by building a preschool equipped with proper water and sanitation facilities and a playground, as well as conducting teacher training and children's rights awareness sessions. Meanwhile, the projects in Ghana in western Africa will offer education and vocational training programmes to girls, as a way to enhance gender equality within the community and enable girls to build their self-esteem. Around 2,000 children and their communities will benefit from both projects.
In order to let participants experience the everyday challenges faced by the underprivileged children, this year various experiential activities will again be available, such as "Water Bucket Challenge" and "Pebble Trail Experience". In addition, participants are welcome to dress up in outfits related to the themes of "villagers" or "kids", and compete for the "Best Dressed Award", while they can race for the "Best Time Award" too, making the charitable event more fun and meaningful. The team with the most members will also be awarded the "Highest Participation Team" on the day.
Ms Kanie Siu, Chief Executive Officer of Plan International Hong Kong, encouraged the public to support the event, "Thanks to the fervent support we received last year, our educational project in Longde County in Ningxia has already benefited 833 families in 26 communities. Our work has helped improve the quality of local preschool education and offered safe learning environments to the pupils. The funds raised from this year's event will be used in supporting similar practical programmes in Lai Chau, Vietnam, as well as educational projects for girls in Ghana. I sincerely call upon your support and look forward to seeing you all at the Peak on 12th April!"
"Walk for Children" 2015 is now open for enrolment and the deadline is 12th March 2015. Participants may enjoy this special day with family and friends. Please click here for more details or call 3583 3100 for enrolment and enquiries.