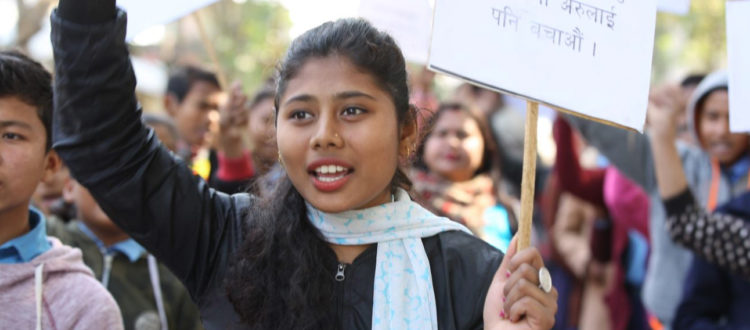 Let's Get Girls Protected and Educated
Escaped from the Haunting Nightmare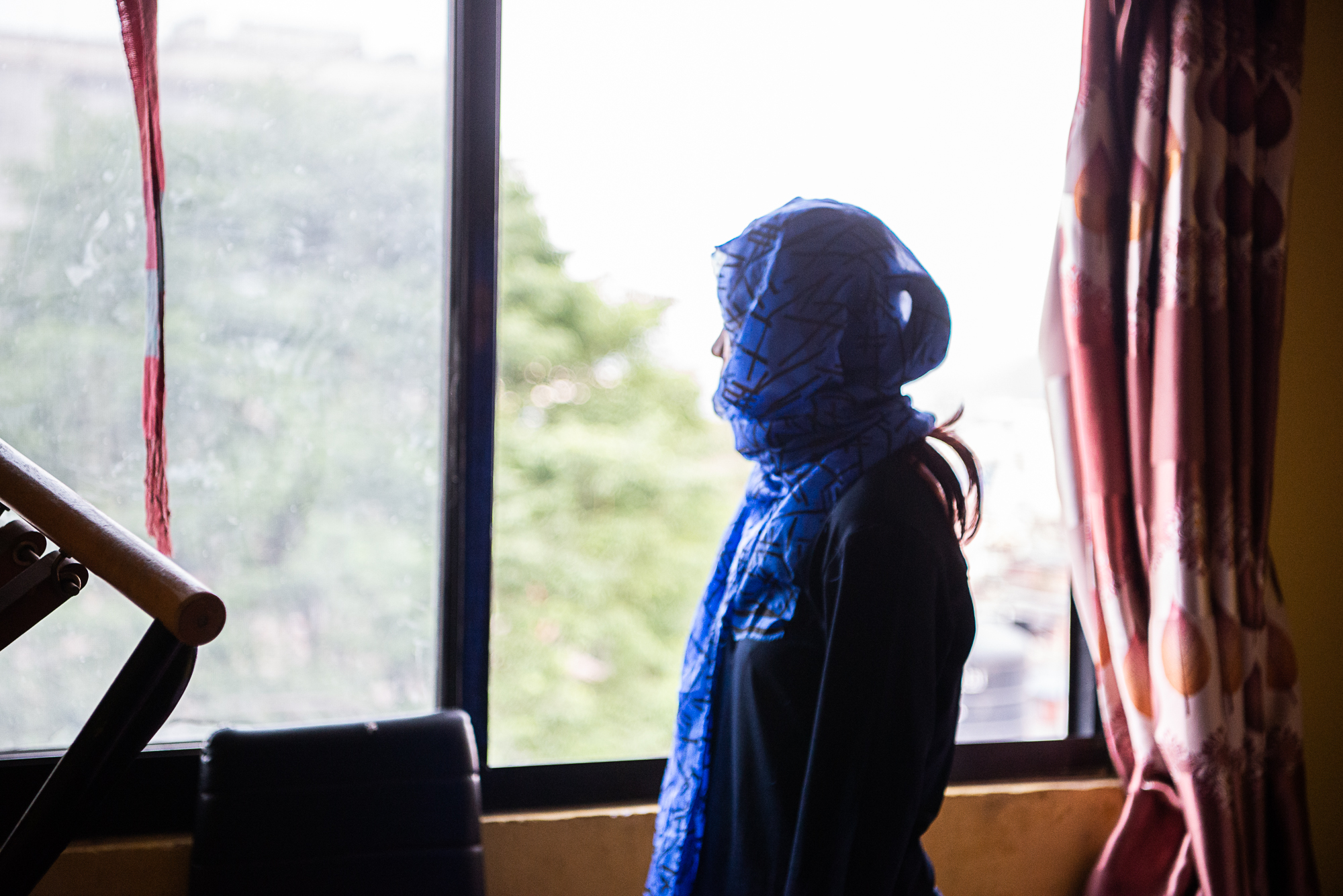 "One of the wives told me she paid 8,000 dirhams (HK$16,000) for me. Until I paid her that money, I couldn't go anywhere" Sharmila says.
Sharmila, a 21-year-old girl from Nepal, was lured to Dubai when she was 16 years old by a neighbour who promised to get her a job. She thought she was going to work in India. Instead, the human traffickers made her a fake passport and sold her to Dubai from India as a domestic slave. For almost 18 months, she worked for a family with four brothers, their wives, parents and children. One day, Sharmila was raped by the youngest brother and got pregnant. She was scared and the man threatened to kill her if she said anything to anyone, so she stayed quiet.
When she was four months pregnant, the family decided to send her back to Nepal. At the airport, the security officers discovered she was using a fake passport. Immediately, she was sent to jail. "The food was very bad, I couldn't eat at all. It was so cold and there were no proper blankets. I cried every day," recalled Sharmila. A woman in the cell next to her pitied her and helped her to buy a ticket back to Nepal after she had served her time in prison. By the time she was back in Nepal, she was already 18 years old.
Sharmila lost her baby when she was nine months pregnant. It was devastating and painful for her. She had anaemia and was hospitalised for almost two weeks. Her story might be shocking to most people, but not for the Nepali. According to UNICEF, 12,000 children are trafficked from Nepal to India each year. It is why Plan International started the "Action against Child Trafficking" (AaCT) project in Nepal. With donors' support, we are able to accomplish some results!
Learning to Be the Change-maker in Communities
From April 2017 to March 2019, Plan International had been working in Banke, Sunsari and Rautahat, which are the prone districts of trafficking in Nepal. One of the main focuses of the projects was to empower the local communities so that the inhabitants can take part in protecting girls and preventing child trafficking.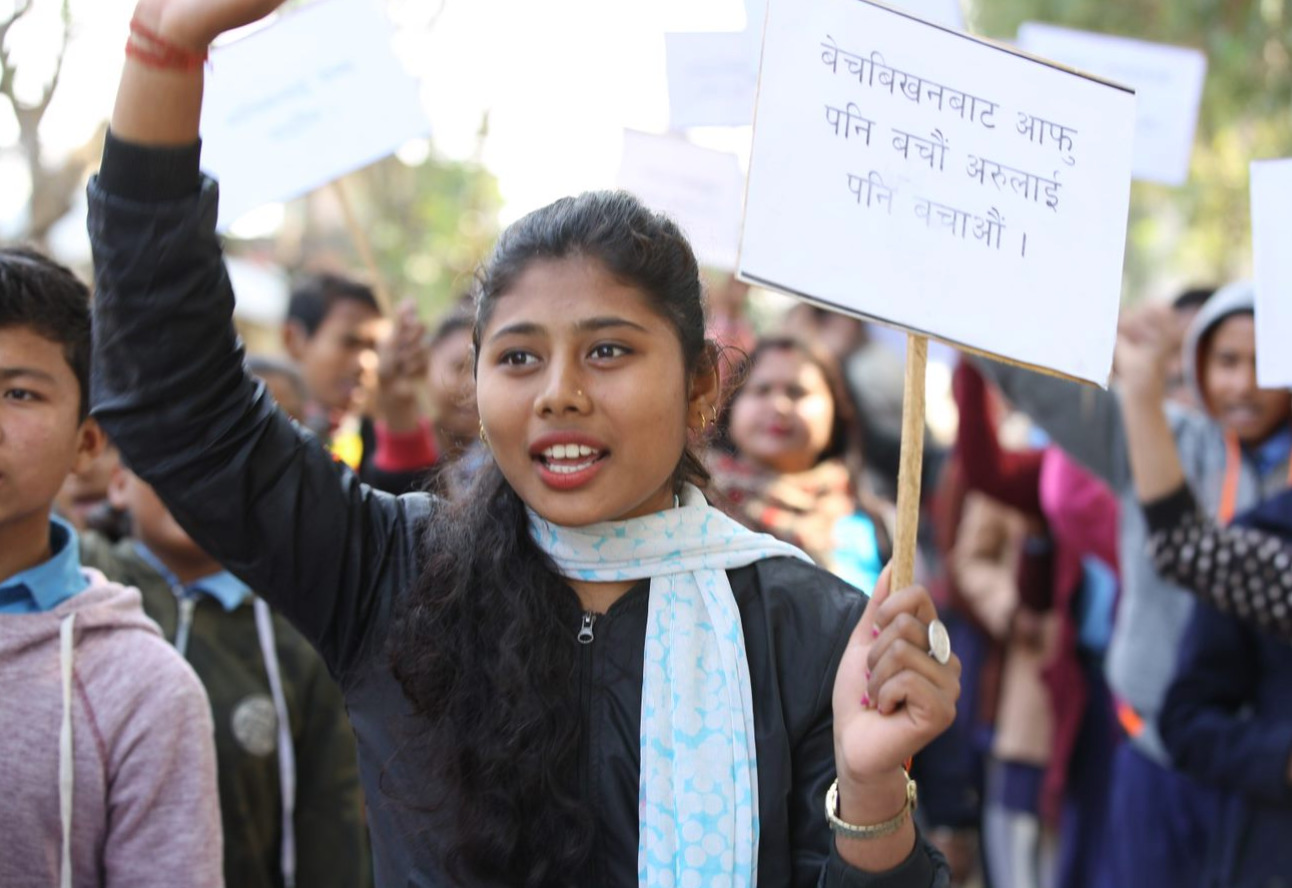 "We hear figures of girls being raped or trafficked every day, but we never know why they ended up being a victim," says Chandrakala.
Chandrakala, 18, became the ambassador of the AaCT Campaign organised by Plan International when she was 16 years old. She has an interest in literature writing and used to write articles on problems faced by a female. She took the initiative to act against child trafficking when Plan International carried out the project. Child trafficking has been a serious issue in her community but the villagers were not even aware of how the children were trafficked.
Plan International provided training on public speaking, basic advocacy and creative writings with the aim to enhance the skills of the youth ambassadors. Information sessions were also given to them so that they can have a clearer understanding of the issue and children's rights. Plan International had also provided them with a series of training on how to tackle human trafficking in their surroundings.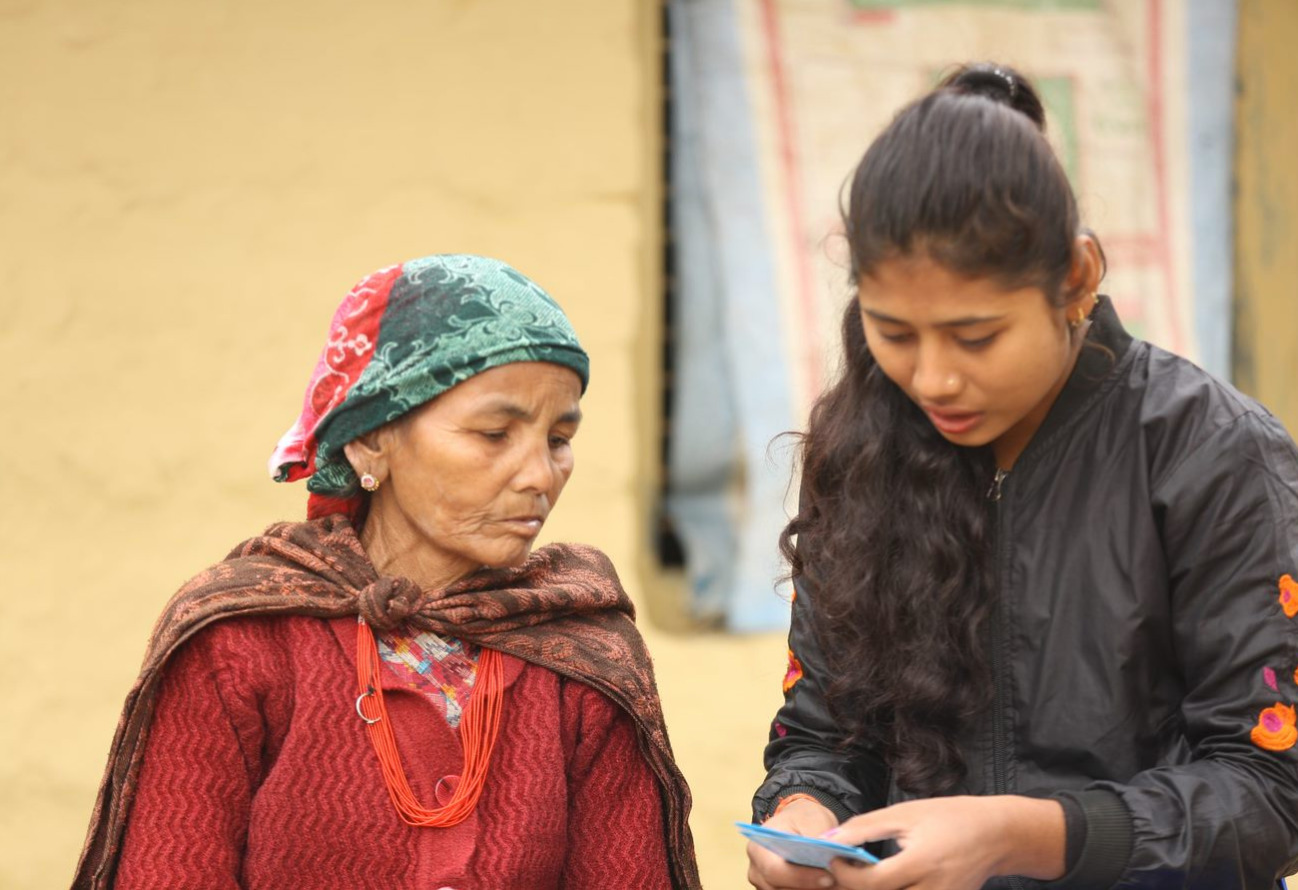 Chandrakala is giving information on child trafficking to parents in the community.
Chandrakala's role is vital. A total of seven languages are spoken in her district, Banke. In addition, not all villagers are educated enough to speak Nepali which is the official language of Nepal. Chandrakala acted as the bridge to connect the local government and villagers. She had been gathering information regarding up-to-date child trafficking cases from police officers and sharing them with the villagers. For example, as mobile phones are getting more accessible in Nepal, traffickers often make up false job offers and approach girls through social media platforms to lure them while the parents may not even know how to use a mobile phone. Chandrakala had been reminding local mothers' groups regarding what to pay attention to when allowing young children to use mobile phones.
Girls Breaking Boundaries to Stand for Themselves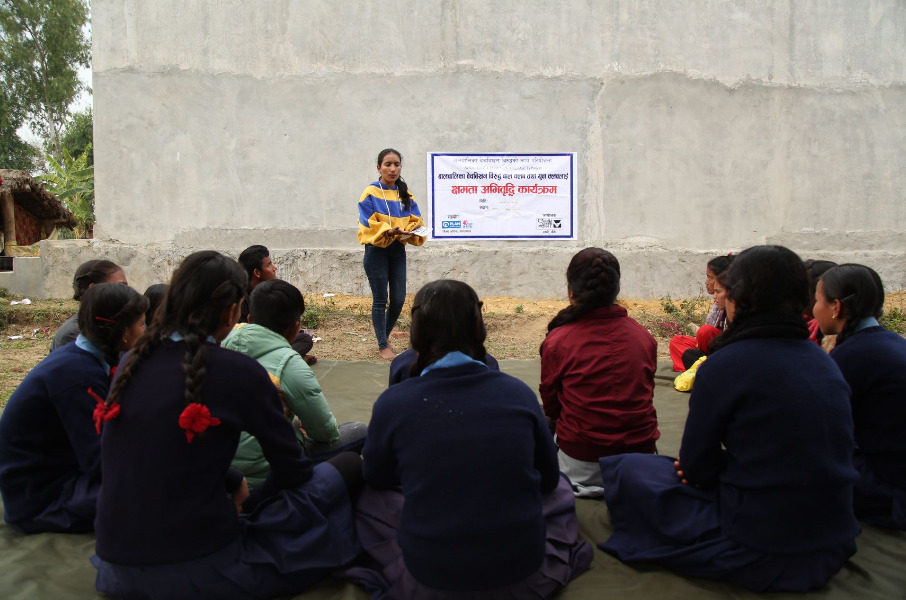 Sharada is conducting orientation sessions on the issues of child protection and trafficking.
Like Chandrakala, Sharada, 17-year-old, joined the youth ambassador campaign in her community when she was 16 years old. Girls in her village are very restrained. "Our parents do not want us to ask questions about girls' issues, they want us to focus on study," Sharada felt the needs to make a change in her community as she believes knowledge is important to eliminate child trafficking.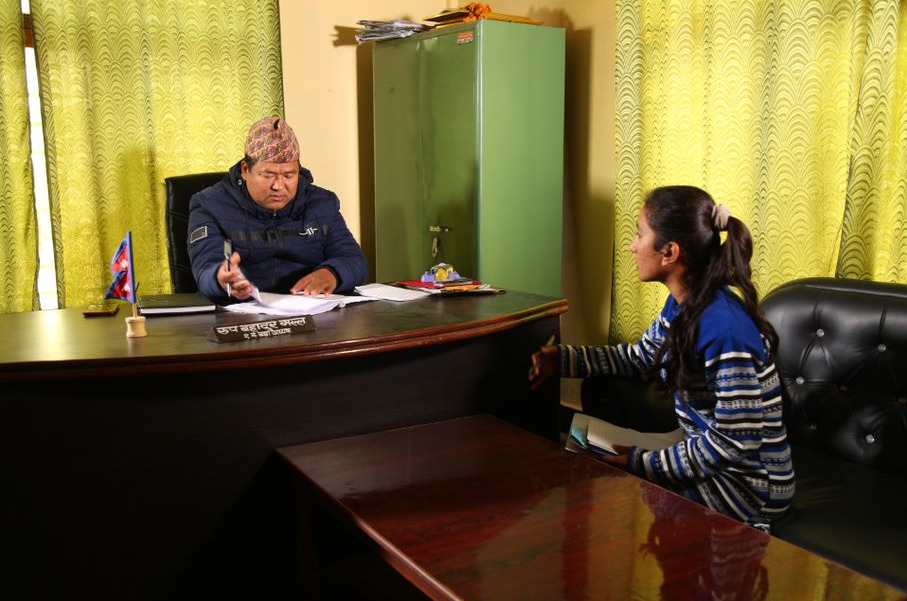 Sharada is discussing plans for upcoming activities with the village chief.
After becoming a youth ambassador, she formed a few children's clubs, carried out orientation sessions with children in the village and facilitated several public training workshops against child trafficking with parents, in which she shared the risks, causes and measures to be taken to protect children from trafficking. She had also chosen some high traffic area in her community to carry out street rallies and street dramas. In her community, children always perform dramas for entertainment and other villagers would crowd around and watch. It provided a great opportunity to gather the crowd and spread information about child trafficking to more people.
In order to facilitate the preparation of activities, Sharada spent time to work on budget allocation and working plans of child protection activities with the village chief. Together, they helped each other to prepare activities that will accommodate the needs of villagers. Plan International had been working with the district government to tackle child trafficking. In total, over 300 members of the district committee were oriented and trained in making laws and action plans on eliminating human trafficking. They had committed to putting anti-child-trafficking into their agendas.
Apart from being the seeds of change in communities, the knowledge also equipped them in saving girls' lives. "I was on my way going home when I met my friend who was panicking and kept saying three girls were kidnapped by a woman," said Chandrakala. She immediately asked her friend to provide her with more information and called her children's club president. They also called the Police and reported all the details. By the time they had arrived at the police station, the girls were rescued and the trafficker was arrested. "We have been trained through the AaCT project. They taught us what to do if we found out someone from our village is being trafficked," explained Chandrakala.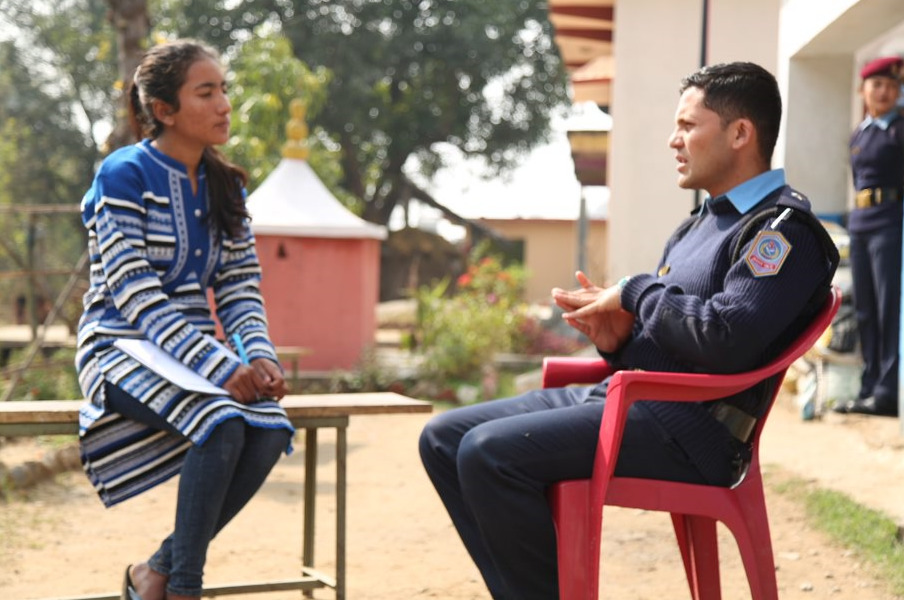 The representative of Police Force is sharing the number of trafficking cases in the village, which dropped to nearly zero after Sharada initiated all kind of activities.
Chandrakala and Sharada had motivated more than 800 people in their communities to join the orientation programmes, street rallies and activities related to the AaCT project. In total, 12 ambitious youth leaders have signed up to be the ambassadors of the AaCT Campaign. The achievements of these young campaigners are astonishing. In the three designated districts, over 5,000 persons received information on trafficking, nearly 4,500 girls and boys from marginalised communities plus nearly 20,000 students from 221 schools took part in orientation programmes on trafficking issues. The 12 youth campaigners had all pledged to continue to work on fighting against child trafficking and gender-based violence in the future.
The life-saving Small Blue Hut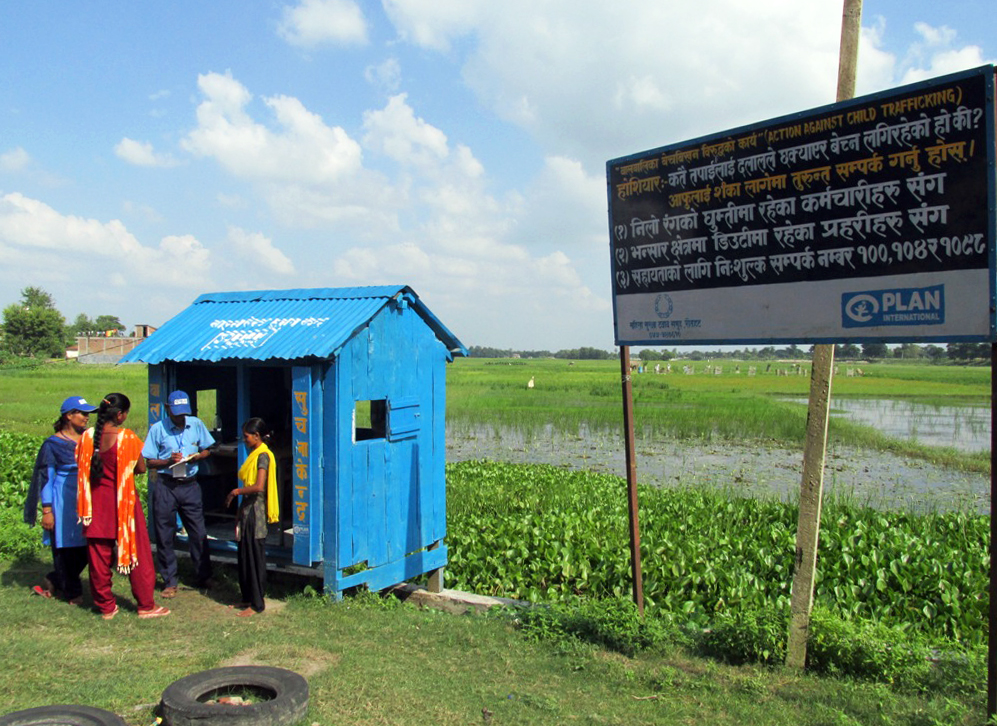 The small blue hub that saved hundreds of lives
Apart from the above activities, the small blue hubs set up by Plan International near the borders are the last line of defence in tackling child trafficking. As the Nepal-India border is an open border which means no passports are required to enter India from Nepal, thousands of people migrate to India for work through the border each year.
Ranjana has been working in one of these blue Anti-trafficking Information Booths. Every day, she stops and checks all vehicles with children in them, including buses, trucks, horse-drawn carts, even bicycles and motorbikes. She checks whether the children are accompanied by adults. She also asks for the identity papers of the children and their guardians. If they are unable to show them, she reports to the police. It is not an easy job. "Sometimes, the people getting stopped and checked shouts at us, we often got threatened too," said Ranjana. Human traffickers are hard to trace as they always try to make up false background stories for the girls, but Ranjana insists on seeing official documents before letting people pass by the borders.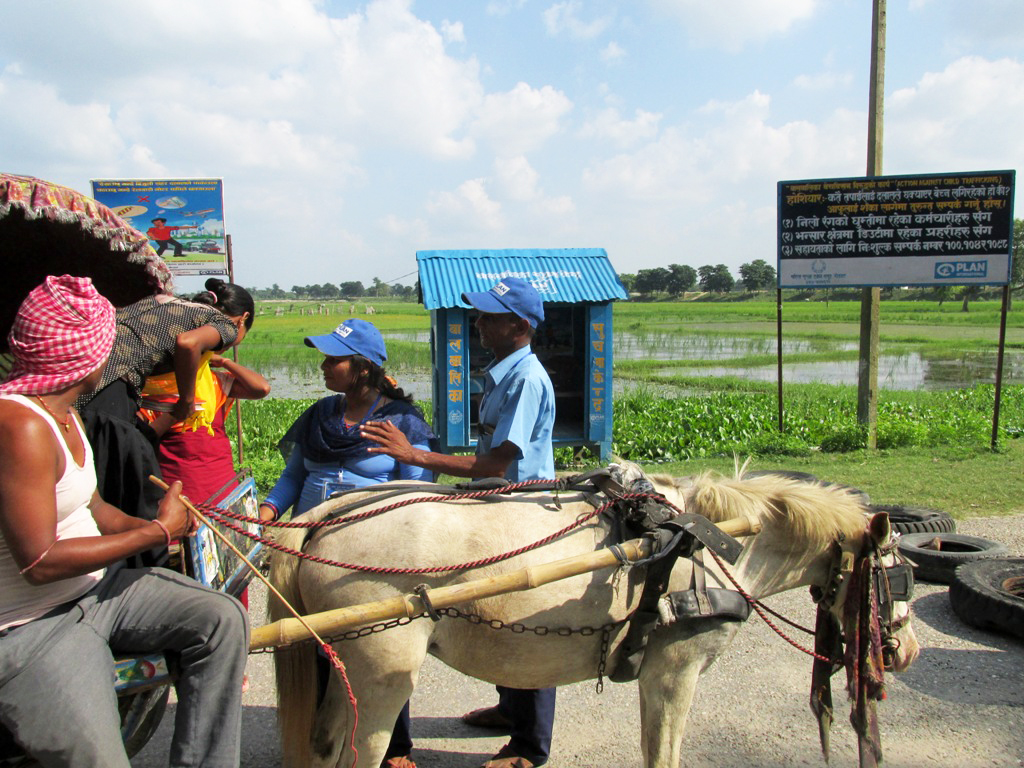 "I have decided to work for child protection no matter how hard it is," says Ranjana, a former teacher.
Similar checkpoints were set up along the borders by Plan International. In addition to checking for potential trafficking cases, information about safe migration are provided to economic migrants and contact details are distributed in case of an emergency.
Tragedy Prevented Just in Time
Manjira, 17-year-old, was desperate to earn more money as her father is an alcohol addict and had never worked a day for the family. A videographer she met online convinced her he could find her a job as a dancer in India which could bring her a good amount of income. Frustrated with the condition of her family, Manjira discussed with her mother and her mother agreed to let her go.
It was arranged that the videographer would send a contact person to pick them up from the local town to India with a bull-cart. When the cart that carried Manjira and her mother was stopped by the Information Booth at the border, the staff immediately recognised the contact person as one of the logged traffickers in their database and rescued Manjira. Both Manjira and her mother were shocked and later, relieved.
Since the set-up of Information Booth by Plan International in 2017, nearly 1,000 people were successfully intercepted and saved by the Information Booth. Critical cases were referred to related government bodies and over 111 children received psychological and financial support. "I have visited the Information Booth in my area and understood the importance of sustaining the booth in order to tackle trafficking. I will allocate budget for it in the future," Aiyub Ansari, one of the Village Chiefs from district Sunsari, said.
With donors' support, local communities and district committees were empowered and trained to prevent human trafficking on their own in the past two years. Although the two-year project had come to an end, the district committees will try to sustain some of Plan International's AaCT project activities and facilities by themselves. Together, we hope we can improve girls' lives day by day.