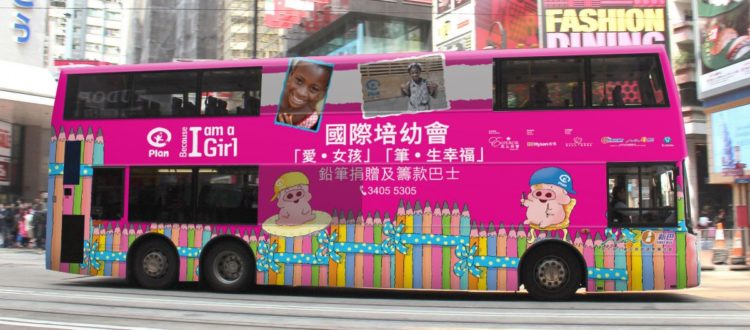 Plan and Buspak helping people "think pink" for underprivileged girls
Starting 7th October, look for an unforgettable sight at a bus stop near you – a double-decker bus covered in bright, beautiful pink.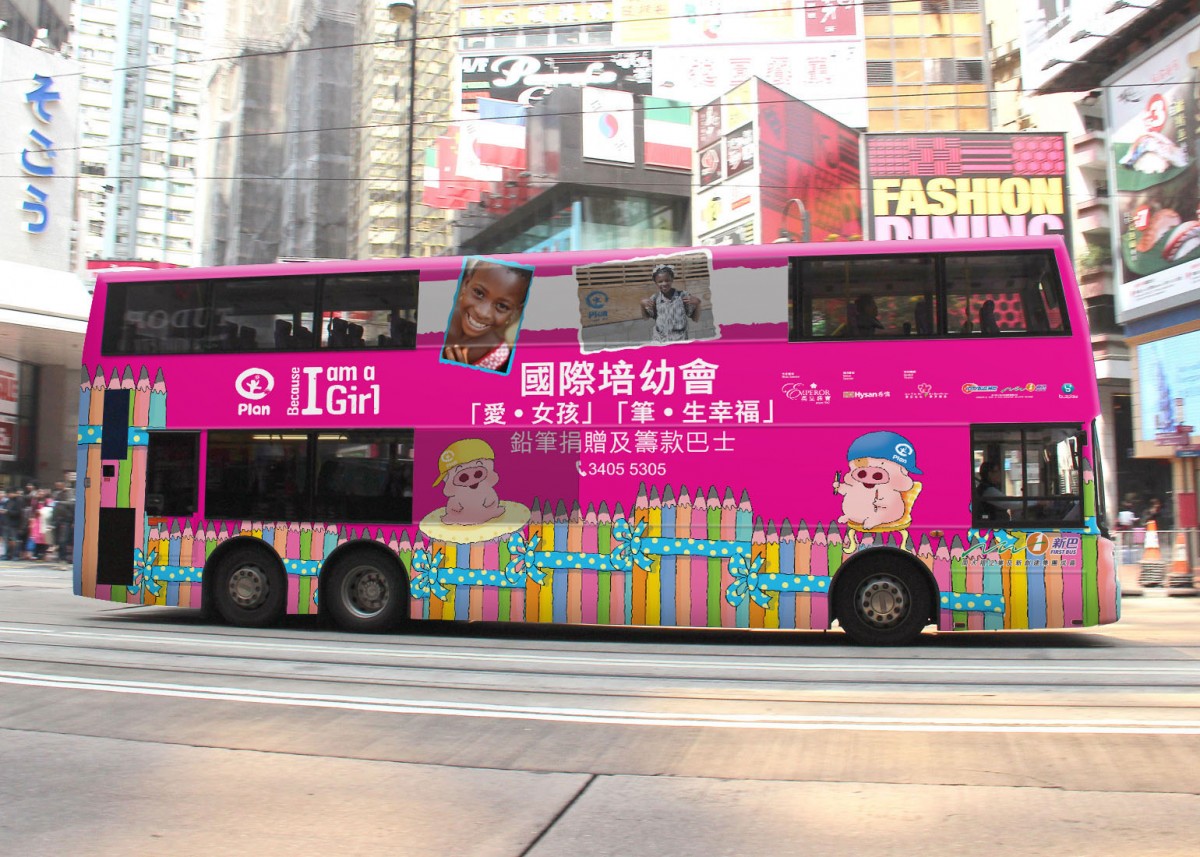 Plan International Hong Kong's "Donate a Pencil" campaign for girls' educational rights launches on the 7th, four days before International Day of Girl Child on 11th October, and Plan is celebrating it by teaming up with leading bus advertising company Buspak to transform a New World First Bus vehicle into an eye-catching, multimedia-equipped, donation-ready pink bus. The pink bus will run for four weeks, until 3rd November, and mainly operate along Hong Kong Island. 
Everything about the bus – from its exterior to its interior, including the stairs and seats – will be wrapped in pink, highlighting a focus on girls. The "buzplay" bus TV screens will broadcast Plan International videos about the organisation and its numerous initiatives supporting underprivileged girls worldwide. They will also display a QR code at the seatback that lets passengers make donations directly to Plan International's Girls Fund or using Webus, the mobile application for making donations anytime, anywhere.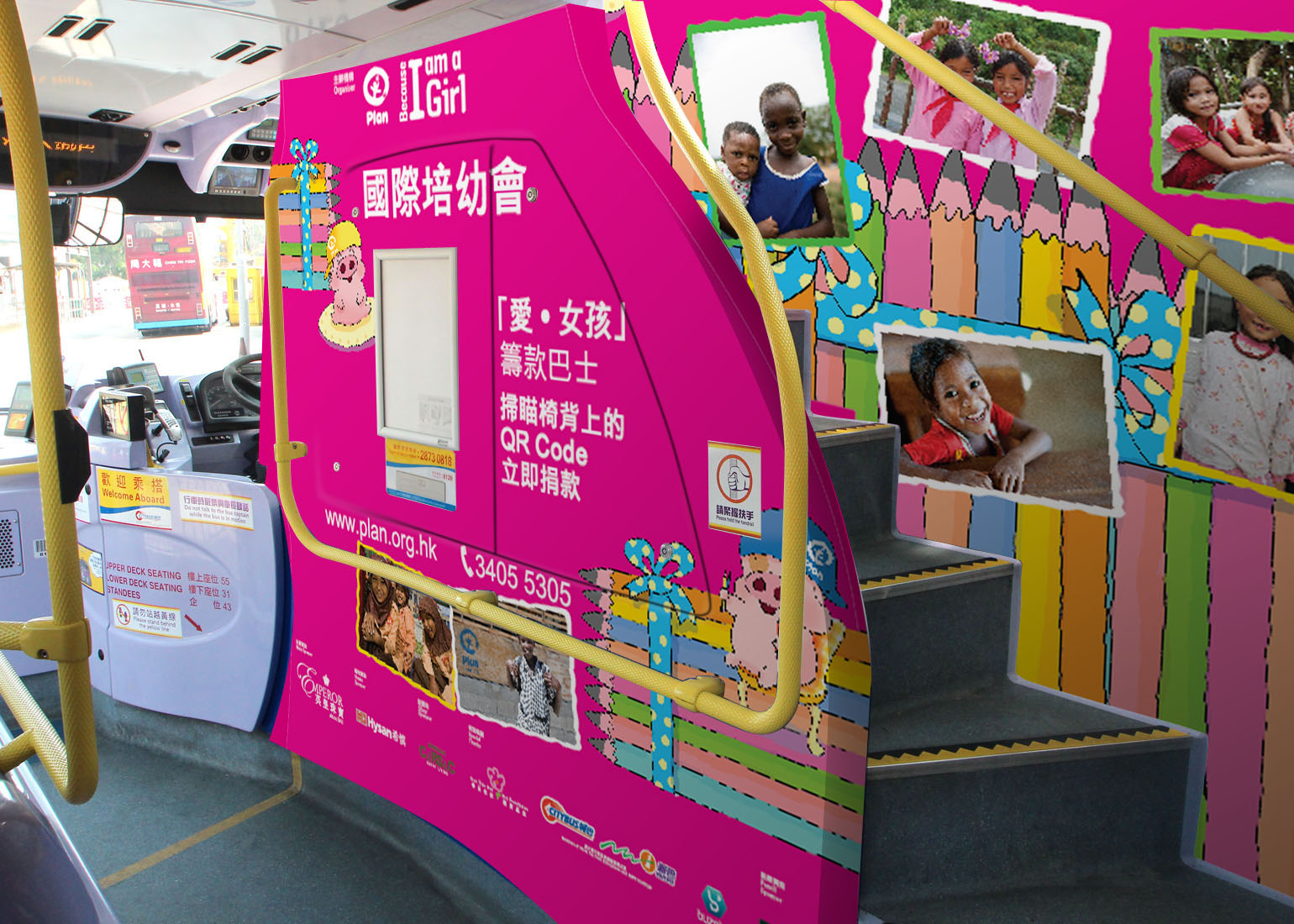 The pink bus will support Donate a Pencil – which Plan Hong Kong introduced last year as part of its "Because I am a Girl" campaign for girls' rights – by carrying location-based messages informing passengers about where they can go to donate pencils to underprivileged girls and their communities. This year, a specially designed giant pencil donation case, featuring the popular Hong Kong cartoon figures McMug & McDull, will be hosted at Hysan Place in Causeway Bay from 7th to 16th October. Passengers can also make online purchases of Faber-Castell pencils, the official Pencil Sponsor, at Buspak's Webus app buzshop platform, as well as in Hysan Place during the exhibition period. Proceeds will go to Plan and its programmes.
"Donate a Pencil" is an initiative that raises awareness of the difficulties faced by girls in poor areas, one of which is the challenge of completing schooling. In support of underprivileged girls' rights to an education, Plan Hong Kong organised the first Donate a Pencil campaign in fall 2013 when it invited the public to give this most basic educational tool – which is not readily available in deprived areas – to girls in Ghana, Africa and mainland China. The event received an overwhelming response from the public, as generous Hong Kongers deposited more than 100,000 pencils in just 11 days inside a giant pencil case located in front of the Lee Gardens shopping mall.
"In underdeveloped areas around the world, girls are often seen as second-class citizens and are not afforded many of the same rights and opportunities as boys," said Mr James Murray, CEO of Plan International Hong Kong. "We believe this collaboration with Buspak will train attention in Hong Kong on the issue of protecting girls' rights, and giving them what every child should have – the chance to complete an education, and enjoy the better opportunities in life that schooling affords.
"This is also the first time we have engaged people travelling on public transport to raise awareness and appeal for charitable contributions. We are excited about this initiative, and about exploring other innovative, interactive ways we can build support and fundraising for all of Plan's child-centric programmes."
Mr Tony Fung, Group Sales Director of Buspak, pointed to the innovative nature of using buses as a platform for reaching and engaging a broad section of the public in support of a worthwhile cause. "Buspak and New World First Bus as well as City Bus have been keen to join forces with NGOs to foster social responsibility, and we're delighted that Plan International, our launch partner, has a campaign that really lends itself to the public's imagination as well as the medium.
"The kind of media integration that we offer for New World First Bus and Citybus fleets represents a revolutionary new way of enlisting public charitable support via cross-platform media integration. With our interactive BMI solution of  'bus body-buzplay TV-webus app', we can reach as many as 1.2 million passenger times daily with messages that help them understand the charity and make it easy to donate."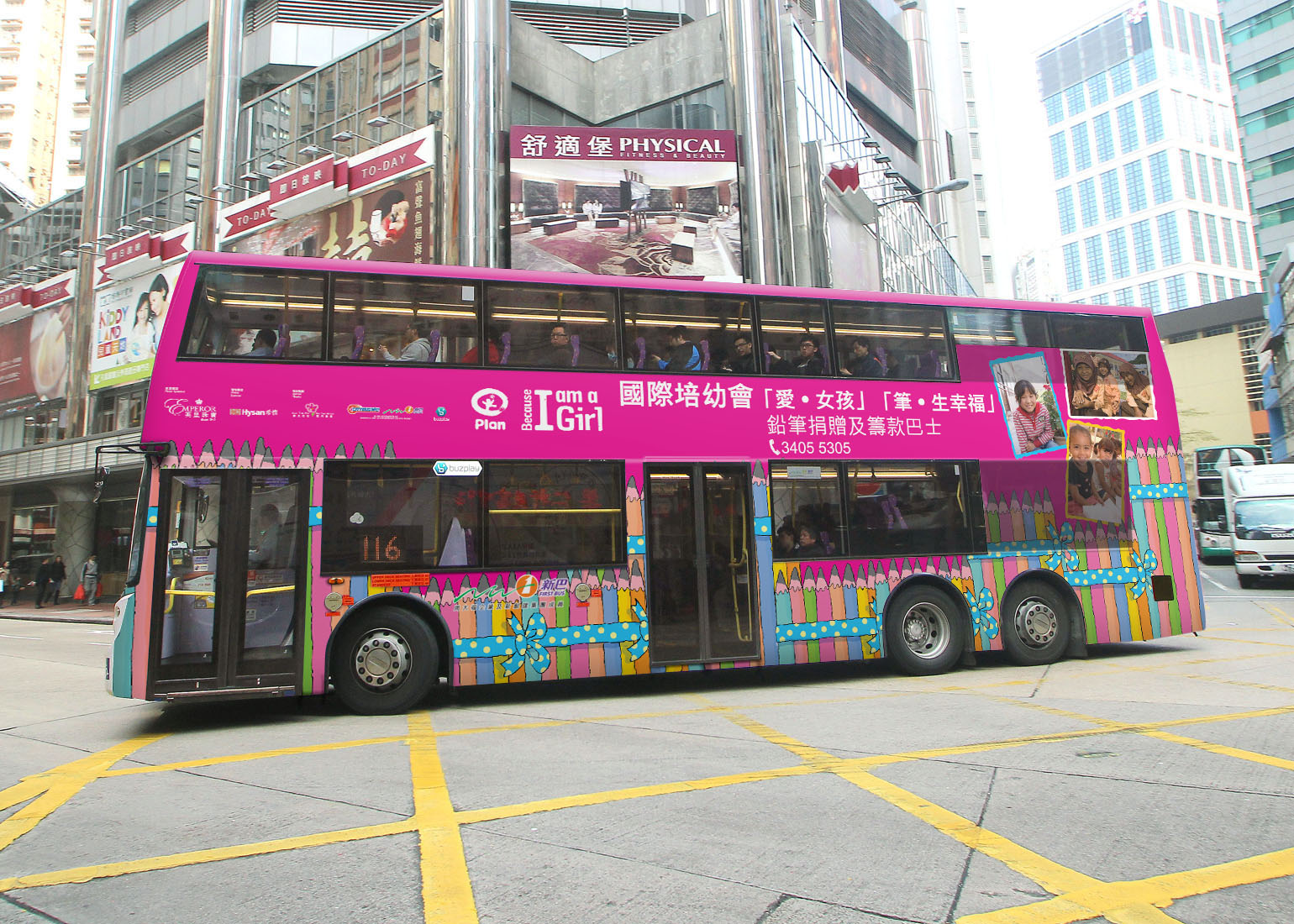 The second Donate a Pencil Campaign is also supported by the following corporate sponsors, who are fully committed to devote their corporate social responsibility policies to promote and support the girl's cause.
Main Sponsor: Emperor Watch & Jewellery
Silver Sponsor: CARSAC Limited
Bronze Sponsor: Holly Brown Coffee
Venue Sponsor: Hysan Development
Pencil Sponsor: A.W. Faber-Castell (HK) Limited
Media Sponsors: Buspak, Yellow Bus EMAG & Yellow Bus Light
Special Thanks: Chun Tian Hua Hua Foundation