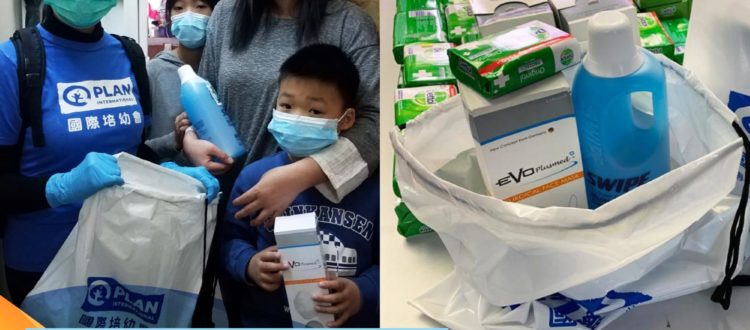 Send Hygiene Kits to Local Grassroots Families in Response to Coronavirus Outbreak
As the new strain of coronavirus spreads, the price of antiviral products such as surgical masks and household cleaners has risen to an unaffordable level for many low-income families. In lack of hygiene supplies, some families have to use a mask repeatedly for days and their safety is at risk.
In light of the difficulties for grassroots families to face the virus outbreak, Plan International Hong Kong have visited and distributed sets of hygiene kits including adult surgical masks, children masks, antibacterial soaps and multipurpose cleaners to the families with children living in subdivided flats in the Yau Tsim Mong, Sham Shui Po, Tin Shui Wai and North District together with our partner, the Alliance for Children Development Rights.
Result of the Emergency Response Project
With the support of corporate cash and in-kind donations, Plan International Hong Kong has partnered with the Alliance for Children Development Rights in distributing hygiene kits to grassroots families since 7 Feb. The following relief items have already been provided to some subdivided flat residents and grassroots families* living in Yau Tsim Mong, Sham Shui Po, Tin Shui Wai and North District:
Hygiene Kits are distributed to 884 families
There are adult surgical masks/ children masks, antibacterial soap (105g) and multipurpose cleaners (1,000ml) inside each kit
There is a total of 58,474 masks (including 42,109 adult surgical masks and 16,365 children masks), 956 pieces of antibacterial soap, 884 bottles of multipurpose cleansers, 1,177 bottles of hand sanitizers and 950 antiviral leaflets
The antiviral leaflet contains instructions on how to wash their hands properly and how to keep their living space clean
*Families with special needs (including single-parent families, either of the parents is unemployed, having an SEN child or disabled family member) are provided with Special Care Packs. Around 48% of the families fall into this category.
Beneficiaries Selection Method & Procedures
All the procedures follow International's standards in handling emergency relief and every step is checked to ensure the resources are distributed and used efficiently.
Needs Assessment → Draw out the List→ Supplies Procurement → Delivery → Confirmation →  Continuous Follow-ups
List of beneficiaries is provided by the Alliance for Children Development Rights through needs assessments conducted by social workers among their services receivers to understand the situation of each family and sort out the list of beneficiaries. Plan International Hong Kong and the Alliance then carry out the procurement together and every batch of supplies has to go through our quality control. After that, Plan International Hong Kong, the staff members of the Alliance and volunteers will form small teams to deliver the supplies to the targeted families by home visits so that the families do not need to expose to the risk of getting infections outside. We also strive to make sure that the amount of supplies included in the kit is similar for each family. Families with special needs (i.e. single-parent families, family with unemployed parent(s), SEN child or family member with a disability) will be provided with more supplies. The families have to sign to acknowledge the receipt of the kits to ensure proper use of resources.
Beneficiaries' Sharing: What do grassroots mums want to say?
While we are distributing the hygiene kits, Plan International believes it is important to get to understand the needs of our beneficiaries and listen to their feelings in order to provide better services. Therefore, we have short conversations with the families we visited under careful safety precautions and here are 3 stories below:
Jan, her husband and their 3 children live in a subdivided flat of about a hundred square feet. Jan's husband has not been working because of the occupational injury he got several months ago and the family's financial burden falls on Jan. Now Jan is taking up two part-time cleaning jobs to pay off the rent, food and other living expenditures. Sustaining a living has already been tough to Jan. The cost of HK$40 for a pack of 10-piece surgical masks made her felt perplexed. To protect her family's health, Jan always wears a mask to work; however, there are only 10 left at home and she can only play it by ear.
Ho is also a grassroots mum and a mother of two. As the school is on suspension and they don't have enough masks at home, the two children have not gone outside for almost two weeks. Children are playful and active and now they are trapped in a space of a hundred square feet. Moreover, the walls are in disrepair condition for a long time that dust is falling off and causing allergies to the sister and brother. Ho keeps all her worries in her heart and her only hope is for the outbreak to end soon so that everyone can live a normal life like it was before!
May's son, Ben, is now in K2. Ben wants to play with his friends at school because his home is too small. Ben is not the only one who worries about the space. Because the flat is so tiny and it has no space for a larger fridge to store more food, May has to go to the market every day even when she has ran out of masks. It is dangerous to go out without a mask, so May is always on tenterhooks that she may get infected or she may bring the virus home and harm his dearest son.
The 3 mums said they are happy to receive the hygiene kit that can help meet their urgent needs and they feel a bit relieved. Jan said she will make good use of the masks and hopefully, her husband can go back to work in one or two months' time, so the family financial situation can be improved and she no longer has to be anxious about the supplies. As for May, she feels much more secured to go out with the masks on.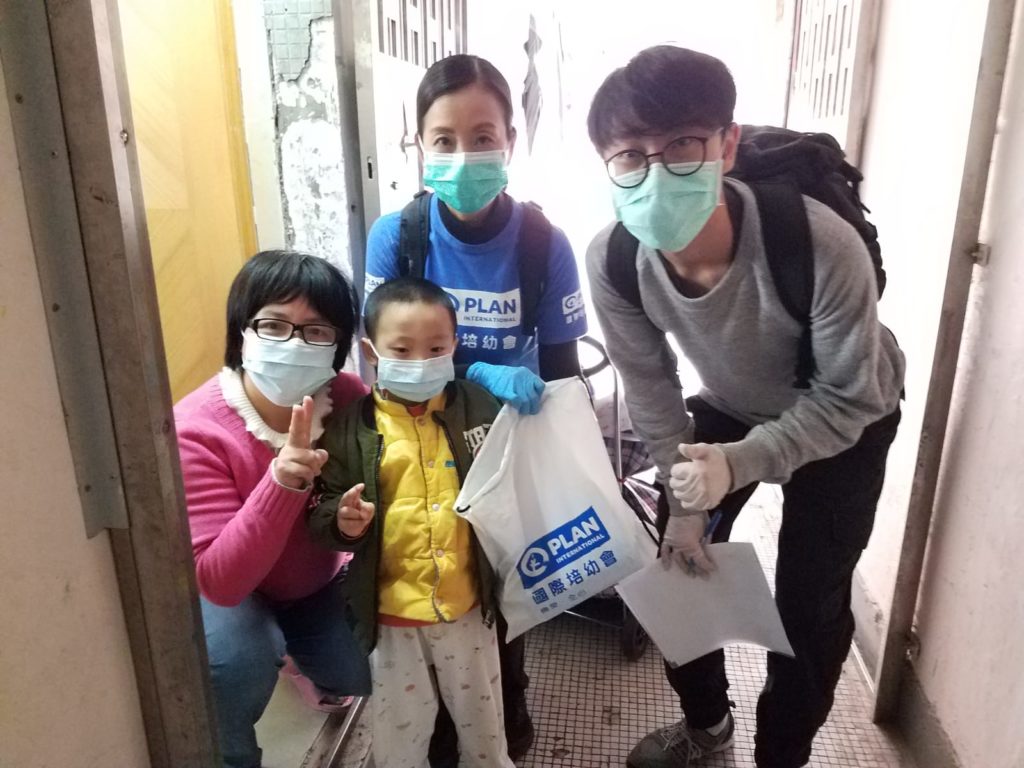 Kanie Siu, Chief Executive Officer of Plan International Hong Kong, and the representative from the Alliance for Children Development Rights distribute a hygiene kit to Jan's family.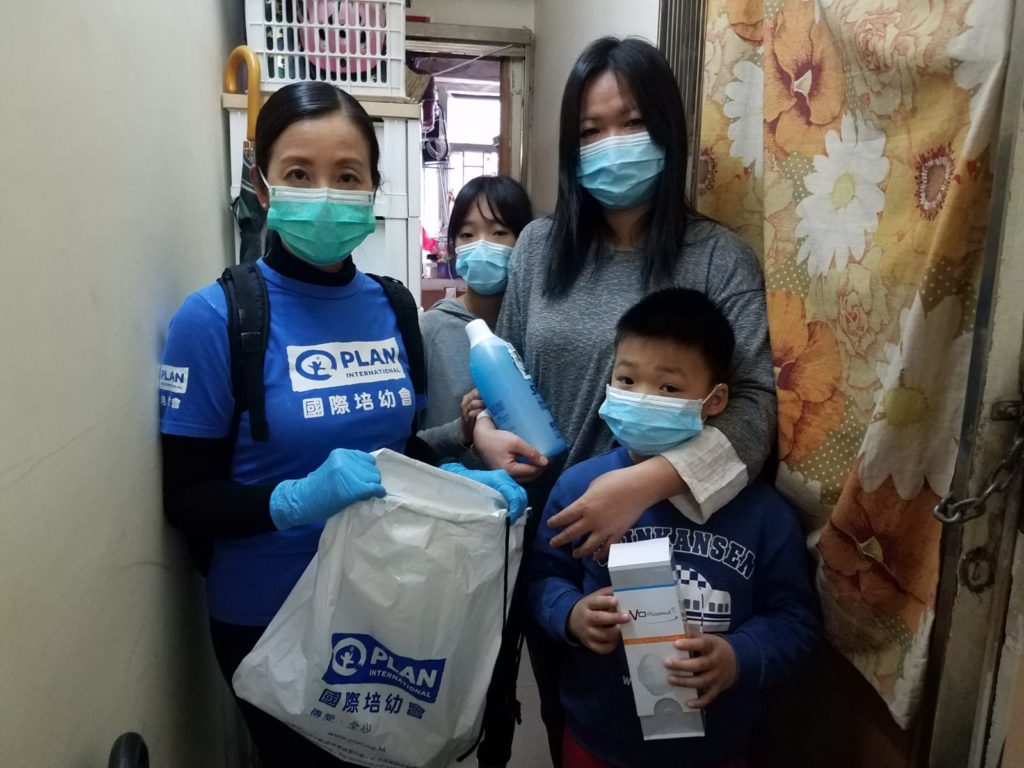 The children of Ho have not gone outside for more than 10 days and Ho's daughter expresses her eagerness to reunite with her friends at school.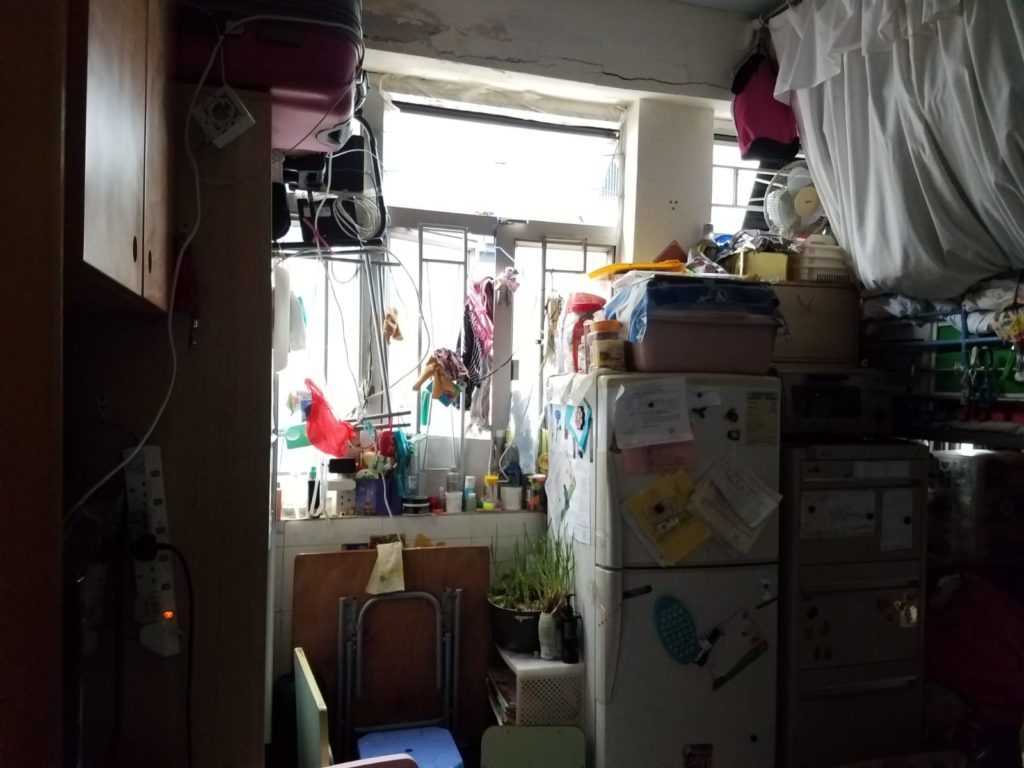 Dust is falling from the ceiling and walls of Ho's flat and poses threats to the children's health.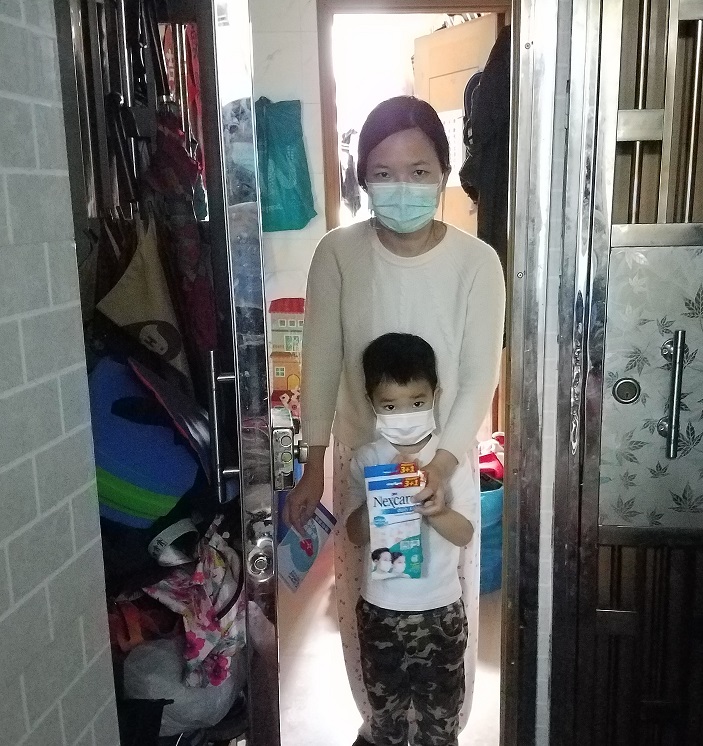 May and her son are excited to receive the masks. May can finally go to the market without too much worries.
Dr Kanie Siu, Chief Executive Officer of Plan International Hong Kong said, "Lives for grassroots families have been uneasy and how can they cope with the extra expenses on hygiene products that come to them all of a sudden? While we are paying more attention to virus prevention, we hope everyone can also care more about the underprivileged groups in our society and give them a helping hand. We can battle the hardship together."
Looking Ahead
It is still unknown when the outbreak will come to an end, Plan International Hong Kong and the Alliance for Children Development Rights will continue to closely monitor the needs of the families and proactively search for supplies, hoping to provide assistance to more local children and their families in need.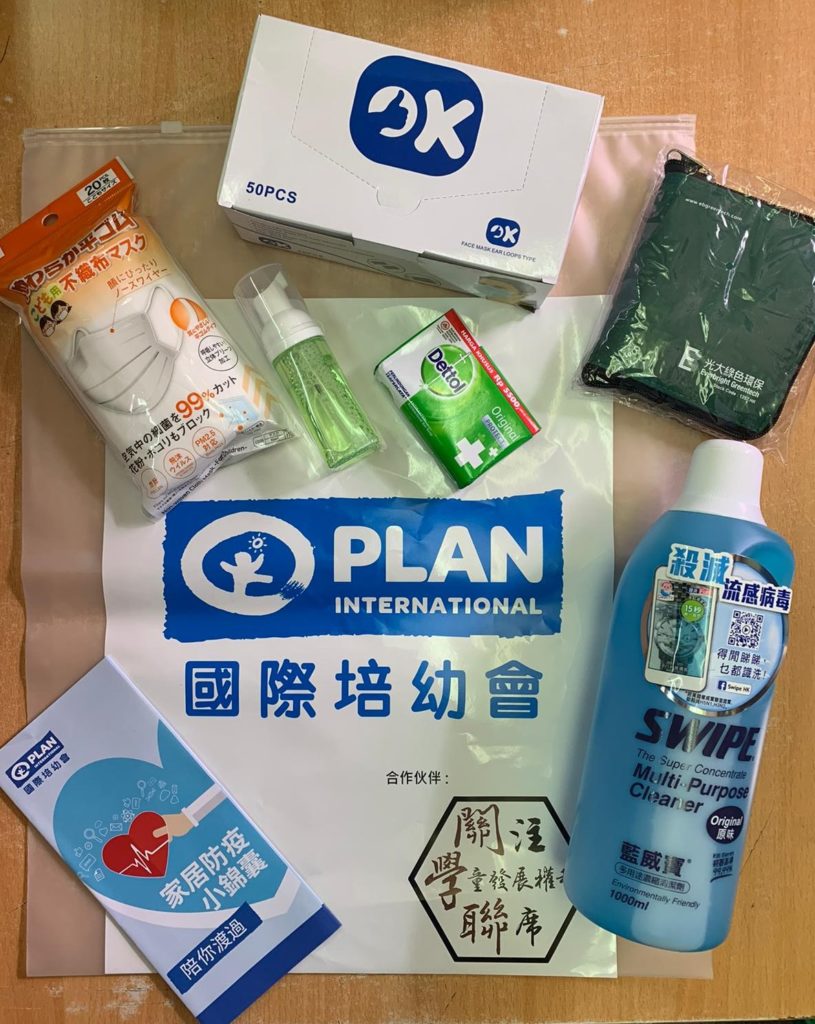 Every hygiene kit has a pack of adult surgical masks, children masks, antibacterial soap, multipurpose cleaner, hand sanitizer and an antiviral leaflet inside.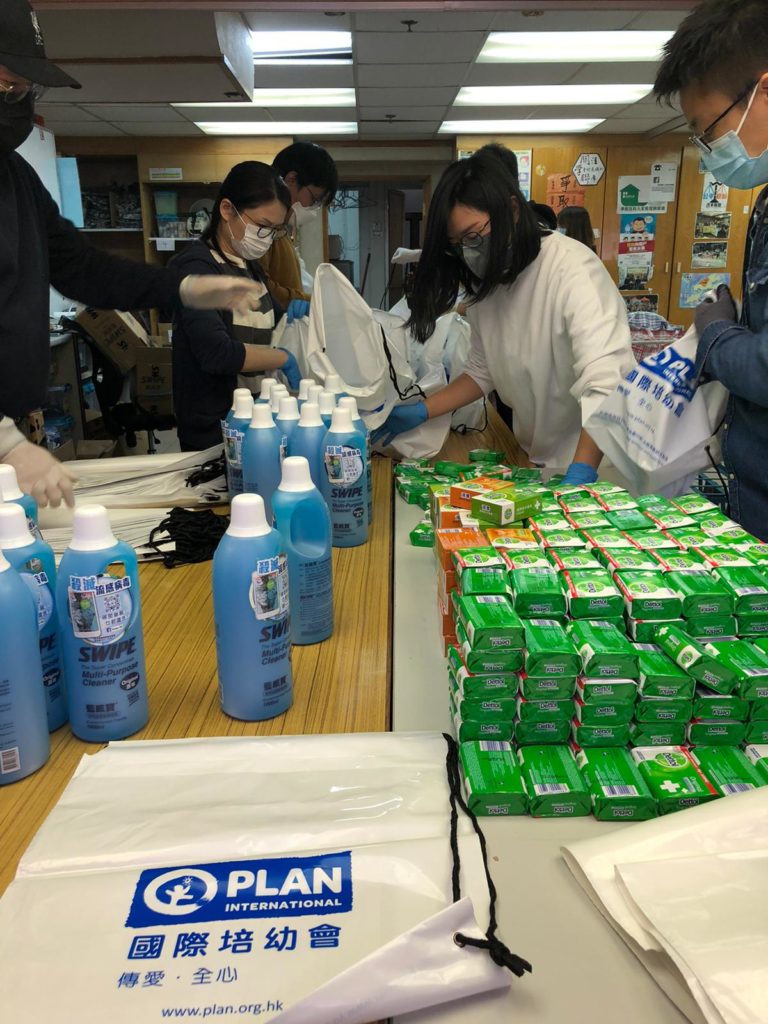 The Alliance for Children Development Rights provides the list of families with urgent needs and conduct visits along with Plan International's staff members. All members are wearing protective masks and gloves during the process.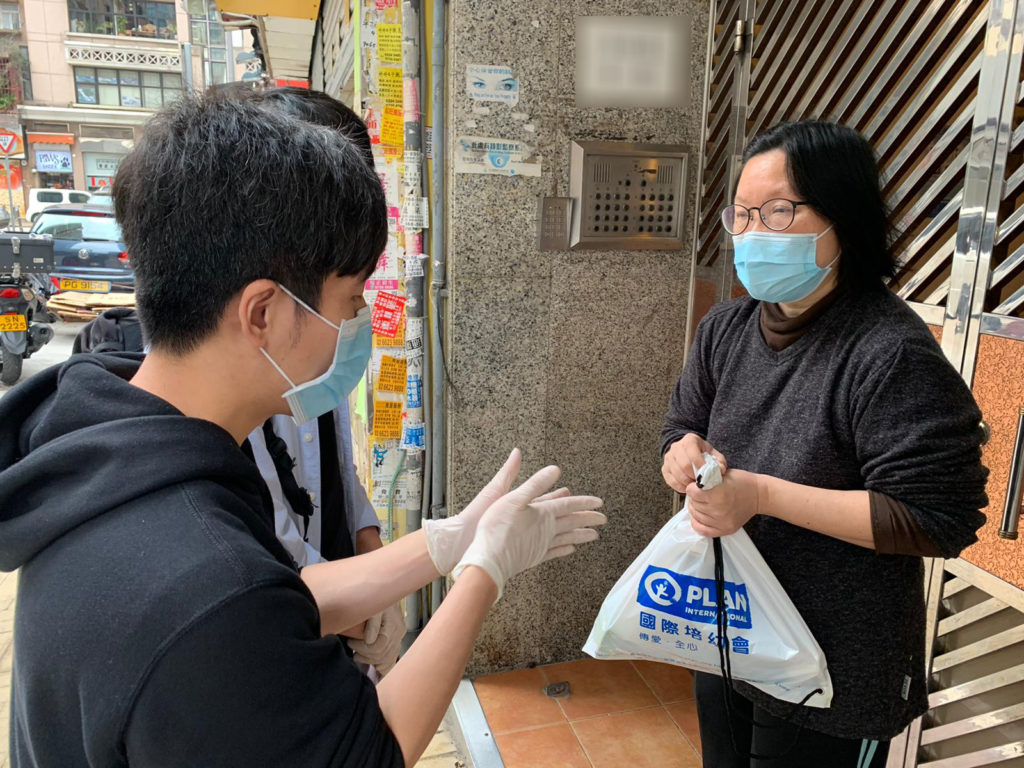 There are just a few masks left at Chong's home. She was not educated on proper sterilizing skills before and has been reusing the masks after hanging them under the sun. Now she has a hygiene kit and knowledge from our volunteers, hopefully to live in a safer living environment.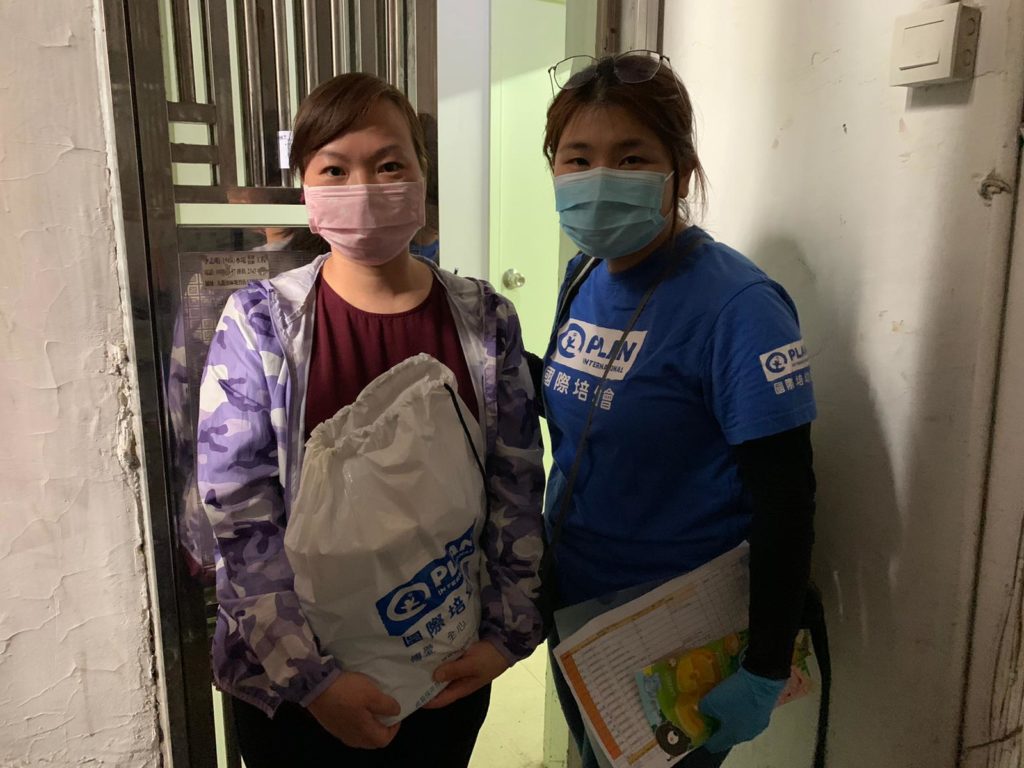 Tun Mui is a single mum. Since she cannot leave her 3-year-old daughter alone at home, even though they don't have any mask, she has to bring her daughter along to search for cleaning supplies on the streets. Tun Mui is stressed but she has no other option.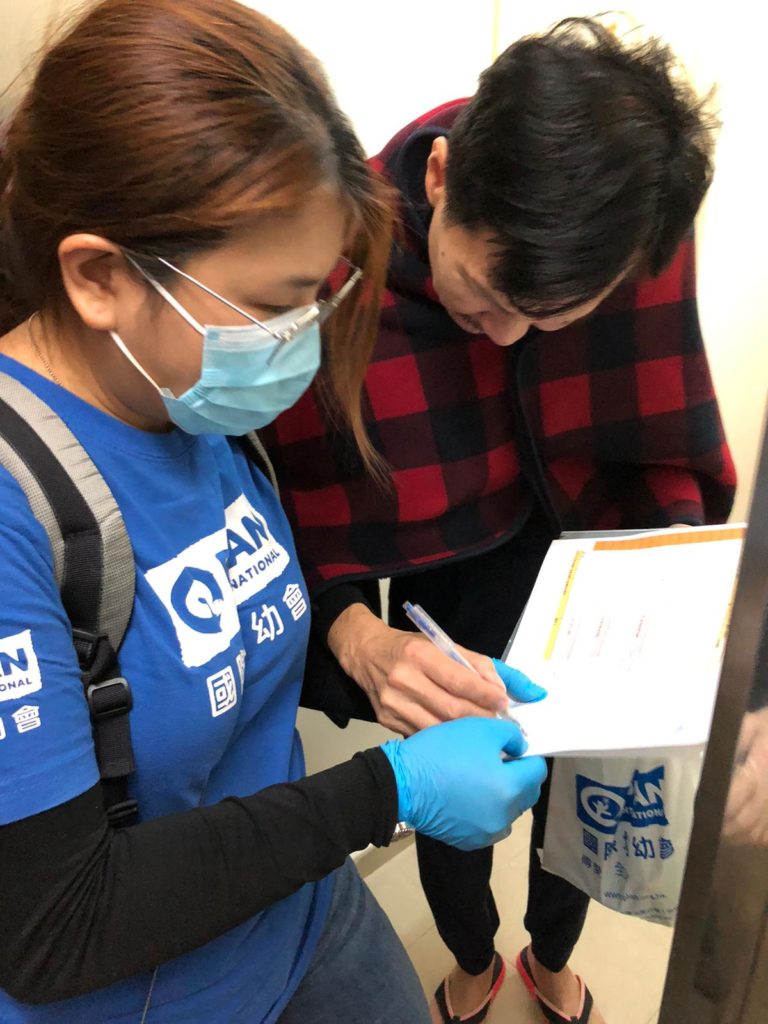 Team members go from one family to another and beneficiaries have to sign a confirmation document when they receive the kit.







Know More About Our Local Programmes