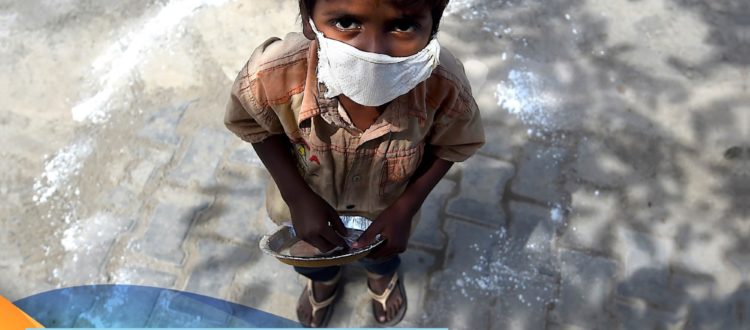 Coronavirus Relief Developing Countries Come Close to a Food and Safety Crisis
In light of the outbreak of coronavirus, Plan International has provided 880 grassroots children and their families with more than 59,000 masks and other antiviral supplies to meet their urgent needs. (Details of local relief work: https://bit.ly/34kFRLI) In Hong Kong, we often have our gaze on the situation in Europe and America; however, developing countries like Indonesia, India, Bangladesh, Nigeria, Kenya and Ethiopia are actually facing a rising number of infection and death cases, which needs our immediate attention and help. As the medical systems are fragile in these countries and the children are in poverty without water to keep clean, their health is at huge risk.
Knock-on Effect Puts Children at Risk of Starvation and School Dropout
Cultural reasons and resources allocation issues always pose challenges to children and families in developing countries to deal with unexpected changes. According to UNESCO's research, up to 89% of students are out of school under the virus outbreak and it is equivalent to around 1.54 billion children. Many schools in developing countries have a feeding programme to encourage children to attend school, and the suspension of school have put the children in hunger. Moreover, to children living in underdeveloped areas who have no access to communications devices and their parents are illiterate, school suspension means stop learning which has an adverse impact on their studies. If the food crisis continues, it is likely that these children will drop out of school and work as child labourers to earn money to support the family.
Plan International has been providing water and food aids to families and communities in developing countries. Yet, under the impact of production and business shutdown, more underprivileged people lack water and food. Water is not only a source to quench one's thirst but also an important asset to maintain personal hygiene. To provide safe water to the vulnerable is extremely important in stopping the spread of coronavirus.
Refugee Camps Lack Resources to Fight the Virus   Prevention is Crucial
Without sufficient medical equipment and antiviral knowledge and a shortage of hygiene products, the situation in refugee camps is worrying.
Warfare and natural hazards have forced 70 million people to flee to refugee camps for sheltering as of last year. Two years ago, near 900,000 Rohingya people (more than half of them are children) escaped from the conflicts in Myanmar and are now living in the refugee camp in Cox's Bazar of Bangladesh. The highly-dense camp has poor hygiene. Sometimes hundreds to thousands of people have to share one water source and a latrine. Imagine if one of them got infected, it would be a disastrous outbreak. We have to strengthen our antiviral measures to stop the spread of virus and protect the children and their families' lives!
Based on our previous experiences in handling epidemic like Ebola in Africa, we know girls' rights are at great risk during virus outbreak. There is an increasing number of domestic conflicts, violence and abuses cases in the countries all over the world that have implemented quarantine measures. It is worrying to think of the situation in underdeveloped countries as girls' rights are seriously undermined. Given no school intervention and assistance, the stay-at-home 110 million girls are under the threats of sexual violence and exploitation. Being considered as a burden, they are likely to be married off due to family financial reasons and will face consequences like early pregnancy and death. We have to pay close attention to the epidemic's impacts on girls' lives.
Rohingya girls are under numerous threats even though they are staying in the refugee camp.
Plan International's response to the coronavirus includes the 4 categories below:
Distribute hygiene and antiviral products such as soap and hand sanitizers as well as providing clean water sources to underprivileged groups for washing their hands and cleaning living environment; families in need are also given food aid.
Expand rescuing work in refugee camps. Distribute shelter, food, water and hygiene kits and strengthen hygiene education.
Provide out-of-school children with home-learning materials. Support parents to give children a sustainable and safe learning environment.
Assist antiviral experts and community work teams to raise hygiene and anti-child exploitation awareness via radio, mobile phone, leaflets, etc.
| | | |
| --- | --- | --- |
| Plan International staff are sending out antiviral products such as soap and hand sanitizers to villagers in Indonesia. Posters are used to explain personal hygiene measures. | | Distribute disinfectants, masks and alcohol to residents and hospitals in Shaanxi, China. |
| Install more handwashing facilities in Guinea, West Africa. | | Distribute high-protein biscuits to children in Cameroon and teach them to wash their hands before eating. |
Highlights of Kick-started Relief Work
Asia
China
Distribution of over 40,000 pairs of gloves, 460 bottles of hand sanitizers, 200 gallons of disinfectant and 2,300 masks in 6 key antiviral districts
Indonesia
Distribution of over 80 litres of liquid hand sanitizers, 300 bars of soap and 200 packages of hygiene kits
Vietnam
Awareness-raising activities and exercises have benefited over 928 people
Cambodia
Raise hygiene awareness in 12 districts
5,600 posters and relevant communication materials were sent to villages
Africa
Ethiopia
Distribution of over 15,000 hygiene and sanitation kits in Gambella refugee camps
8 more community hand-washing station installed
Ghana
Provision of safe and sustainable water sources to 50,000 direct beneficiaries
Zambia
Over 5,000 parents participated in coronavirus awareness session
America
Venezuela
Provision of home-learning textbook for vulnerable population
Honduras
"Report, do not stay silent" campaign to encourage the report of child abuses
Guatemala
Broadcast antiviral and child protection campaign via radio, digital media and television that has already reached over 260,000 people
Ecuador
Multi-purpose cash grant was allocated to 100 migrant and Ecuadorian families to cover urgent needs.
In the above and some other developing countries, Plan International focuses on the distribution of hygiene kits to healthcare staff and families as well. It includes masks, protection clothing units, protective goggles, pulse oximeters, gloves, paper towels, liquid soap, spray bottles, bleach, soap bars and various cleaning supplies. Feeding programmes in childcare centres and food kits are also provided to families with financial difficulties. Meanwhile, our staff in county offices will continue to monitor the situation and coordinate with state institutions and agencies of the UN system so as to provide adequate help to more needy people.
Immediate Action Is Needed
Your donation will be used in implementing Plan International's different coronavirus relief projects in the developing countries. Please do not hesitate to offer a helping hand to our children and girls!
Online Donation
Other Donation Methods:
Bank Transfer
Please make a direct deposit into HSBC account #640-068292-838.
Crossed Cheque
Please make a cheque payable to Plan International Hong Kong Limited.
Cash Donation via Circle K or VanGO
Please visit any Circle K or VanGO stores in Hong Kong and present the barcode to make a cash donation*.
*Each transaction cannot exceed HK$5,000.

*Please mail the original bank receipt/ cheque/ original receipt together with your name, address and telephone number to Plan International Hong Kong. Please mark "Coronavirus Relief" on the envelope. (Address: 21/F, 9 Chong Yip Street, Kwun Tong, Hong Kong.)