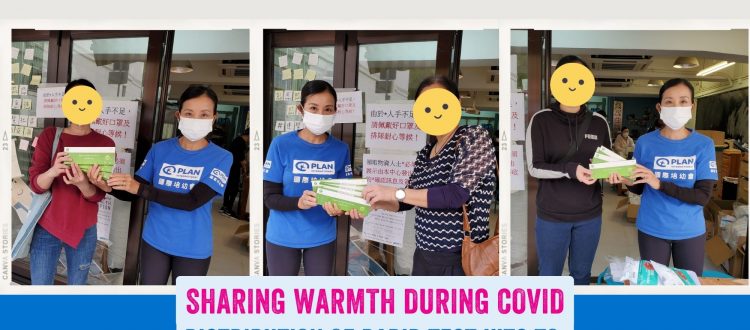 Sharing Warmth during COVID – Distribution of Rapid Test Kits to Grassroots Children and Their Families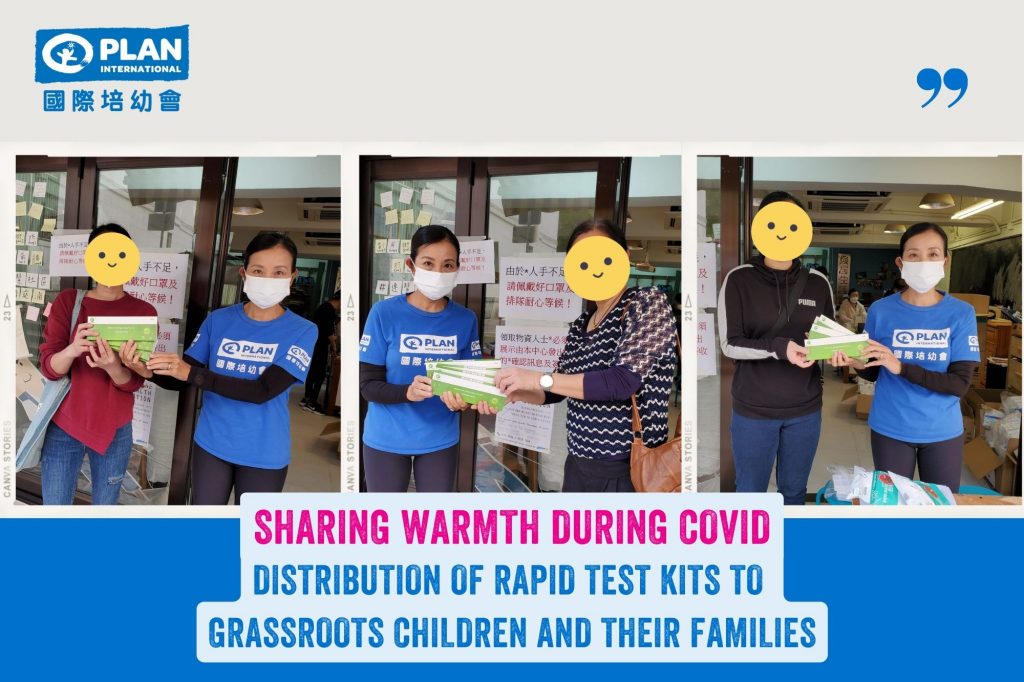 Hong Kong is recently overwhelmed by the onslaught of COVID-19 infections as the fifth wave hits. The number of newly confirmed cases increased rapidly by over ten thousand each day. Various anti-pandemic supplies and food are in shortage while the increasing number of patients has caused the breakdown of our medical and testing systems, putting everyone at risk. On one hand, we are scared to be infected; on the other hand, we have to go around the city in search of daily supplies. Parents, who need to take care of children and the elderly, are facing huge pressure as well. In addition, it is also a difficult time for grassroots families to afford the rising price of food and daily necessities, as well as the cost of testing kits that their jobs may require, when family income reduces. These situations lead to our great concern.
Our Emergency Response Plan
We wish to assist the grassroots families during this difficult time. As the fifth wave emerged, we have contacted our working partners, such as HKSKH Lady Maclehose Centre, Alliance for Children Development Rights and so on to prepare for emergency distribution of rapid test kits to help ease the pressure on local grassroots families. At this stage, we have already allocated HK$200,000 to support the project that will be carried out by our local partners. Our work includes:
Distribute 3,500 rapid test kits to underprivileged families so that they can know their infection status timely and better protect their families;
Provide 670 students and HKDSE candidates with 100G mobile data SIM cards to support their online learning at home and help them prepare for the public examination so that they can avoid going out amid the pandemic.
Beneficiaries Selection Method & Procedures
All the procedures follow International's standards in handling emergency relief and every step is checked to ensure the resources are distributed and used efficiently.
Needs Assessment → Draw out the List→ Supplies Procurement → Delivery → Confirmation →  Continuous Follow-ups
List of beneficiaries is provided by our working partners through needs assessments. The assessments were conducted by the social workers among their services receivers to understand the situation of each family and sort out the list of beneficiaries. Plan International Hong Kong carry out the procurement and every batch of supplies has to go through our quality control. After that, Plan International Hong Kong, the staff members of our working partners to deliver the supplies to the grassroots families(i.e. sub-divided flats residents, single-parent families, family with unemployed parent(s), SEN child or family member with disability) directly. We distribute the supplies according to the number of family members. The families have to sign to acknowledge the receipt of the kits to ensure proper use of resources.
First Round Distribution
The first round of aid distribution started on 4 March. With the assistance of our partners and staff, our CEO Dr Kanie Siu could visit the grassroots families in Kwai Chung district and helped distribute 500 sets of rapid test kits. During the distribution, many people expressed their gratefulness for the help. They revealed that they feel helpless under the pandemic and their children have encountered various learning problems at home. For example, due to the limited provision of network, children can only take turns to borrow neighbours' wireless networks to conduct online learning.
Plan International Hong Kong is responsible for the purchase of materials and our CEO Dr Kanie Siu conducted quality checks before the distribution.
To ensure the supplies can be delivered to families with urgent needs, we distribute materials according to the number of family members of each household and the families need to sign for the collection.
Second and Third Round of Distribution Completed
As the pandemic continues, Plan International has carried out two rounds of aid distribution after the first round of rapid test kits delivery to grassroots families. In the entire relief programme, Plan International has distributed 3,588 sets of rapid test kits and 671 data SIM cards via local partners to help ease the burden on grassroots children and families. The programme covered hundreds of grassroots families in the area of Kwun Tong, Mong Kok, Sham Shui Po and Kwai Chung. All distributions have been completed by the end of March and Plan International will continue to monitor the needs of local children and families and provide adequate assistance if suitable.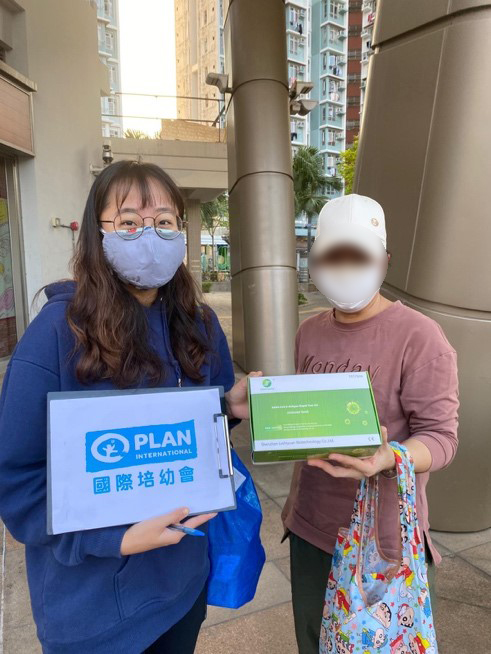 Ms She has two children aged 6 and 12. Her workplace requires her to take rapid test before work every day and the cost of the test kits places a heavy financial burden on the family. She is glad to receive the aid from Plan International Hong Kong.
If there are confirmed cases in the family or close contacts of the infected, we place the relief pack at their doors to prevent the spread of virus. Ms Chan, whose family member is infected, also appreciated the help "My eight-year-old son and I are not infected but we cannot leave our home to buy more test kits. My son is frightened that he could be sick. With your help, I can help my family members conduct more tests."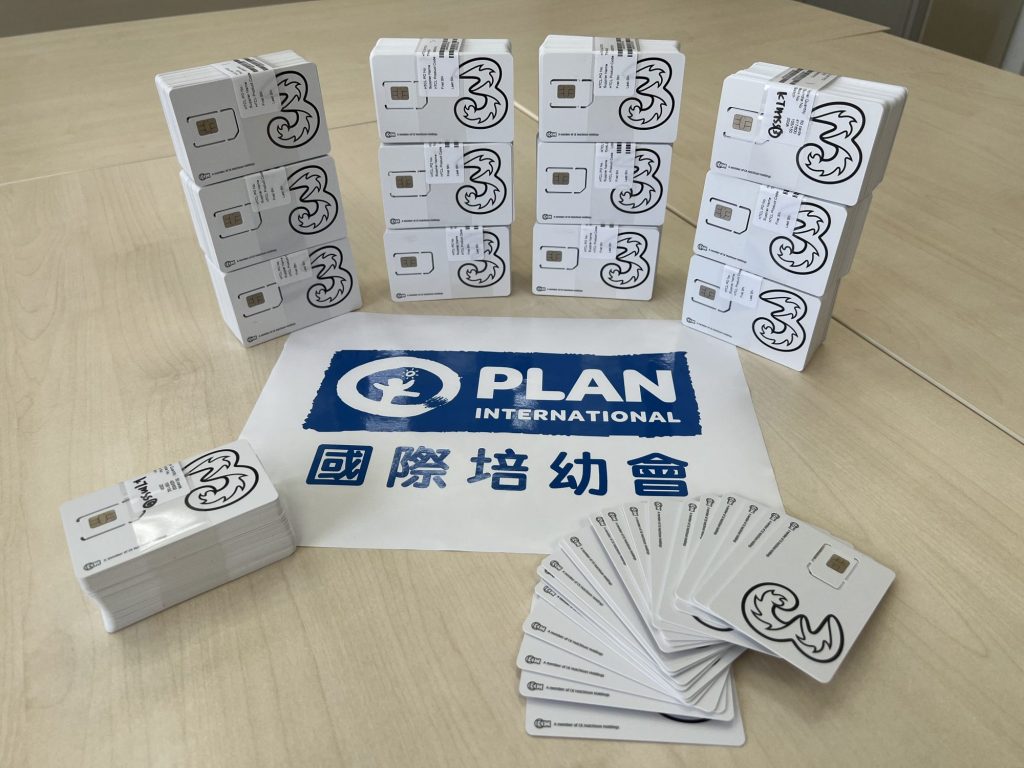 As classes go online, grassroots families struggle to afford internet networks for online learning. And public facilities that can provide free Wi-Fi such as libraries have been closed, grassroots children fail to have a fair access to education. Therefore, we have delivered data SIM cards to grassroots children to enable them to continue their studies.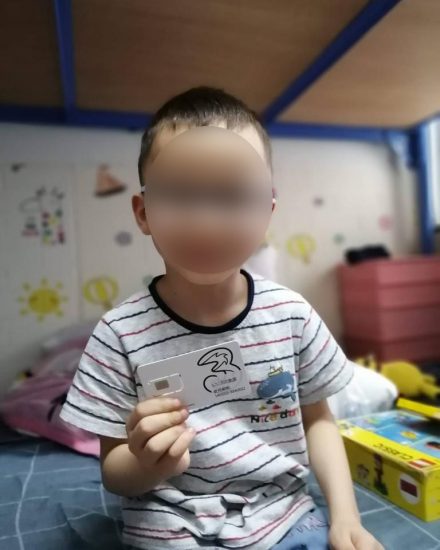 A child is overjoyed to receive the SIM card. Children can now stay home safely for classes and they no longer have to borrow their neighbours' networks.
Other Donation Methods
*Bank Transfer
Please make a direct deposit into HSBC account #640-068318-838.
*Crossed Cheque
Please send the original bank receipt/ crossed cheque together with your name, telephone number and email address to Plan International Hong Kong by mail or email. Please mark "Local COVID-19 Relief". (Email: [email protected] Address: 21/F, 9 Chong Yip Street, Kwun Tong, Hong Kong)
PayMe Donation
Please scan the QR code below to donate and enter your information (English name, telephone number and email address) and state "Local COVID-19 Relief"  in PayMe message box.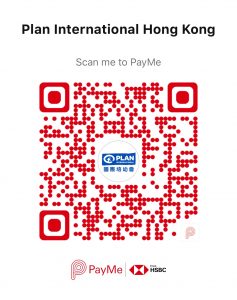 *Please send the original bank receipt/ crossed cheque/ a screenshot of the mobile donation transaction details together with your English name, telephone number and email address to Plan International Hong Kong by mail or email. Please mark "Local COVID-19 Relief". (Email: [email protected]  Address: 21/F, 9 Chong Yip Street, Kwun Tong, Hong Kong)