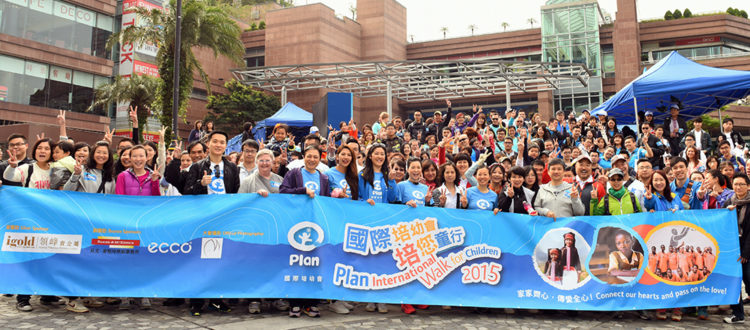 Supporters united to stride for underprivileged children at "Walk for Children" 2015
The fourth "Walk for Children" was held by Plan International Hong Kong on 12th April at Peak Road Garden. Led by Plan Ambassadors, participants took the walk to raise funds for underprivileged children in Vietnam and Ghana in support of local education programmes.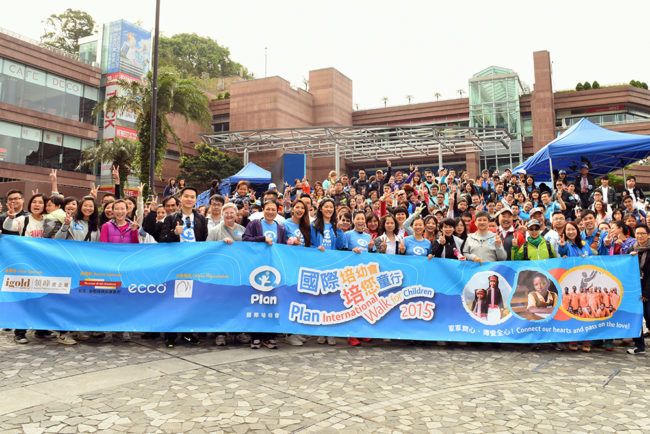 All the guests and participants took a group photo before starting the walk
At 9am, participants were joined by Mr Andrew Weir, Board Chairman of Plan International Hong Kong, Dr Royce Yuen, Board Deputy Chairman, Ms Louisa So, Plan Ambassador, as well as Plan "Because I am a Girl" Ambassadors Ms Lisa Cheng, who launched the Walk together at The Peak. By offering their support for Plan's charity work, these benefactors have helped many underprivileged children to live a better life.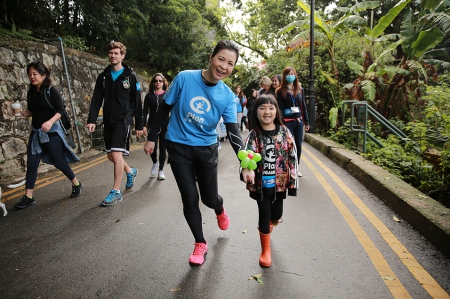 Ms Louisa So took part in the walk in support of Plan's projects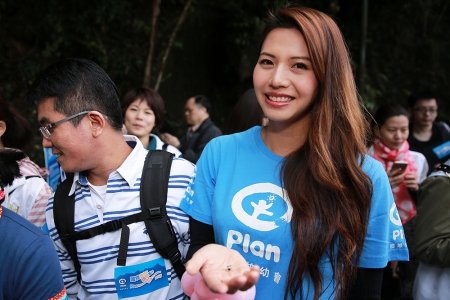 Ms Lisa Cheng collected beads to create meaningful souvenir
After finishing the route, participants enjoyed a magic show, which kicked off opening of the Prize Presentation Ceremony. Mr Andrew Weir, Board Chairman of Plan International Hong Kong, shared in his welcome speech, "For four years we have dedicated an annual walkathon to less privileged children in a specific region. In the past we have raised funds for children in rural China, Cambodia and Kenya, and this year, we invited the Hong Kong public to extend a helping hand to school kids in Vietnam and Ghana. On behalf of Plan, I would like to thank our participants and sponsors for their generosity and charitable spirit."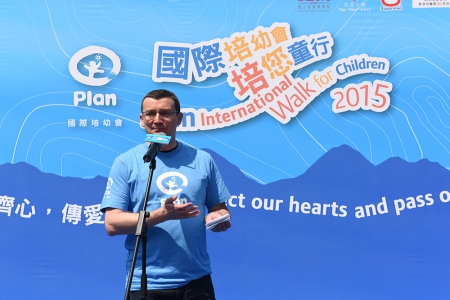 Mr. Andrew Weir delivered the welcome speech at the Prize Presentation Ceremony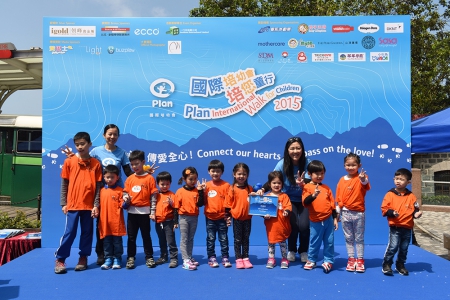 Ms Kanie Siu presented the certificate of appreciation to JEMS Learning House
The event received tremendous support from numerous sponsoring organisations, which were presented with certificates by Mr Weir, Dr Darwin Chen, SBS, Board Member of Plan International Hong Kong and Ms Kanie Siu, CEO of Plan International Hong Kong, as a token of appreciation. Then a sharing section was given by Plan Ambassadors Ms Louisa So and Ms Leila Kong, and Plan "Because I am a Girl" Ambassador Ms Lisa Cheng. The Ambassadors also presented the top three prizes for "Best Dressed Award" and the "Highest Participation Team Awards". Finally Mr Weir presented certificates of appreciation to the Ambassadors, and the event was joyfully concluded with a group photo-shoot.
Best Dressed Awards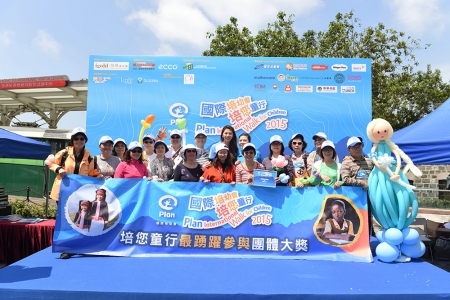 Highest Participation Team Award to "Friends of Plan" team
On the other hand, various experiential activities were arranged for participants to enjoy, such as "Water Bucket Challenge" and "Pebble Trail Experience". By simulating the experience of walking on rocky paths and carrying heavy buckets of water, participants were allowed to try out the everyday challenges faced by the underprivileged children, thus making the charitable event more meaningful.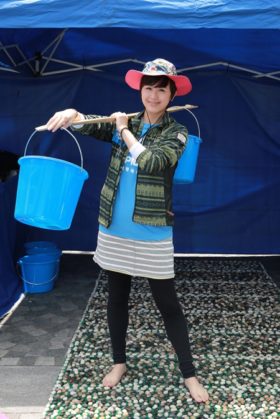 Ms Leila Tong took part in the experiential activity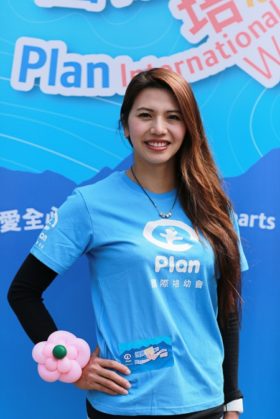 Ms Lisa Cheng took part in "Walk for Children" for the fourth year
The funds raised from this year's "Walk for Children" will support Plan's project in Lai Chau, Vietnam for the improvement of early education. Plan will build a preschool equipped with proper water and sanitation facilities and a playground, which is expected to directly benefit 266 children. Meanwhile, the projects in Ghana will offer education and vocational training programmes to over 800 girls, as a way to break down gender stereotypes within the community. As the girls regain their sense of self-worth, it will enable them to create brighter futures of self-reliance. It is estimated that around 2,000 children and their communities will benefit from both projects.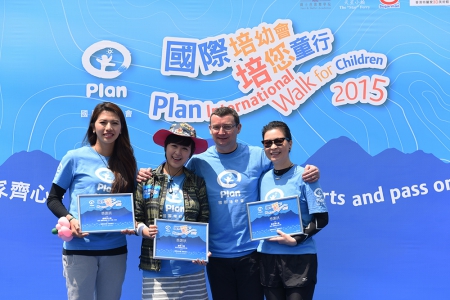 Mr. Andrew Weir presented certificates of appreciation to Ms Lisa Cheng, Ms Leila Tong and Ms Louisa So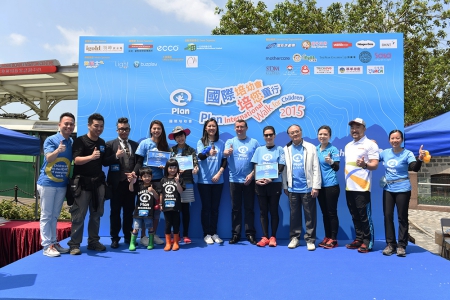 The Board Directors, CEO and Ambassadors of Plan International joined the sponsoring organisations on stage for a group photo
Supporting organisations of Plan International Hong Kong's "Walk for Children" 2015 included:
Silver Sponsor
Acetop Precious Metals Limited
Bronze Sponsors
Baker & McKenzie
ECCO
Official Photographer
Studio W Production
Sponsoring Organisations
Aquarius Zero
Baby Kingdom
Glacéau Vitaminwater
Häagen-Dazs
DKNT Accountants
mothercare
MyBB.com
The Peak Galleria
Pizza Express
Sasa Comestics
SDM Jazz & Ballet Academie
The Star Ferry Company Limited
SUGARMAN
Trick Eye Museum
Tsui Wah Restaurant
VACA
Media Sponsors
Yellow Bus EMAG
Yellow Bus Light
buspak