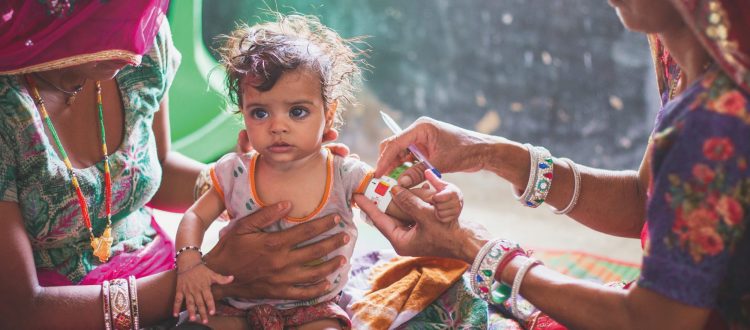 The Wave of Highly Transmissible Omicron Drives a Surge in New Cases in India Disruption of Food Supply Chain Pushes Many Children to Suffer from Malnutrition
It has been over two years since the outbreak of COVID-19 pandemic. It is no doubt that the pandemic has devastated our global economy, society and livelihood, and the impacts on developing countries are particularly severe. Recently, the COVID-19 variant – Omicron drives a surge in new cases in India and the case number is hovering over 100,000 per day. The COVID-19 wave comes one after another, the hurdles of India are not limited to the shortage of anti-epidemic items and the collapse of healthcare system, COVID-19 has worsened the domestic economy, many schools and child care centers are forced to close, and the food supplies are interrupted, thus causing a rapid increase in the number of children suffering from starvation and malnutrition. The situation is more worrying in remote areas and impoverished regions. We hereby appeal you to offer your kind help to help Indian children regain a well-fed and healthy childhood!
The rising number of Omicron cases in India since December 2021 forced many states and Union Territories to close down anganwadi centers (early childhood care centres run as part of the government's Integrated Child Development Scheme) and schools to prevent the spread of COVID-19 among children. This disinfection measure has directly impacted the nutritional status of children as hot cooked meals cannot be provided to them at the centers. Instead, only take home ration can be distributed to children for home use. Moreover, the pandemic leads to the disruption of food transportation and the food supply chain as well as rising prices of food, many children and women are unable to receive any ration for obtaining basic nutrition as a result. This disconcerting situation leads to worsening health and nutrition status of children and women. Currently, almost 1,000 children from five states have suffered from Severe Acute Malnutrition (SAM) and Moderate Acute Malnutrition (MAM), sadly their ration supply is affected due to the pandemic. With the pandemic and disrupted food supply chain, many children's lives have been placed in jeopardy.
Indian women is receiving ration for fulfilling their daily needs.
Mahirani, a 3 year-old child who was identified as a Moderate Acute Malnutrition (MAM) child. She is living in a tribal village in Khunti district and her father is a landless farmer whose income is meagre. Since her family is unable to afford adequate nutritious food, Mahirani can only rely on the Targetted Public Distribution System (TPDS) of the government which provides essential grains at subsidized price, as well as the hot meal of grains and vegetable severed at the local child care center. However, these kinds of food are largely composed of carbohydrates and lacks proteins, vitamins and minerals essential for Mahirani's growth. Moreover, the provision of grains and vegetable are even suspended under the pandemic, which is worsening the food shortage condition. With inadequate nutritious food, Mahirani's weight is now only 9.3 kg, 3 kg lighter than other children of the same age. If she still cannot obtain more food and nutrition, she will be fallen into Severe Acute Malnutrition (SAM) in a short time.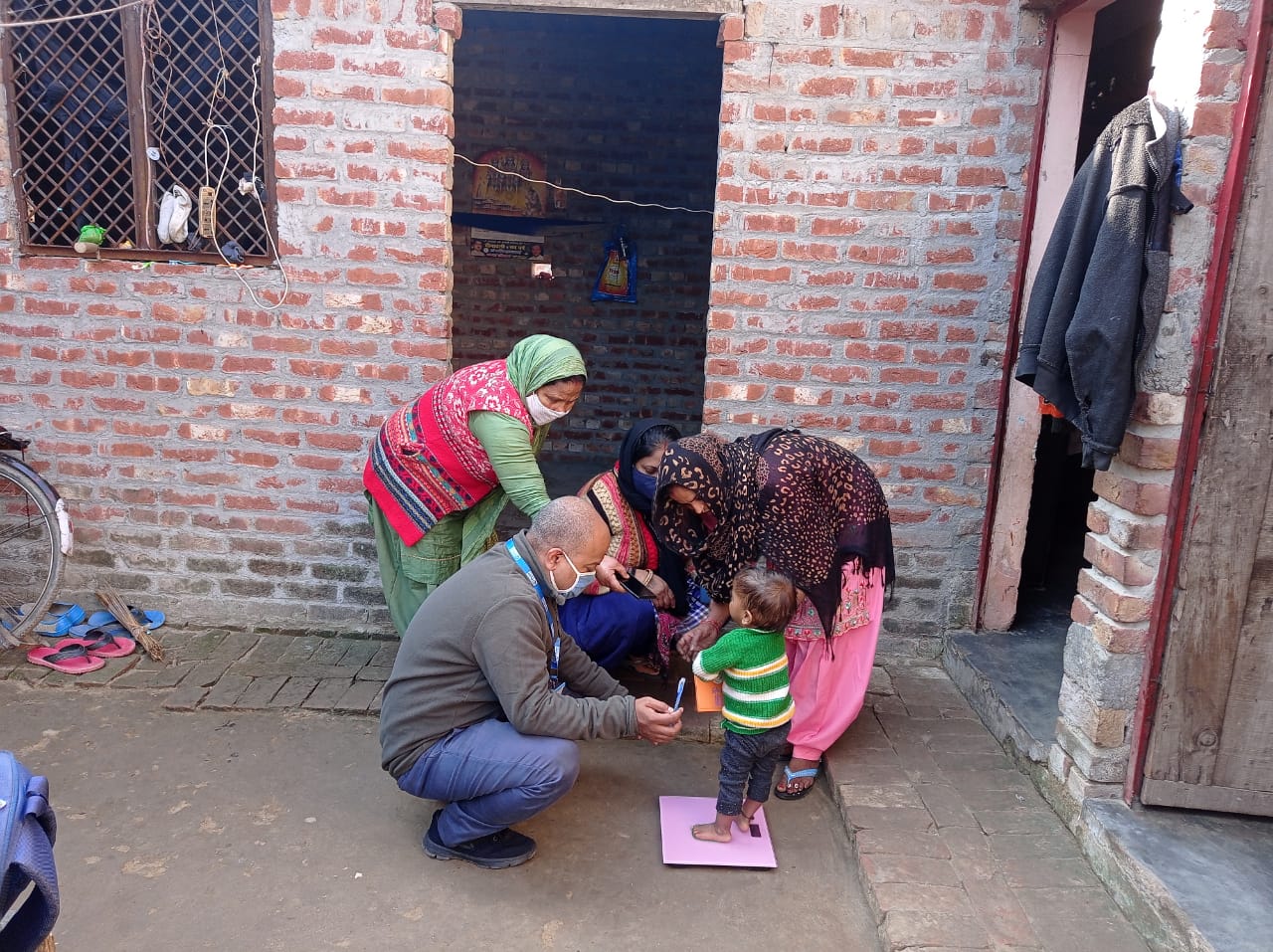 Frontline workers from Plan International visited Indian families to measure and monitor the nutritional status of children.
The infection control measures has also devastated the tourism greatly, which is one of the major sources of income for people in Haridwar (in North India's Uttarakhand state), thus destroying the livelihoods of many local people. With a decrease in income or no income at all, they are not able to purchase green leafy vegetables, pulses and oils, and protein sources like egg and milk products. Meanwhile, children can only obtain take home dry rations, which can only provide 885 calories per day, far less than the minimum calories of 1,200 that one- to three-year-old children should absorb every day. In addition, the limited manpower also leads to the delay of ration distribution and may further exacerbate the possibilities of children falling into Moderate Acute Malnutrition (MAM) or Severe Acute Malnutrition (SAM).
We have launched our emergency efforts to provide food and nutrition for children in the age range of 0 to 6 years. This project aims to raise HKD 1.4 million for providing over 8,800 nutrition baskets for Indian children and their families, around 44,000 beneficiaries in total. Your kind support will help us to provide protein rich Ready to Use Therapeutic foods (RTUF) and other packed nutritional items such as roasted gram, soya bean chunks, rice flakes and raisin to malnourished children. Details are as follows:
HK$500: Provide a nutrition basket to 3 *SAM or *MAM children
HK$1000: Provide 1 nutrition basket to a *SAM or *MAM child for half a year
HK$3800: Provide nutrition baskets to 2 *SAM or *MAM children throughout a year.
*SAM = Severe Acute Malnutrition
*MAM=Moderate Acute Malnutrition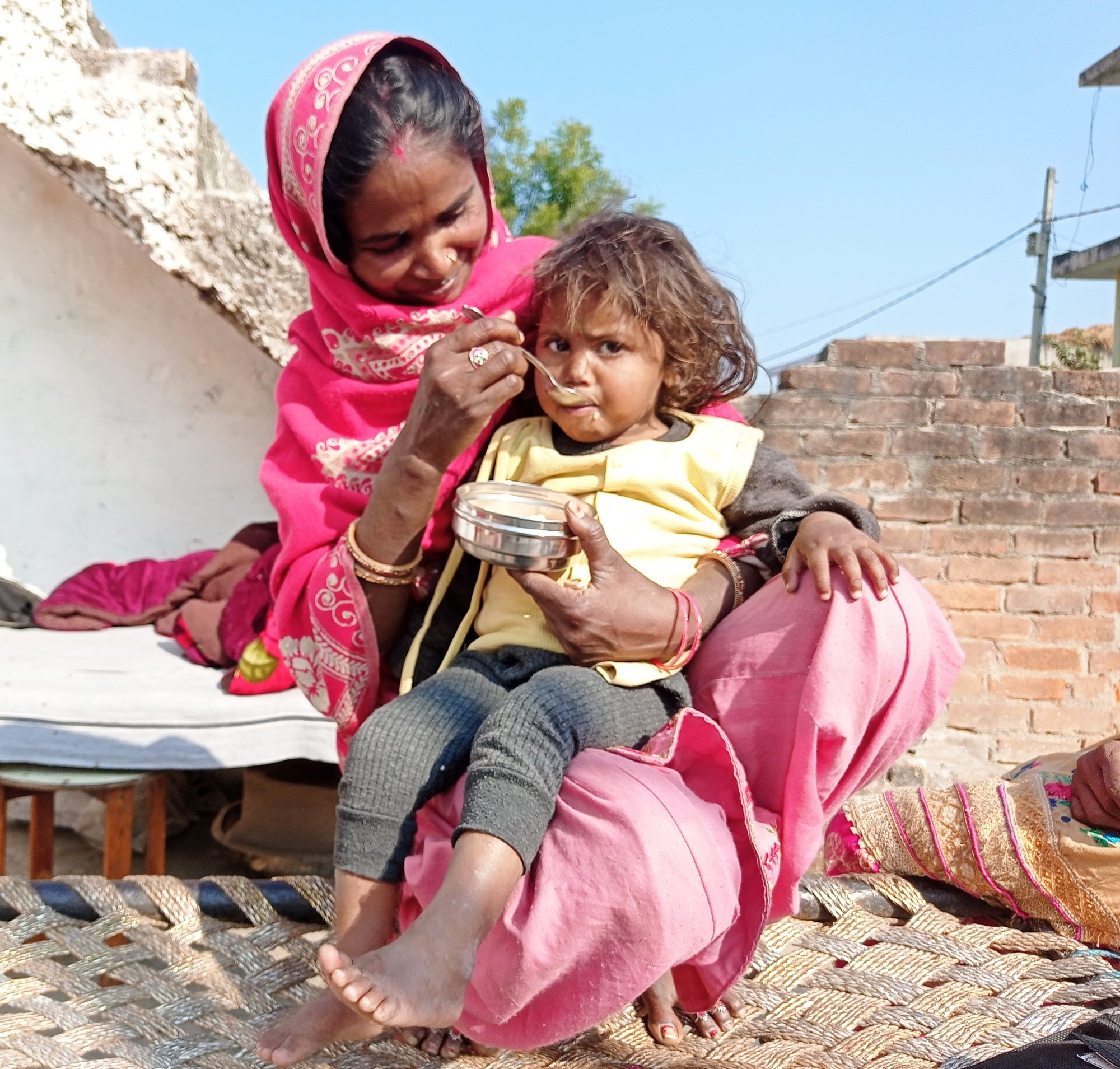 A mum is feeding her child with nutritional food.