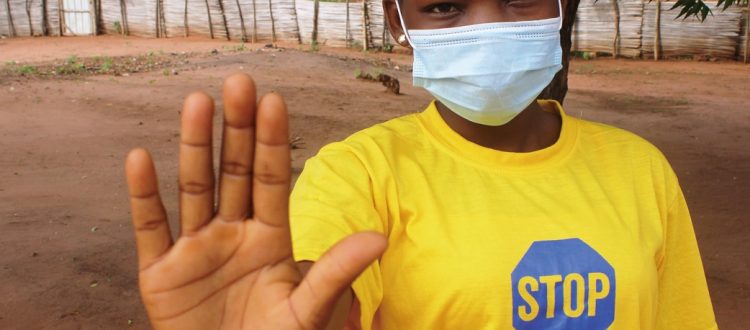 Half Way through the Battle against COVID-19 for Girls
The COVID-19 pandemic has had severe primary health impacts on people across the planet since the start of 2020. To prevent spread of the virus, many countries have implemented lockdowns and other containment measures. Though these measures are necessary for controlling the pandemic, the fact is they also cause other risks indirectly. Cases of child marriage, teenage pregnancy and domestic violence increased tremendously last year, implied that disadvantaged groups like children and women were facing risks not only from the virus, but also gender inequality and deprivation of autonomy.
While many governments and organisations focused their responses on disease mitigation and health measures, Plan International worked on protecting physical and mental health of children and women in 4 main regions from March to October last year. Depending on severity of the pandemic and long-standing problems of each region, we launched different projects aiming to solve the risks effectively.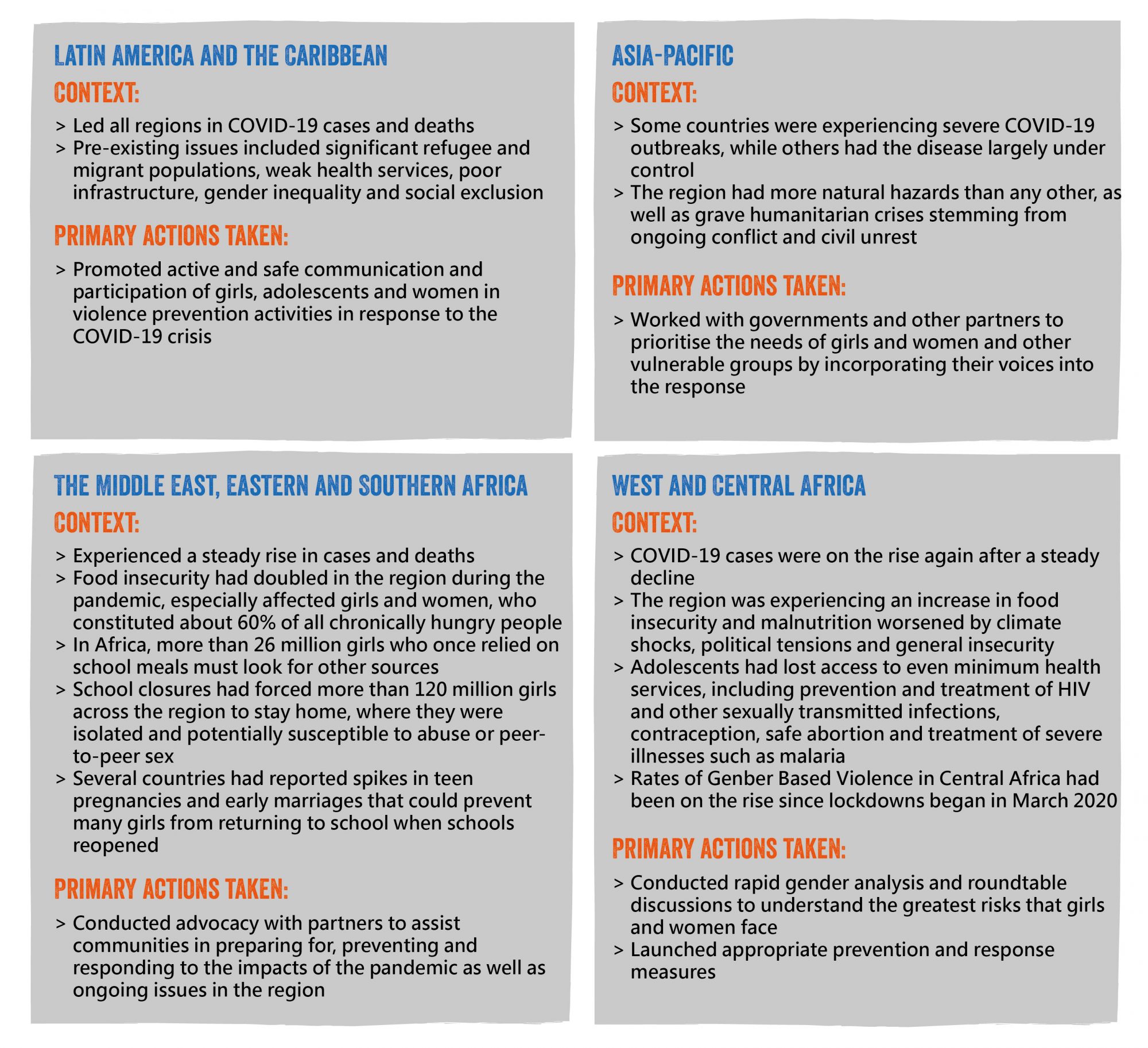 Supported by different parties, our COVID-19 related projects have helped nearly 80 million beneficiaries in the 4 main regions.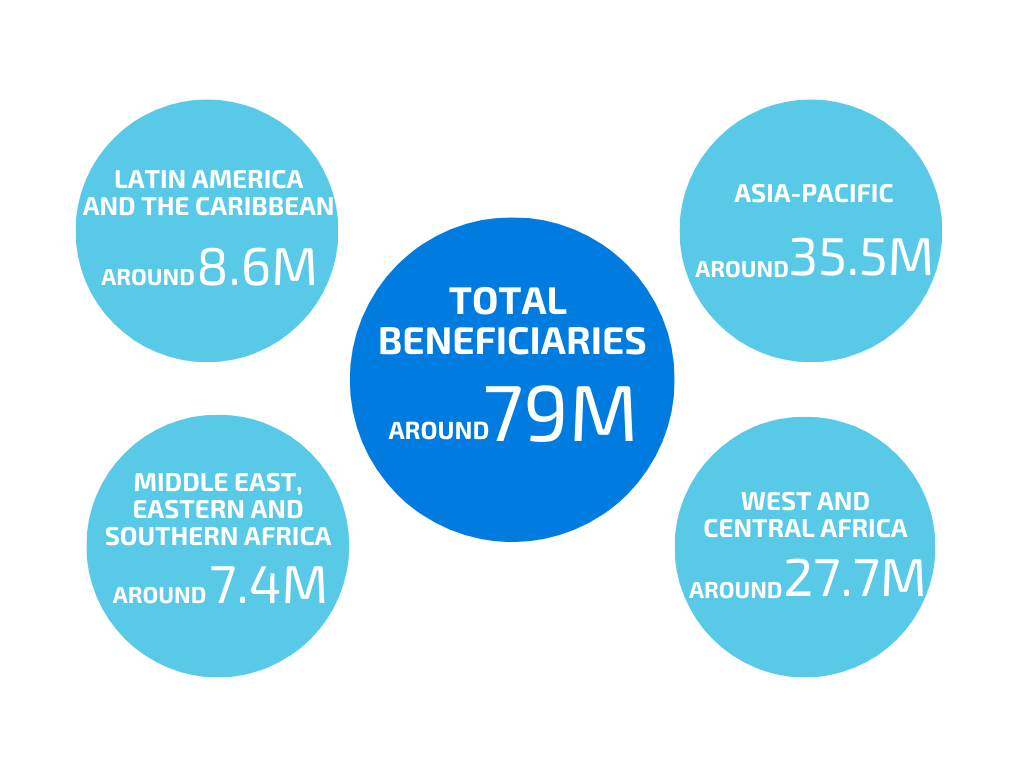 In Hong Kong, we responded to COVID-19 in various ways too, you may click here to know more.
Below are some examples of girls in developing countries receiving help:
Strengthened Distant Learning Software with Government of Peru to Benefit More Students
Pandemic-related school closures in Peru had forced students to use "I Learn at Home", which was a distant learning software developed by the Government of Peru, to continue their study. However, students in many parts of Peru had limited access to the internet which affected their progress of learning. 16-years-old Ruth and her younger siblings encountered the same trouble because the internet signal in their rural community was very weak.
To help young people like Ruth, Plan International Peru worked with the Ministry of Education in Peru to strengthen the content and scope of the "I Learn at Home" initiative, including producing educational radio sessions and donating loudspeakers for the public playing of lessons, which allowed over 200,000 students, who otherwise would have fallen behind, to continue to receive education.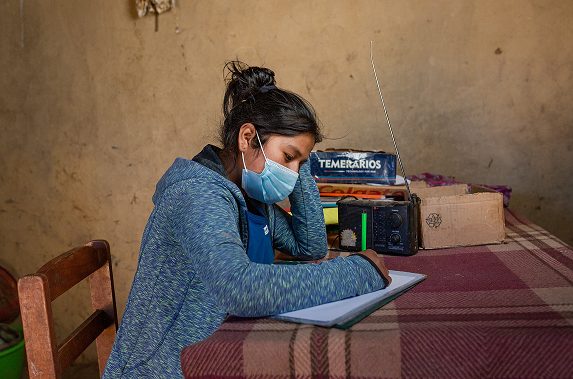 Ruth in her dining room took "I Learn at Home" strategy classes by listening to the radio.
Myanmar's Youth Leaders: When They Go Quiet, We Go Loud
Plan International partnered with another organisation to launch a youth-led digital education campaign in Myanmar, aiming to encourage young people to protect each other from violence and abuse.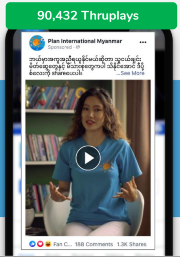 Social media posts about the campaign were published on the Plan Myanmar Facebook page by youth leaders. This aspect of the campaign reached over 4.5 million people digitally.
Normalisation of harmful behaviours is very common in Myanmar and many people, especially children, do not recognise themselves as victims. Through the digital education campaign, 125 youth leaders educated young people about child protection issues, including types and signs of abuse and stressors related to COVID-19, and encouraged them to support and protect one another. The initiative reached over 4 million people and changed their way of responding to sensitive issues.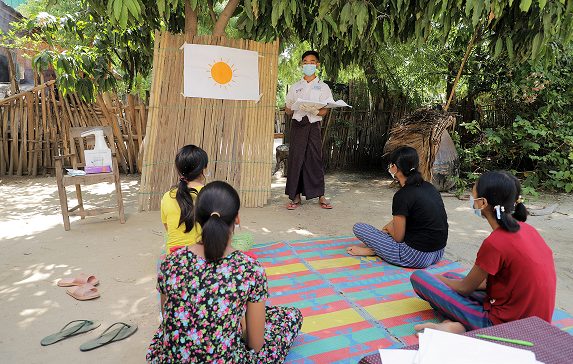 A youth leader delivered protection and health information to his peer group.
Shower for Girls: Free Girls in East Africa from Period Anxiety
'Life was better before COVID-19 because we used to get the essential supplies we needed from our schools, but now we are all at home', 15-year-old Jacinta from Kenya said. For some girls and young women living in East Africa, sanitary pads are unaffordable. In addition, many girls must pay to access showers, as most bathroom facilities in the area charge US 15 cents per use which is still an additional financial burden for them. Some girls resort to dangerous coping mechanisms such as using unhygienic clothing scraps or obtaining financial help from men.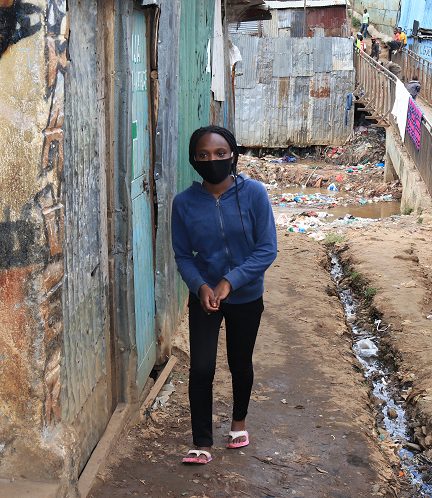 For Jacinta, the challenge of menstrual hygiene management went beyond accessing sanitary pads.
To solve this problem for girls, Plan International launched Showers for Girls initiative, which paid for girls, including Jacinta, to access bathroom services, 'Plan International's gesture has greatly eased our burden. We are able to use the bathroom more than once a day.'
Girls Out Loud: Virus Prevention Action Launched by Senegalese Girls
'We can help our communities stop the spread of this virus. We are able to do it—we have the tools, we have the will!' 23-year-old Khadyja is an active member of the Girls Out Loud platform. When the pandemic began, residents in her community showed reluctance to adopt prevention and mitigation measures. In view of this situation, Khadyja decided to raise her neighbourhood's awareness on protecting themselves from the virus.  She encouraged her community to adopt handwashing and other protection measures and to protect girls from all forms of violence through images and video displays on social platforms.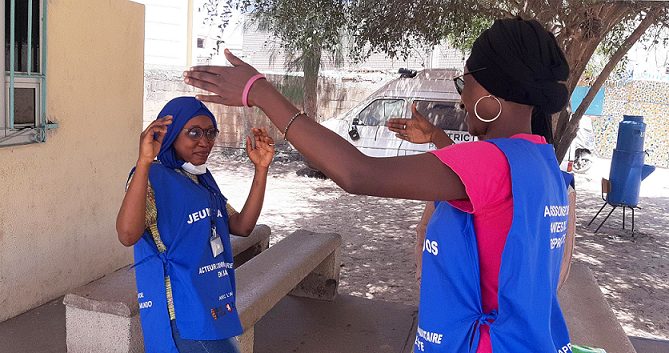 Khadyja and her youth group demonstrated social distancing
Khadyja was being appreciated in the community for her hard work.  Her district's representative also invited her to join the management committee to help ensure that girls and other young people had a say in the pandemic response.
What's the next step?
COVID-19 had already unravelled decades of progress toward achieving equality for girls. Yet, all Plan International regions are working under the assumption that the pandemic will continue at least through this fiscal year, which ends on 30 June 2021. Below are the inspiration and direction of the coming COVID-19 related projects gained from our work last year:
Protect girls from violence
Stay home is the best way to avoid infection, but it also leads to higher chance for girls and women to experience abuse as they spend more time with the aggressors, while awareness and psychological support from external parties are worsen.  As the pandemic continues, the long-term wellbeing of girls and women will largely depend on measures to protect them from violence. Plan International's efforts will include education on types of abuse and how to spot them, making services readily available to victims and making funding for these services a priority.
Protect girls' Sexual and Reproductive Health and Rights (SRHR)
Quarantine and business closures have stripped girls of many of the health services, social networks and educational tools, so that they were not able to learn knowledge about protecting themselves. Removing barriers imposed by the pandemic response will require strengthening the capacities of local services for adolescents, educating young people on SRHR and providing information on protection from violence.
Get girls back to school
Girls are at a disadvantage both for participating in remote education and returning to schools once they reopen. Plan International is working to emphasise the importance of girls' education, implement diverse distance-learning strategies, incorporate COVID-19 information into educational materials, train teachers for distance learning, return children safely to school and reduce dropout rates due to the pandemic.
Support girls' agency and voice
Men are being granted with power of decision making in many countries, while girls and women can only keep silent and behave submissively. Plan International will support them in raising their voice, making their needs clear during the pandemic, holding roundtable discussions and building social networks so that they can support each other and speak out to wider audiences.
Strengthen girls' economic security and social protection
Before the pandemic, women and girls typically worked in worse environment than that of men.  The pandemic has worsened these conditions, pushing some women into dangerous and low-paying work that puts them at risk of violence, exploitation, pregnancy and early marriage.  Plan International's response aims to support girls' and women's empowerment in their economic security and social protection. Strategies include identifying and developing employment skills for women and youth, working to guarantee young women the right to decent and equal employment, and ensuring women's access to and participation in information and communication technologies.